Brave browser is currently one of the most popular browsers used in the UK and the world at large. This is because of how remarkable its features are. If you are new to this browser, you need not worry because this guide has got everything you need to know about the Brave browser. Moreover, if you are familiar with the Google Chrome browser, you shouldn't have issues using the Brave browser. Below, we will do a review on Brave Browser and why you should swap to this browser.
What is Brave Browser?
Brave Browser is a crypto-powered browser that by default prevents websites from invading your privacy. It's one of the world's best and fastest browsers. Brave differs from other browsers in that it prioritizes user privacy. Brendan Eich, the developer of JavaScript and the co-founder of the Mozilla Project, developed it. Brave's main purpose is to change the way people think about online browsing by preventing websites from tracking you and rewarding you with a token for watching adverts.

By opting to see anonymous, privacy-preserving adverts, Brave users can start earning some tokens in the form of Basic Attention Token (BAT). The company's ad network, which was launched in November 2019, allows users to watch anonymous adverts before getting compensated in BAT. The service is optional, and you are free to block and turn off all adverts if you want. Meanwhile, if you intend on having Brave on your device, it is available for Desktop, Android, and iOS devices
Design and UX
Brave has a visual appearance that is similar to Chrome. If you're coming from Chrome, it'll be difficult to tell the difference the first time you use Brave on either its mobile or desktop versions. That's no coincidence: Brave is based on the open-source Chromium web browser, which is also the foundation for Google's Chrome.
Existing Chrome users will find the transition to Brave to be relatively seamless in terms of UI and simplicity of usage. This is because almost everything is located where you would expect it to be. You won't have any trouble navigating if you're coming from another browser, either, due to the basic nature of web browsers in general. Brave, thankfully, includes a built-in dark mode, making it highly recommended regardless of the device you're using.
Basic Attention Token (BAT)
The Brave browser has a reward system that replaces adverts on web pages with its own. You keep your browsing privacy and get 70% of the ad revenue from the swapped adverts if you join this program. These prizes come in the form of a BAT. This Ethereum-based coin was established to reward users for their valuable attention on Brave. This token's price has recently risen, indicating that it has a lot of potentials. For seasoned Brave browser users, such a substantial increase is great news.
Brave Browser Wallet
Before we get into how to earn cryptocurrency using Brave, it's worth noting that it includes an Ethereum crypto wallet that supports ETH as well as the majority of common Ethereum tokens and collectables. The wallet works similarly to MetaMask in that it lets you store and send Ethereum tokens, but it's incorporated right into the browser.
How to Earn Crypto Using Brave
Brave's best-known feature is its built-in ad system, which pays you with BAT tokens for seeing adverts while also allowing you to donate your earned tokens to sites that accept BAT. You can earn BAT by visiting and showing support by tipping websites. If you continue to use the browser, your incentives will be delivered on your next payment date, which is also outlined.
If you want to withdraw your BAT or contribute funds from other sources to your account, you must first validate your wallet with Uphold or Gemini. Once you've reached a minimum balance of 25 BAT in your account, you are then eligible for payment. You'll also need to set your email and password, as well as submission of your full name, birth date, phone number, and a photo of yourself and your identification. If you're not used to it, this type of identity protection may seem worrisome. But it's a typical procedure for crypto brokers to help in authenticating your identity.
Benefits of Using Brave
Below are some of the key benefits associated with Brave;
Security
Most users want to know if Brave is as secure as Chrome; nevertheless, the reverse question should be answered. Brave takes further steps to protect your personal information and block potentially hazardous websites. Brave's first version had some security issues, but after examining and upgrading its open-source code, the browser is now a viable competitor to Chrome, if not an upgrade. Many of the features that are advertised as security measures also work to improve your privacy.

Getting user's information is the most common approach for hackers and scammers to exploit users online. Thus, preventing them from acquiring it puts them at a disadvantage. Brave's most basic function is to protect your browser from scripts, trackers, cookies, and other potentially hazardous websites. Every connection Brave makes is upgraded to HTTPS, which means any information you provide to the site you're visiting is encrypted.
Privacy
Brave excels vividly in this area, with only Firefox rivaling it among the popular browsers. Every website has a basic function to prevent all cookies and JavaScript. However, this may cause some websites to malfunction. By pressing the icon next to your toolbar, you can easily adjust these settings to allow some of your trusted websites to use their normal scripts and cookies. Even websites that keep track of visitors will have a harder time figuring out who is visiting them if they use the browser's incognito mode. Whereas, Brave does not gather any information about its users, which helps to maintain their privacy while using the browser.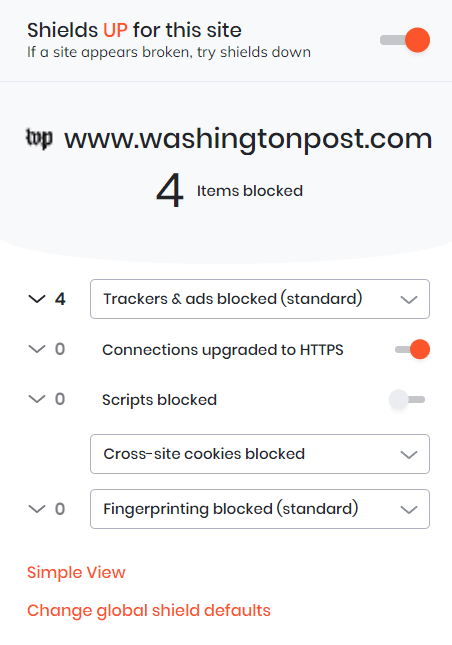 User Interface   
Brave features a highly customizable user interface with a variety of browser attachments and modifications. However, all of this added flexibility caters to a specific audience and can appear unduly complex. The Google Chrome homepage is straightforward and consistent, which is a desirable quality in a homepage. The Brave browser's home page can be as simple or as complex as you want, but you must configure it according to your preferences.
Extensions
One of the unique features of Brave which distinguishes it from other browsers is that it is incredibly similar to Chrome. Anyone familiar with Chrome should have no trouble transitioning to Brave because it uses the same engine, chromium. This also implies that any browser add-ons you're familiar with in Chrome will work in Brave. Thus, when switching to the Google Chrome browser, makes the transition easier. Meanwhile, the Brave browser may be customized and adapted in the same way that any of its competitors can.
Ads
The constant bombardment of adverts is a major issue on the internet. All advertising on Brave is automatically banned, which makes the website load faster and saves you data. Instead, viewers are presented with custom-tailored Brave-hosted advertising. Some are less invasive and assist advertisers in reaching users who are likely to be interested in their products or service. When using the browser, Brave users can pick how often and how often they want to be displayed advertising. This helps to address the issue of online developers being targeted by invasive adverts in a desperate attempt to acquire an audience.
Rewards
Another unique benefit of Brave is that it pays its users in the form of a token. This is a combination of its ad program and a third-party ad network that helps to improve the adverts that users view on the internet. A percentage of BAT is delivered to both the user and the advertiser whenever an ad is shown to them. The BAT is a cryptocurrency that is exclusive to the Brave browser, and it is distributed for free every month based on how many adverts a user or advertiser has seen.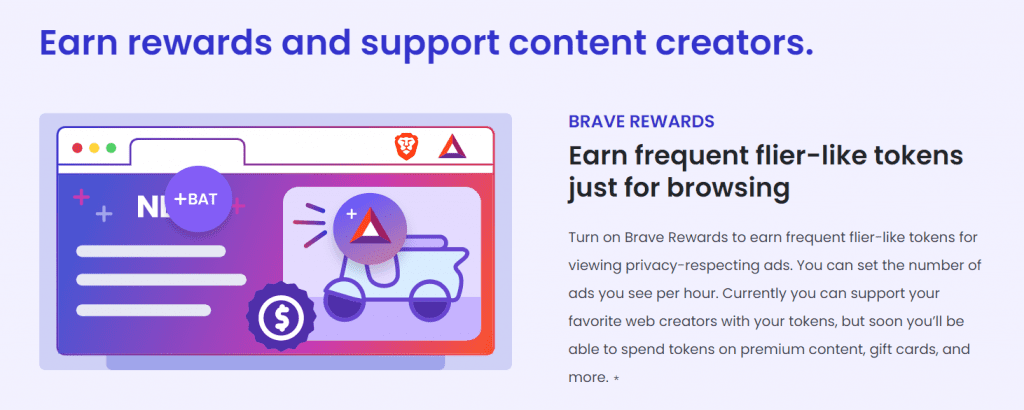 Creators can also get BAT tips or donations, which help them maintain their websites while simultaneously promoting the BAT ecosystem. However, if you intend on withdrawing your tokens, there are currently two options to choose from. It's either you withdraw using an Uphold or a Gemini account.
Bottom Line
Wrapping it up, the Brave browser has everything you might want, especially if you're a crypto enthusiast. Brave is a fantastic browser with a lot of features and an easy-to-use UI, as well as good performance and solid security and privacy options. It quickly loads websites, making them function more smoothly on your device. The moment you install it on your device, it becomes a safe and ad-free browser.