Coinbase is one of the most popular crypto exchanges, and for a good reason. Not only does it have a large selection of coins, it is also one of the easiest to use. With this guide, you can get started trading on Coinbase quickly.
Getting Started
If you want to trade on Coinbase, the first thing you'll need to do is go to coinbase.com, enter your email address, and sign up. From there, you'll be immediately prompted to verify your email, just navigate to your email account and click the link that was sent. It should be there in under five minutes. After this, Coinbase will also want to verify your phone number and then do some basic KYC (identity confirmation).
Use the link below to get $10 in free Bitcoin when you buy or sell $100 or more in crypto.
KYC
You don't have to do all of this right now, but to begin trading crypto, there are three levels of KYC to be completed, each giving access to more features within the exchange:
Level 1 – Only requires a phone number and allows investing in up to $9,500 of cryptocurrency with a bank account or debit card. However, you can only make purchases and sales, USD can not be stored in Coinbase, and cryptocurrencies can not be moved on or off the platform.
Level 2 – After verifying personal information like your address, name, and social security number, you may invest unlimited USD, and funds can be wired in and out of Coinbase. USD can be stored in Coinbase now. However, crypto still can't be moved on or off the platform.
Level 3 – After verifying an ID such as a passport or driver's license, you have full access to Coinbase. You have access to everything the platform offers, including unlimited deposits and the option of moving crypto in or out of your exchange wallets.
For anyone wishing to trade crypto, it is highly recommended to complete all three levels of KYC. This will allow the most effortless and most efficient access to the markets and enable off-platform moves. Though Coinbase is a safe space to store tokens, many crypto experts advocate self custody in your own wallet after buying from an exchange, which can not be done from Coinbase without full KYC.
Making Your First Coin Purchase
After you have completed up to your desired level of KYC, it's almost time to buy your first tokens. First, you'll have to add payment information. Coinbase offers a few different methods of payment, all with different trade-offs between speed, fees, ease, and supported amounts. These options are PayPal, debit cards, bank accounts, or wire transfers.
Payment Options
If you just want instant access to a smaller amount of crypto, your best option is to use PayPal or a debit card. Note that it would have to be a debit card; at this time, Coinbase does not support credit cards. Theoretically, you could buy up to $25,000 of crypto with PayPal; however, an added 4% fee from PayPal on transactions makes this not the best option unless only buying small amounts. If you were buying $1,000, that would be $40! It is a similar story with debit cards. Only use these options for small amounts, or you may lose big.
For more significant transactions, bank transfers are a better option. If you're buying any significant amount, or even if you're just buying a small amount but don't care about your crypto arriving instantly, look into this option. For a bank transfer, the total fee is only $14 for a $1,000 buy.
Making the Purchase.
After you've got your payment information set up, you're finally ready to make an actual purchase. If you're new to crypto and unsure what to buy, you might look into the major coins first, such as Bitcoin, Ethereum, or Cardano.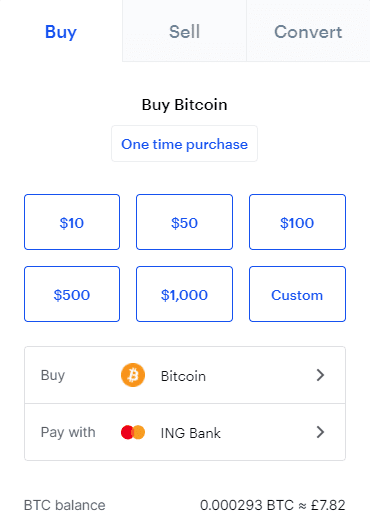 Once you've chosen your coin, purchasing is easy. Navigate to the 'Trading" page on the menu (Either to the side on a web browser or at the bottom of the screen if using an app), and select your chosen crypto. From here, you'll see a giant blue 'Buy' button. Click that, select your desired payment method. From here, you'll just have to confirm the amount you wish to buy and the fee Coinbase is charging, and voila, you'll be set to go. Depending on your payment method, the crypto might be instantly available for trading within Coinbase, or it might take a few days. Regardless, there is still a week's wait on most purchases for moving crypto out of the platform for those who wish to go that route.
Advanced Features
Once you're comfortable with using Coinbase, you might be interested in looking at some of the other features offered by the platform.
Staking
Coinbase offers staking options on many coins, and these often provide competitive yields. For example, staking ETH offers up to 6% APR at the time of writing, and Cosmos offers 5%. Even holding USDC, the native stablecoin of Coinbase, earns yield. There is nothing a user has to do other than hold the asset and automatically accrue rewards for many of these. However, with others such as ETH, the user would have to manually choose to stake and lock it up for a period in the process.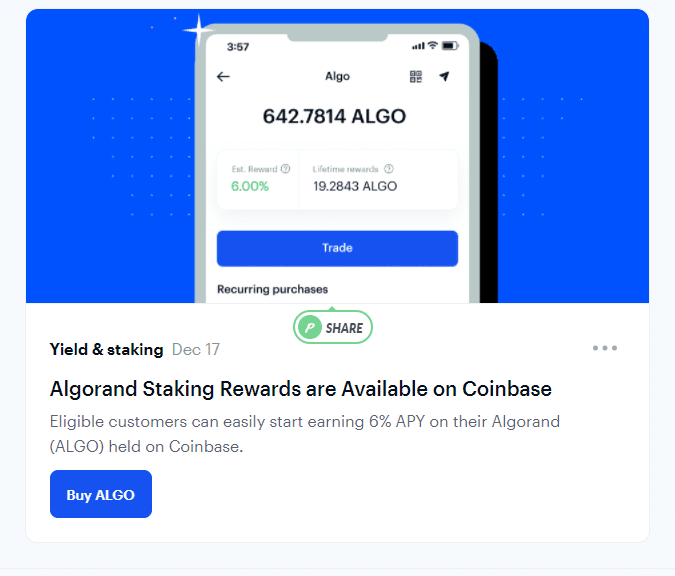 Coinbase Pro
If you're comfortable with Coinbase, you might want to look at Coinbase Pro, which offers a more full-featured trading experience. In addition to a live trading view with technical charts, there is a more extensive selection of coins and lower fees. See our full article on Coinbase Pro to learn more.
Coinbase Wallet
If you're interested in self-custody of your crypto, Coinbase Wallet is a great place to start. It is a simple and more full-featured alternative to other crypto wallets. As another plus, it can hold all assets offered by Coinbase and more. You can find our full article on Coinbase Wallet here.
Coinbase is the gateway to crypto for many, and now you should have a solid understanding of how to use it. From here, you'll have access to the entire crypto ecosystem and all of the cool projects within.
Coinbase Offer
| | |
| --- | --- |
| Coinbase Referral Link | Sign Up Link |
| Sign up Bonus | Get $10 in free Bitcoin |
| Sign up Terms | Get $10 in free Bitcoin when you buy or sell $100 or more in crypto. |
| Last Validated | November 2021 |