Technology is a blessing to human evolution. Every day, we witness a new form of technology that eases a particular aspect of our lives. In the 21st century, Everything is going digital and this includes currency and payment methods. Cryptocurrency is here to change the course of our lives. 
Exodus is a crypto platform that provides the simplest and easiest way of buying, selling and holding cryptocurrencies. Beyond trading cryptocurrencies, the platform offers many other perks and features for crypto traders, investors or enthusiasts.
This guild will break down the Exodus giving you detailed information about everything on the platform including its features, benefits, functions, and how it works, among other things.
If this interests you, read on as we demystify the Exodus Platform.
What is Exodus?

Exodus is a Nebraska-based, United States platform founded in 2015 by JP Richardson and Daniel Castagnoli. The platform is a user-friendly, Multi-Asset wallet for Mobile, Desktop and Hardware Devices.
Since its establishment, The Exodus platform has been a top choice for crypto and blockchain beginners because it provides a straightforward and easy-to-use crypto wallet offering access to more than 150 assets. The wallet offers a wide range of features which makes it viable not just for crypto beginners but for seasoned investors as well.
Furthermore, the wallet allows users to buy, sell and earn interest through staking of their digital assets. On the platform, users enjoy a beginner-friendly user experience that allows the management of all their portfolios on one interface. 
How Does Exodus Work?
The Exodus Platform provides blockchain assets, and investors, a space to trade and manage their assets securely in a one-in-all application. The platform eradicates the geek requirement and prioritizes design to make digital assets and cryptocurrencies like Ethereum and Bitcoin available for everyone. 
The non-custodial functionality embedded in it is encrypted locally on users' devices to ensure security, privacy and autonomy on their assets.
Since its inception, the wallet has implemented more than 200 product updates. On average, the platform has released new system updates bi-weekly and currently supports digital assets on Binance, Ethereum, Solana, Polygon and Algorand chains.
Features Of Exodus
Easy-To-Use
The Exodus is user-friendly with fascinating interfaces. It offers a fast and smooth interface suited for beginners with lovely graphics that will make you lose time on the platform. Navigating between screens is smooth and you'll find all the options located in appropriate positions.
Exchanging Assets
Exodus has FTX integration on the platform which allows users to exchange one asset for another. With this, you can view your FTX balance as well as Exodus balance and have the option to send the assets between the platforms. 
Furthermore, you can link your previous FTX account or create another one. However, as Exodus stated, you might be charged exuberant fees while using the exchange features. Rest assured, You will see the fee before the completion of the transaction and continue if it fits your budget.
Quality Customer Service
Exodus offers a 24/7 customer support system with professional personnel available to attend to your queries, concerns and complaints. There are options for email, chat, and help. When compared with other similar platforms, Exodus customer services ranks highly.
Wide Varieties of Cryptocurrencies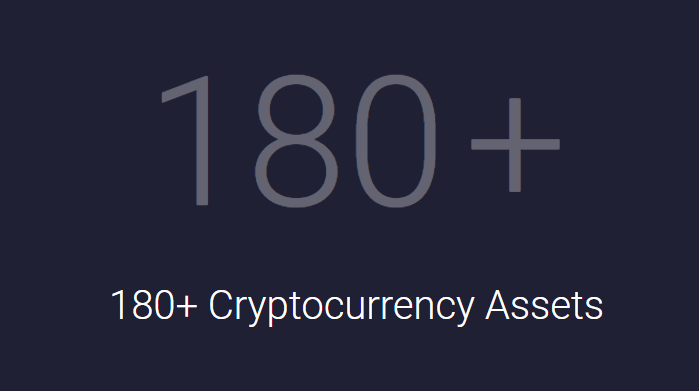 Exodus supports over 180 cryptocurrencies across numerous ecosystems available for trading and the number keeps increasing with every update. You can buy, sell and swap the currencies on the internal exchange of Exodus.
Availability On Multiple Platforms
Yes, you can enjoy all the above-stated perks on multiple platforms. Beyond being a multi-asset wallet, Exodus allows operation across different platforms including Mobile, Desktop and Hardware wallet options. 
For Mobile users, The Exodus App is available on both Android and iOS while desktop users have wide options of Windows, Mac and Linux.
Benefits Of Using Exodus
Staking Option
The staking option is a fascinating perk wallet holders enjoy on the Exodus platform. As a way of generating passive income, wallet holders have the luxury to stake their crypto assets and earn interest on them.
It is quite an impressive option available in a simple way. You just have to deposit your assets on the Exodus app, commit the ones you want to stake and earn passive income on them. Some of the coins that have these features include SOL, ALGO, ADA and XTZ.
However, it's worth noting that, concerning staking, each coin has its unique parameter.
Trade NFTs
The ability to trade NFTs on the Exodus platform is one exceptional advantage it has over other similar platforms. As we know, NFTs are another booming sector of Blockchain technology that offers substantial profits for artists and investors.
With Exodus, you can now buy, sell, and transfer NFTs within its NFT marketplace. This feature is made available through the partnership with Magic Eden and it's available on desktop and mobile app versions.
However, Exodus supports NFTs transactions present on the Solana network. Hence, to enjoy this benefit, you will need a minimum reserve of 0.01 SOL to complete an NFT transaction.
Custom Fees Option
It's a tradition among crypto platforms to charge users network fees for transferring assets. In the case of Exodus wallet, the standard fee is nominal and there's an option for customization. But it only supports Bitcoin and Ethereum networks. You can enable this option by following the process below;
Go to Asset Menu
At the Asset Menu, navigate to the Advanced options and click on it.
Select the Enable Custom Fees option
Locate the gear icon at the upper left side of the page to have access to the customs fee interface.
The page will display a recommended fee and you can set your desired custom fee through a sliding scale. However, the fee can change especially due to network congestion. Once you set a specific fee, Exodus will remember it on subsequent occasions and you don't need to reset it again.
Top Security
One interesting fact about Exodus is the freedom it gives users to have total control of their private keys and assets. The Exodus non-custodial framework is designed in such a way that all storage and encryption occurs on the user's hard drive and not on the platform so  Exodus doesn't have access to any of your information. 
When you download the app, you have access to your account via a password and when there's a need to recover your account, you'll do so using a 12-word recovery phrase.
If you're the type that prefers to secure your assets offline, Exodus has a partnership with Trezor and this allows users to control their assets via the Trezor hardware wallet. With this hardware wallet, you can trade your assets while maintaining your assets and private keys offline. 
Fast Payment System
Exodus has an integrated lightning network as a payment system. What does it mean for users? Lightning Network payment systems process transactions beyond the Bitcoin networks so users will experience faster transactions with less cost. 
Privacy And Anonymity
Users' privacy and non-custodial rights seem to be the basis upon which Exodus operates. Why? Because Exodus does not include KYC requirements for users. This means that you do not need additional personal information to register on the platform. 
In addition, All your transactions will be anonymous on the website and Exodus generates a new wallet per BTC transaction. So, Exodus wallet does not require disclosure of any personal information nor does it have access to your wallet or personal info.
How To Setup An Exodus Wallet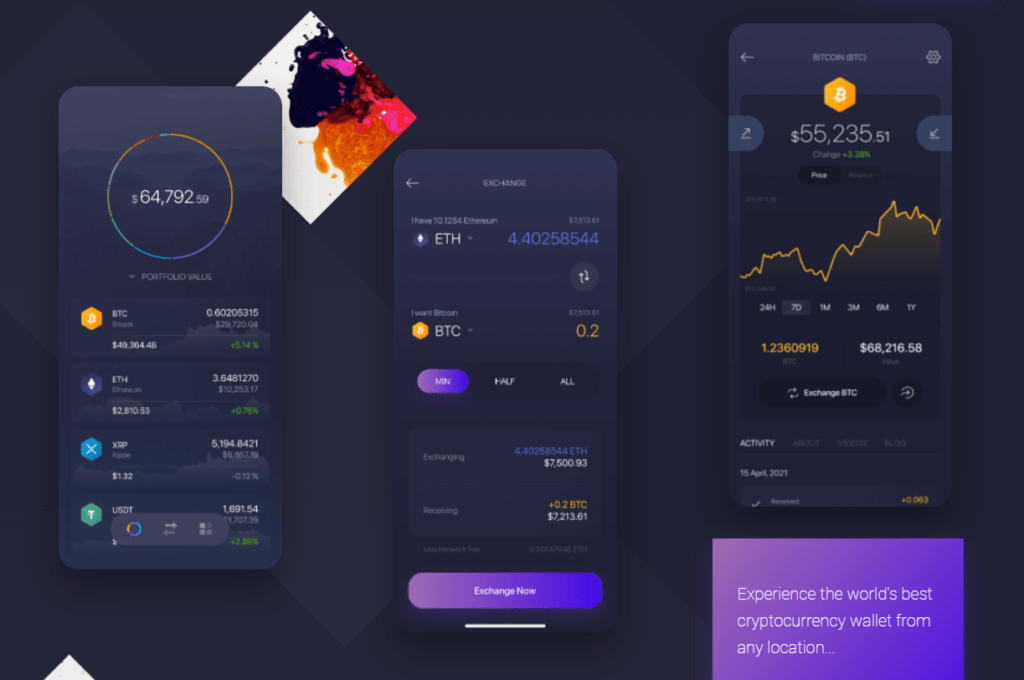 Quite interestingly, The Exodus wallet is simple and pretty straightforward. How do you set up an Exodus account? 
Download the Exodus app according to your device. For desktop users, the app runs locally on your gadget with no account sign up required. Similarly, the same process exists for the mobile app and you can sync both through the scanning of a QR code.
Subsequently, You will be prompted to back up your account and will be provided with a 12-word recovery phrase that you will need to safeguard by writing it somewhere. 
In case the need arises, you can access your recovery phrase on the settings tab. Go to Backup and click view the secret phrase.
Conclusion
Based on this review, we can conclude that Exodus is a perfect platform for both newbie and veteran crypto traders or investors, especially those who fancy platforms that offer a broad range of digital assets and functionality available across multiple platforms.
The ease of use, self custody it offers and standard security system are features that appeal to the larger audience and make it a viable wallet option. Finally, with its steady influx of updates, the platform is on course to grow its range of supported crypto assets.