Gemini is one of the most popular crypto exchanges, ranking #7 in volume according to CoinGecko. It was founded in 2014 by the Winklevoss twins, the famous crypto advocates who had previously played a role in founding Facebook. It was created with two main goals: 1. To make crypto easily accessible to the masses, and 2. To do so in a way that is secure and fully compliant with U.S. regulations. It has done well in fulfilling both of these goals, and so is today one of the top options for traders looking to buy and sell crypto.
Create an account using our referral link and you'll receive $10 of bitcoin after you buy or sell $100.
Basics
The simplicity of Gemini is clear as soon as the website is opened up. The first page upon signing in is a list of offered coins, and you simply click on them to be taken to the page to buy. It could not be easier to use. One drawback that is immediately apparent on the other hand, is that the list of coins is somewhat limited compared to other exchanges. With an offering of only 40 coins at the time of writing this article, you're likely to find what you want if you are looking to buy the biggest coins, but might falter if looking anywhere beyond that. Still, even a few of the top 10 are missing. You won't find BNB, Cardano, or Polkadot here.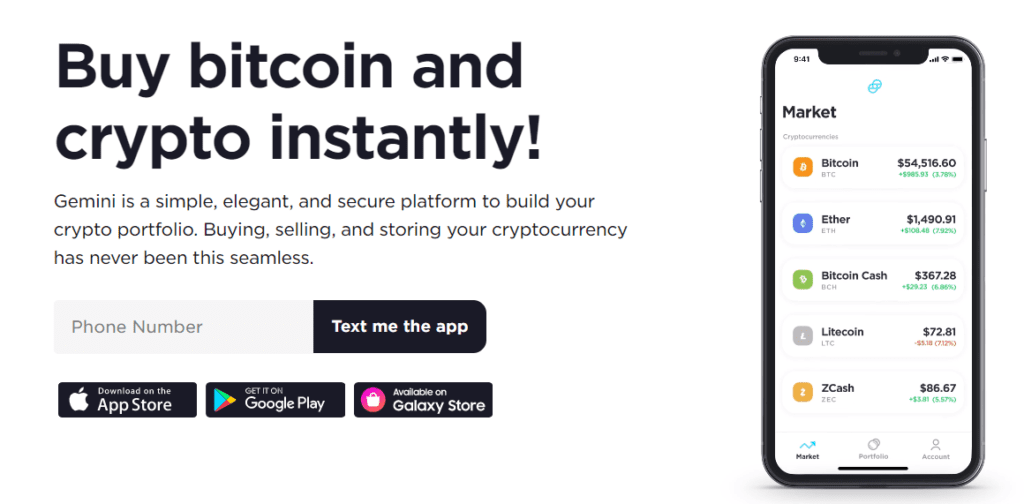 That said, beyond its simplicity, Gemini offers plenty of useful features and peace of mind through its security and compliance focus. This includes automatic buying, its own stablecoin, an advanced trading platform, and its own wallet service, let's go over some of the big points.
Security
One of Gemini's best features is its security, so much so that it even has custody funds for large blockchain companies like staking service BlockFi. Though Gemini has been around for a very long time, it has never had a hack. This is something very few exchanges can say but is true due to their advanced and rigorous security procedures. Most funds are stored in cold storage, and all of the best practices are followed in securing the private keys. The few funds that are stored in hot wallets are fully insured, in case of the unlikely event that there is a hack. Additional peace of mind can be gained knowing Gemini is based in New York, which has the tightest crypto exchange regulations in the United States. This gives even more assurance of maximum security.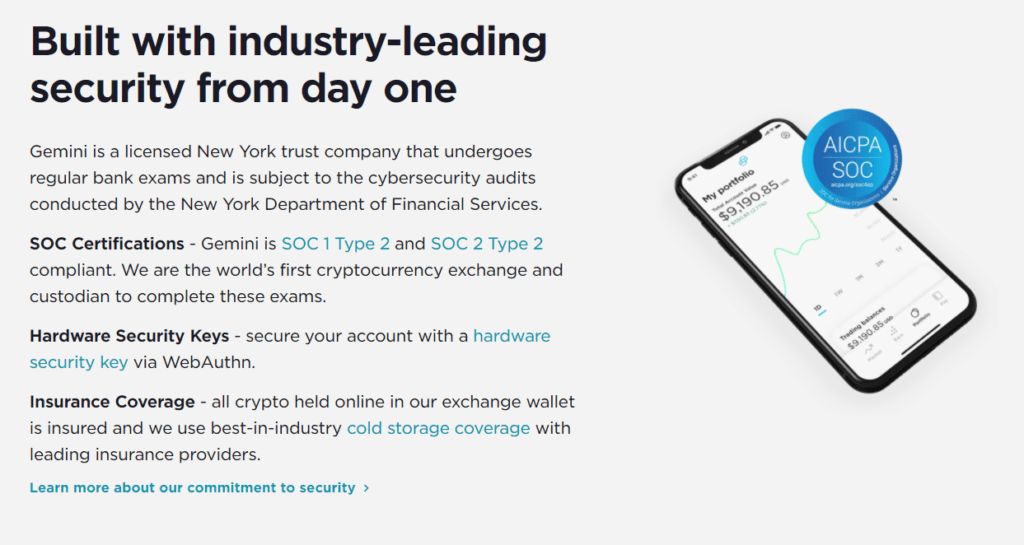 There are great security features on the user end as well, such as two-factor authentication,  address whitelisting, and account role management. In addition, Gemini is one of the few exchanges that has pioneered FDIC insuring USD funds in user accounts, up to $250,000.
Gemini's track record and security measures are enough to be confident with them holding your funds, but in addition, they have great customer support. Nobody wants to live the nightmare of having funds locked in an exchange and having to fight to get them out, with Gemini this is not an issue, as their support is helpful and extremely responsive.
Fee Structures
            The fees on Gemini are not terrible, but not its best selling point. It is as follows:
| | |
| --- | --- |
| Order Amount- USD | Transaction Fee- USD |
| < $10 | $0.99 |
| $10 – $25 | $1.49 |
| $25 – $50 | $1.99 |
| $50 to $200 | $2.99 |
| > $200 | 1.49% of order value |
A somewhat high fee structure like this is common for simple, beginner-friendly exchanges. Though it is not terrible for small amounts, a trader buying large amounts would save significant amounts of money by using more advanced platforms, including Gemini's ActiveTrader platform which is discussed below.
Gemini Earn
If you hold crypto on Gemini, there is an option for earning yields on your investments. The platform advertises yields of up to 7.4%. This is the rate for some stablecoins, however, the rate for other currencies tends to be lower. For example, the yields for YFI and Chainlink at the time of writing are 3.29% and 4.08% respectively. Though higher yields might be found elsewhere, this is still a fair deal for a user who doesn't plan on selling these assets and wants to hold them in a trusted platform.
ActiveTrader
ActiveTrader is Gemini's advanced trading platform, it is to Gemini what Coinbase Pro is to Coinbase. ActiveTrader is for advanced users that are trying to get the best possible prices. It offers a detailed interface including candlestick charts, depth charts, and order books. In addition, there are more trading options such as limit orders and stop losses. Traders can choose the prices they wish to buy and sell at, and wait for them to be filled, as opposed to on the regular Gemini Exchange where market orders are the only option. In addition, there are lower fees on trades.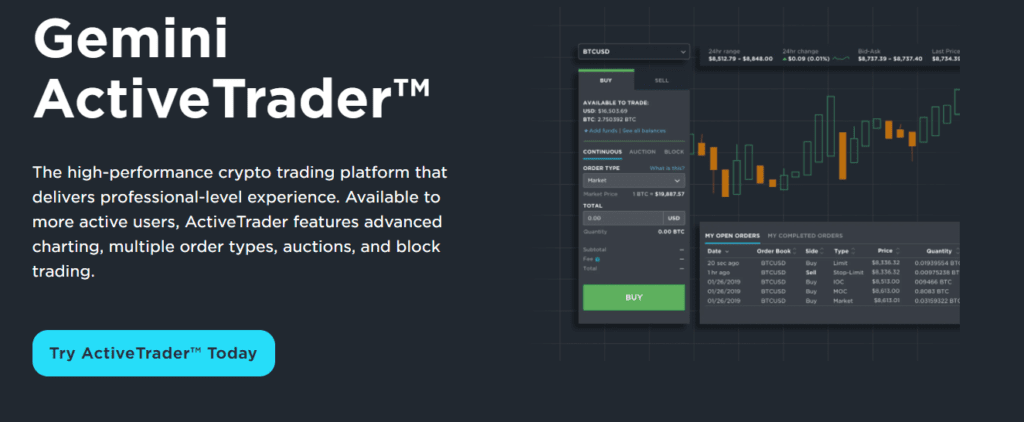 Comparison to other Crypto exchanges
With its simple interface, slightly higher than average fees, similar target market and similar goals, the Gemini ecosystem is a close analogue of Coinbase and its suite of products. The only substantial difference is the number of tokens offered, where Coinbase has a far greater catalogue. Beyond this, a user couldn't go wrong if they were going to choose between the two. Even the fee structure is almost identical
As mentioned before, simple exchanges like Gemini can not compare in efficiency compared to more advanced platforms. They are designed only for a simple trading experience. Those looking to minimize their fees or who are seeking a more full-featured experience should use other platforms, such as Coinbase Pro or Gemini's own ActiveTrader.
Conculsion
Gemini is a great exchange for users looking to get into crypto, offering an extremely simple experience and many useful features. It is best for beginners and those who don't want to dive too deep into the details. For users looking to hold their funds on an exchange, Gemini is one of the best for this. For more advanced features and more efficiency, users should look elsewhere.
Gemini Promo
Gemini Referral Link

Sign Up

Link
Sign-up Bonus
Get $10 of bitcoin after you buy or sell $100.
Referral Terms
Get $10 of bitcoin after you buy or sell $100 using our link. See Terms here.
Last Validated
November 2021