The most popular crypto exchanges on the scene right now are Binance and Coinbase, but when it has to do with crypto trading platforms in Canada, mentioning Newton is inevitable. If you've heard a lot about this interesting crypto exchange named after Isaac Newton and you want to find out more about it, you are in the right place. On the website, I couldn't help but notice that Newton boldly states that they offer low-cost trading for Canadians. Today we'll find out how true that claim is.
What is Newton?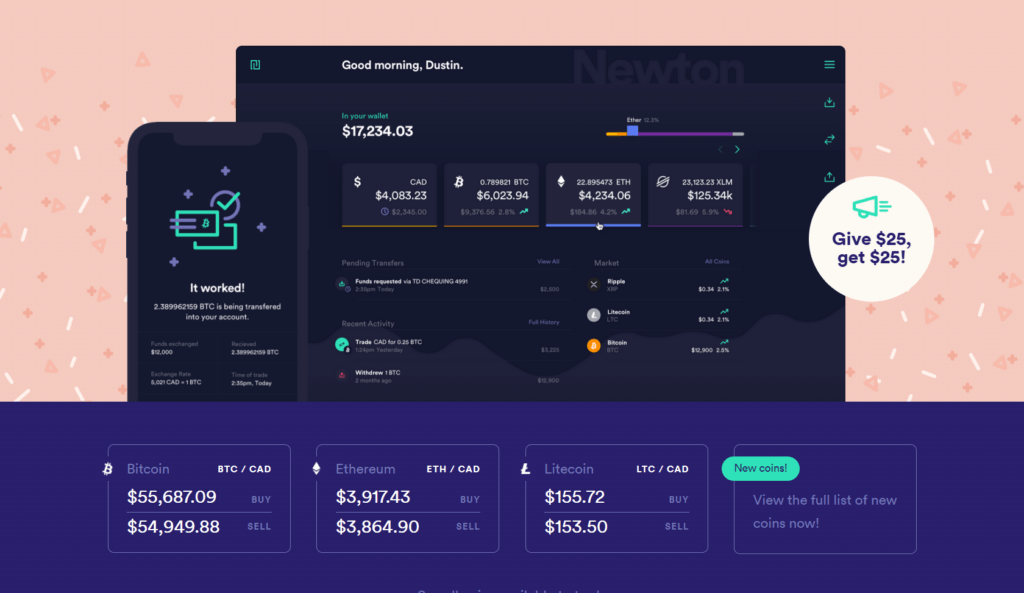 Newton is a crypto exchange targeted at Canadian users. It was launched in 2018 and they are most popular for being called the no-fee crypto exchange. I found it hard to believe that a crypto exchange would work with zero fees, so I did some research to find out if that and other claims by the crypto exchange platform is true or not. 
From the look of things, Newton is specifically targeted at Canadian users. If you take a good look at their website, you'll see the words proudly Canadian all over. I think it's great that they targeted the Canadian market because that makes it even easier for Canadians since the service is tailored to meet their needs.
How to set up your Newton account
Newton has made the sign-up process quite easy. All you have to do is follow the steps and prompts on the website and you are good to go. To get started on Newton, follow these steps;
Visit the official Newton website
Create an account by following the prompts displayed
Click the sign-up button
Submit the required ID 
After this, you will get verified so that you can start accessing low-cost trading
Fund your account by depositing CAD or crypto in it
You are set to buy and sell on Newton after getting verified
Some Important Factors to Know Note About Newton
I'll be reviewing Newton based on a few categories listed below. To effectively review the platform, I'll be doing an assessment based on four key factors: Security, fees, number of cryptos available, and user interface. Let's get right into the review.
Security
We all know that it is important to work with a platform that values the security of its users while conducting crypto transactions. It's soothing to know that Newton takes security up a notch and this reflects in the fact that they have never been hacked. It may also interest you to know that Newton uses daily off-site backups with institutional-grade backups. 
Another important aspect of Newton's security that I cannot fail to mention is cold storage. Cold storage simply refers to the storage of crypto in secure locations where there is no online connection. Newton offers cold storage using third-party custody with institutional-grade facilities. Very soon, they will even be moving to Coinbase custody, which is an even higher level of security. 
Newton is insured by balance's crypto crime insurance policy. I like the way they handle security and I think this is a fantastic move by Newton in the aspect of upping the security level of the platform.
Fees
Newton's fee structure is incredibly low. Newton does not charge any fees for trading, withdrawing, or even depositing funds. I found this hard to believe until I took a deeper look at it myself. They truly do not charge those fees. The question now is how do they make their money? 
The crypto exchange generates their money through something called spreads. Spreads are a concept that refers to the difference between the bid and the ask prices. Think about the small difference you see in the crypto you buy. For example, you buy $10 worth of a coin, and you get $9.90. That small difference is how Newton makes their money, so at first glance, it is completely free, but when you take a second look, you'll see that they still make their money. Claiming to be a zero fees crypto exchange is a way to appeal to users, in truth, the fees are there, they just don't affect you greatly. 
The crypto exchange offers "low-cost crypto trading" which means you can buy and sell crypto at very affordable rates. With Newton, you get access to a daily trading volume that runs into millions of dollars which you don't have to pay any commissions for.
Withdrawal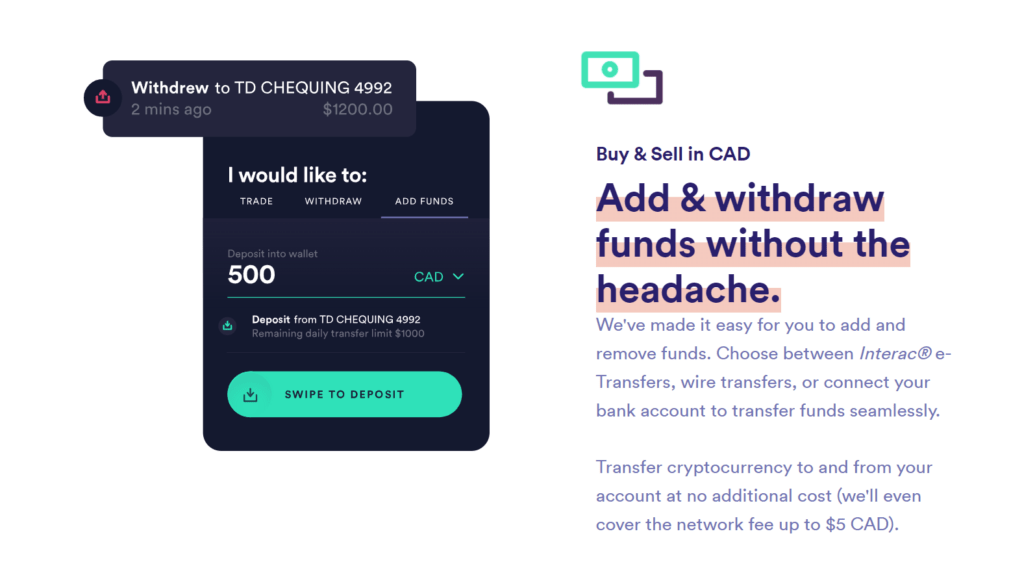 You have no reason to be bothered when it comes to fees associated with withdrawing crypto from the Newton platform. This is because Newton does not charge any additional fees for withdrawing your crypto. It doesn't end there. They also cover the mining costs up to $5! There is a catch to this though, if the fees rise very high due to the volume, Newton will require that you pay the rest.
Deposit
Even though this may not come as a surprise, It may still interest you to know that Newton does not charge any money for depositing funds. I'll like to reemphasize again that Newton does not charge any trading fees, withdrawal fees, or deposit fees. That is incredible!
Number of cryptos available
The number of cryptos is a very vital factor that influences whether a crypto exchange is functioning optimally or not. After all, the essence of a crypto exchange is to get access to exchange as many different types of cryptos as possible. 
I must say that I am particularly impressed by the wide array of cryptos that Newton has in its arsenal. The number of cryptos has been increasing rapidly ever since its inception from 10 to 19 and now, on the platform, you can find more than 60 cryptocurrencies available for trading. This number is not fixed since Newton is working on adding even more to the list. Some of the most prominent of the cryptos in their listing include;
Bitcoin (BTC)
Ethereum (ETH)
Litecoin (LTC) 
Dogecoin (DOGE)
Ripple (XRP)
Bitcoin Cash (BCH)
Stellar Lumens (XLP)
User Interface
My first impression of the Newton team is that they sure know their onions when it comes to design. The user interface is professional and this immediately creates a sense of integrity. The theme colours, font size, and other features on the website are a pointer to just how much attention to detail is being paid by the team. My take on the interface is that beginners and pros alike will all benefit from the easy layout of the website. 
Pros
Crypto availability
Newton offers a relatively rich collection of cryptos. It's easy that you might not be able to get from some other crypto exchanges. I do like a crypto trading platform that will leave me spoilt for choice so the fact that Newton has over 60 cryptocurrencies available is a plus for me.
Excellent user interface
One of the things that make up a fantastic crypto exchange is how easy it is to use. Whether you are a complete beginner or a seasoned expert, Newton has features that will appeal to you. Newton's website and mobile app offer a fantastic user interface that is quite easy to use. This makes trading on the platform a smooth experience for all its users, particularly beginners. 
Top-notch security
Newton has a relatively high level of security. Compared to many other crypto exchanges, they offer features that make the platform exceptionally secure.
Fantastic fees
One of the most talked-about features of Newton is its very low fees. It doesn't matter what you use the platform for, they will probably offer better fee options than a lot of other crypto trading platforms in Canada.
Cons
Verification time
Usually, Newton's verification time is one business day, but it's not unheard of for the verification time on Newton to take longer than it is supposed to. From the reviews, I've seen so far Newton's verification time takes longer compared to others that offer same-day verification. It does vary, when verification takes longer, it could be due to a particularly busy market day. I believe Newton can do better by speeding things up in the aspect of verification.
Final Words 
It boils down to this: if your keyword is low cost, then Newton is the one for you. Their promise is low-cost trading for all Canadians and I am impressed that they do keep to it. I also like the fact that they prioritize security and an easy-to-use interface. If you are looking for a cheap, safe, and easy-to-use crypto exchange to use in Canada, then Newton is your go-to. 
While the platform is not perfect, the exchange still has a lot of impressive features that appeal to me like its fee structure. Even though the verification timeline is not one of their strengths, overall, Newton is one of the best crypto exchange platforms to buy and sell cryptocurrency in Canada. Therefore, I would highly recommend them to all traders looking for a new platform to try out.