Since Cryptocurrency went mainstream, The entire community has been actively seeking new and improved ways to make the buying, selling, or trading of cryptocurrency easy and convenient for both newbies and veterans in the crypto space.
OKX is an innovative crypto exchange platform leading the race for this movement. It's an international crypto-exchange platform with varieties of crypto coins to trade with low fees.
In this guide, we'll do a review of this innovative platform, explaining its features, benefits, pros, cons, and areas that need improvement.
Are you ready? Let's get started…
What is OKX?
OKX is an innovative Seychelles-based cryptocurrency platform developed by Mingxing celebrity Xu in 2017. It was founded as an adjunct of its sister platform OKCoin. The exchange platform provides users with easy means of buying, selling, trading, and even lending cryptocurrencies. The platform is available for users across many countries with the United States a major exception.
It offers additional suites of benefits to users such as mining cryptocurrencies. While U.S residents have no access to the platform, it can be a good option for other people looking to trade a large number of cryptocurrencies with low exchange fees. Users have an exciting selection of trading software and order types to enjoy.
How Does OKX.com Work?
OKX.com offers an easy and convenient trading platform for new and existing crypto investors or enthusiasts as well as professional brokers and day traders. By opening an account, you can conveniently trade crypto by using your bank account, mobile wallet, or bank card.
OKX also has staking and saving features where users can enjoy mouth-watering high yields on many crypto coins. Beyond trading crypto, it has an amazing list of services such as flexible borrowing, DeFi Liquidity mining, and proof-of-work crypto mining. OKX offers exceptional financial services and great primers for crypto newbies.
The platform has simple and sophisticated trading tools and order types as well as futures and margin trading with competitive fees. Enjoy more than 300 popular cryptocurrencies presently available on OKX.
Top Cryptocurrencies on OKX include Bitcoin, Ethereum, Avalanche, Solana, Polygon, XRP, and OKB plus hundreds of tangible trading pairs such as BTC/ETH. There's a high chance you'll find any cryptocurrency you want to trade on OKX.
OKX Trading Experience
With the "Buy coins" features on the platform, OKX provides a simple way for users to buy crypto directly from their bank account, credit card, debit card, and other available online payment methods. It supports more than 30 government-issued currencies including USD and TRY(Turkish lira)
There is an option for basic or leverage trading depending on the user's choice. Order types, live order books, charts, and analysis tools are important features available for basic trading. However, these options might be too advanced for crypto newbies. Leverage trading options in the OKX platform include options contracts, margin trading, and derivatives trading.
OKX Fees
One of the major features of OKX is the little fees it charges for trading and it is among the lowest in the crypto space. OKX simplifies fees into many pricing tiers based on the user's trade volume and account holdings. The fees are dependent on the average 30-day trading volume.
Spot traders can enjoy as little as 0.10% as trading fees. The highest payable trading fees for low volume traders are 0.2% taker fee and 0.15% maker fee. On the other hand, high-volume traders and large holders of OKB coins have access to discounts.
OKX Security Measures
It's no surprise that OKX has an exceptional security system and cybersecurity architecture since it's one of the major exchange platforms with bulky monetary backup.  OKX explores industry-standard security procedures plus advanced security features to protect users' accounts and assets.
Users' private keys are stored in different offline computers and the platform listed GSLB, cold storage multi-signature wallets, and distributed server clusters among the security measures it offers.
Other distinct security features OKX offers include two-factor authentication, anti-phishing code, cold storage, and funds password.
OKX Customer Service
Most of your account needs will easily be solved independently as most information you'll need is well highlighted in a comprehensive help center. Information on account usage, maintenance, and updates.
However, if you need more information, the customer support system is available on OKX through the email-based ticketing system, social media platforms, messaging apps, and a mobile contact.
Feedback on these help centers has been a mix of positive and negative complaints. While the positive reviews revolve mainly around convenient online experience, low fees, and swift transitions, negative reviews focus on poor customer service, slow withdrawals, and lost assets. Based on the review, it seems the platform is not flexible in its system and process.
Top Features In OKX Platform
Access To New DeFi Projects
DeFi is a fast-growing area of crypto and blockchain technology and OKX provides users access to new projects in this space through liquidity mining. Users who provide liquidity to a DeFi provider can earn passive income in the form of OKB tokens. The return on this liquidity mining is much better than that of staking.
Bitcoin Earning
One of the fascinating perks OKX provides is the opportunity users have to earn fractional bits of Bitcoin. The platform rewards frequent usage of its mobile app. When you open the app every day, you will see five new learning missions that require either reading an article or watching a video. When you complete a task, you get a reward of 50 Satoshis meaning you can earn as high as 250 Satoshi daily. You can convert to Bitcoin equivalence when you reach 10,000 Satoshis.
Educational Resources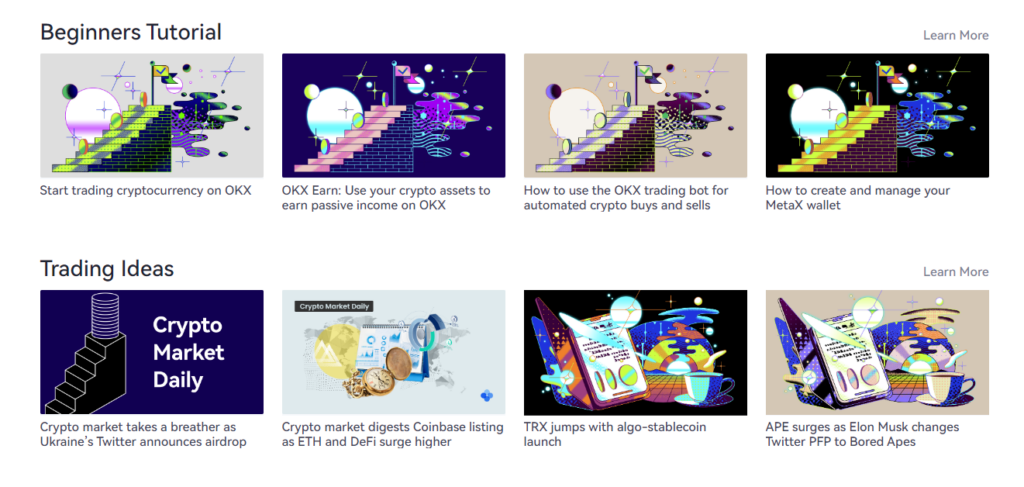 OKX platform consists of educational resources that range from beginner to professional level. You will find these resources under the "Learn'" section on the website. The website also consists of timely market analysis, articles, and the luxury to become a broker.
Mining Initiative
OKX has an integrated mining initiative that enables users to farm DeFi tokens as they support their desired projects by staking the OKX's ecosystem token (OKB).
Getting Started With OKX
The process of opening an OKX account is an easy one. You will get through it comfortably especially if you've ever opened an account with a cryptocurrency exchange before.
Getting started with OKX requires using your personal contact information to register an account. You need to complete the KYC registration requirement if you want to access all trading features.
For KYC registration, Level One involves entering basic information and your government ID. Level two needs you to upload your Government ID and a selfie. You must agree to a disclaimer to be a level three KYC-verified user.
With regards to funds withdrawal, a higher level of registration means you have higher transaction and withdrawal limits. An unverified account can not withdraw more than 10 BTC per day.
How To Manage Account
Account management can be done via the OKX mobile app available on iOS and Android or the OKX website. Irrespective of the option, all of them give users access to similar account details.
You will have access to your account immediately after you log in and can start enjoying trading features such as spot, options, and futures plus earn crypto, buy, send and withdraw assets.
PROs And CONs Of OKX
Pros
Low trading fees of about 0.10% or less.
Wide range of fiat currencies for account opening
High staking APY's opportunities.
Availability of Educational resources.
Ease of buying cryptocurrencies via bank account, bank card, Google Pay, Apple Pay, and many other supported payment methods.
Hundreds of Cryptocurrencies and trading pairs are available.
Good customer services
Easy-to-use Buy/Sell dashboard
CONs
Not available for U.S residents because of regulatory and compliance reasons.
Complicated and multi-tiered fee structure.
Low liquidity for some currencies.
Bad reviews from some previous customers about lost funds and poor customer service
Possible Area Of Improvement
Accessibility for U.S residents.- OKCoin has limited features.
Simplify the complicated fee structure as it's difficult to determine if the charges are low or high.
KYC security adds another layer of steps to deposits
Wrap Up
OKX is a top cryptocurrency exchange platform trusted and used by millions of people. It provides quick and easy ways to buy, sell, hold or trade hundreds of top cryptocurrencies with low and competitive fees.
We've reviewed the platform, user experience, fees, features, and customer reviews. While it may not be the biggest exchange platform, it does well in providing exciting features for users.
The platform provides high-interest yields in saving and staking features while providing easy ways to trade through mobile wallets, bank cards, and bank accounts. With an account, you can manage every of your cryptocurrency activity.
However, because of some past customer experience and other shortcomings, ensure you exercise caution and adhere to the security measures of OKX to keep your account and assets safe and secure while you enjoy the features the platform has to offer.