Coinbase Pro is the advanced trading platform of Coinbase. Regular Coinbase is marketed towards crypto newbies and people who only make occasional buys and sells. In contrast, Coinbase Pro is aimed at advanced users who trade more frequently, or who are trying to get the best deals possible. With its packed feature set and great security, it even looks good compared to other advanced crypto exchanges.
Differences from Regular Coinbase
As stated, Coinbase and Coinbase Pro are different products aimed at different people. Though since they both are run by Coinbase, they are integrated to some degree. Coinbase Pro can easily interface with the regular Coinbase website. It uses the same account, and funds can be easily and instantly transferred between the two. The transfer does have to happen though, Coinbase Pro does not have access to regular Coinbase funds by default.
Buy or sell $100 or more of crypto, you'll receive $10 worth of free Bitcoin.
The key advantages over Coinbase that Coinbase Pro offers include its advanced interface, different trading features, its more efficient fees structures, and its wide array of trading pairs. However, it may be more difficult to use for a casual user, as all the information displayed can be overwhelming and it may not be as easy for a new user to make trades.
Advanced Trading Features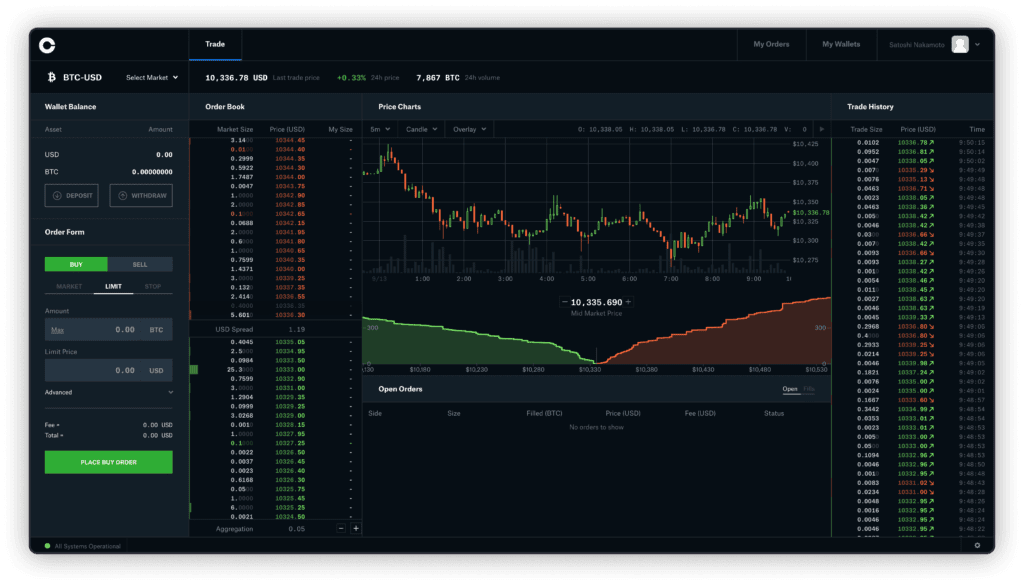 Opening Coinbase Pro is a completely different experience than opening Coinbase and might be overwhelming to someone who has not used an advanced trading interface before.
The advanced interface of Coinbase Pro includes a detailed candlestick chart, a depth chart, an order book, and the trade history of both the trader and the selected trading pair. All of this is compactly fit into one screen, so a trader may easily make an informed in-the-moment exchange. For someone doing technical analysis, trying to make the best entry possible, this is all incredibly useful. For someone who just wants to buy $100 in Bitcoin, and doesn't care about getting the absolute best bang for their buck, not so much.
Fee Structures
The main fees on Coinbase Pro are called maker and taker fees, and both start at .5%  of an order. For those unfamiliar, a maker fee is a fee for putting an order on the order book that is not matched immediately, while the taker fee is for an order that is matched immediately. These fees start to scale down for those who do more volume. Here is the structure, from the official Coinbase website:
| | | |
| --- | --- | --- |
| Pricing Tier | Taker Fee | Maker Fee |
| <$10k | 0.50% | 0.50% |
| $10 – 50k | 0.35% | 0.35% |
| $50-100k | 0.25% | 0.15% |
| $100k-1M | 0.20% | 0.10% |
| $1-10M | 0.18% | 0.08% |
| $10-50M | 0.15% | 0.05% |
| $50-100M | 0.10% | 0.00% |
| $100-300M | 0.07% | 0.00% |
| $300-500M | 0.05% | 0.00% |
| $500M+ | 0.04% | 0.00% |
As is clear in the table, it becomes dramatically more efficient to trade on Coinbase Pro at higher volumes. For lower volume customers under $10,000, the fees are the same as Coinbase at .50%. However, there is still an advantage here of inefficiency, as Coinbase customers can only make market orders, while Coinbase Pro customers may make limit orders that guarantee buying at a certain price.
Comparison to other Crypto exchanges, Pros/Cons
When compared to other advanced exchanges in its league, Coinbase Pro still has advantages, but they are not as clear as they are against its sister exchange. The fees are one area where it falls flat. Maker/taker fees on Binance for example start at just .075%, which is dramatically lower. Other exchanges offer similar competition. At extremely high volumes, Coinbase Pro may still often work out to be the better option, however.
Beyond fees, there are still a few advantages. One is the great track record of security in the Coinbase ecosystem, which has never been hacked in its 8 years. In the crypto world, this is an impressive feat. This is due to careful and advanced security practices, including cold storage servers, and paper backups of wallets stored in safe deposit boxes. The security of Coinbase is so good, they even have a trusted business of custody in crypto for institutions. In addition, all USD funds on Coinbase are FDIC insured, meaning if they were somehow lost the investor would still be completely covered. For anyone that puts safety as a high priority, this should all be very appealing. 
In addition, the easy interfacing with the regular Coinbase website can be appealing. Some people may sometimes prefer the easy experience it offers, but occasionally need to work with more advanced features. Others may like the wide variety of currencies offered, which is among the highest in the US market, though this falters on the world stage.
For all the good things, there are still some drawbacks. One is that margin trading was discontinued last year, due to "changes in the regulatory environment" High-risk takers need to look elsewhere. However, most people would not be concerned about this.
There are a few issues for those that would like to be absolutely sure they have constant access to their assets. For one, support can be slow, as is common among crypto exchanges. It is not uncommon to hear reports of users waiting weeks to hear back about their concerns, and there is only email support available for any account-related issues. If your funds are locked for any reason inside Coinbase, it may be a real hassle to get them out. This is a possibility, as Coinbase is known to sometimes lock accounts for a variety of reasons. This can be for bureaucratic reasons such as identification, or because they suspect the account of illegal or questionable activity. Regardless, if you're not a money launderer, would you want to put your funds at risk for the possibility of being suspected as one?
Another big concern with Coinbase Pro is a pattern of going down during high volatility. When large amounts of people go to trade during large price movements, the exchange often can't handle it, so you may lose access when you most need it.
All of these potential access issues can be mitigated by self custody funds, and only transferring when needed. As is the common phrase, 'not your keys, not your coins'. Overall, for those looking to use its features, Coinbase Pro is a decent exchange, however, the potential problems should be noted.
Summary
In summary, Coinbase Pro is good for advanced users who are frequently trading or like to make sure they're getting the best possible prices in the Coinbase ecosystem. Regular Coinbase will appeal more to casual users who are just getting into crypto, who do not want to mess around with the advanced, and sometimes confusing features. As far as it fairs on the wider exchange market, it is a good option, though there may be better deals as far as fees.
Coinbase Sign-up Promo
| | |
| --- | --- |
| Coinbase Referral Link | Open a Coinbase Account |
| Sign up Bonus | Get $10 in free Bitcoin |
| Sign up Terms | Get $10 in free Bitcoin when you buy or sell $100 or more in crypto. |
| Last Validated | November 2021 |