Crypto trading platforms all come in different shapes and sizes. There are so many out options available to traders that make it very difficult to even choose! Some are efficient and the others, not so great. So how do you get to choose a suitable crypto exchange tailored to meet your needs? Worry not! With this thorough yet concise review on CoinSmart, you'll know for sure whether you should hop on to this trading platform or whether you should kick it into the bin.
What is CoinSmart?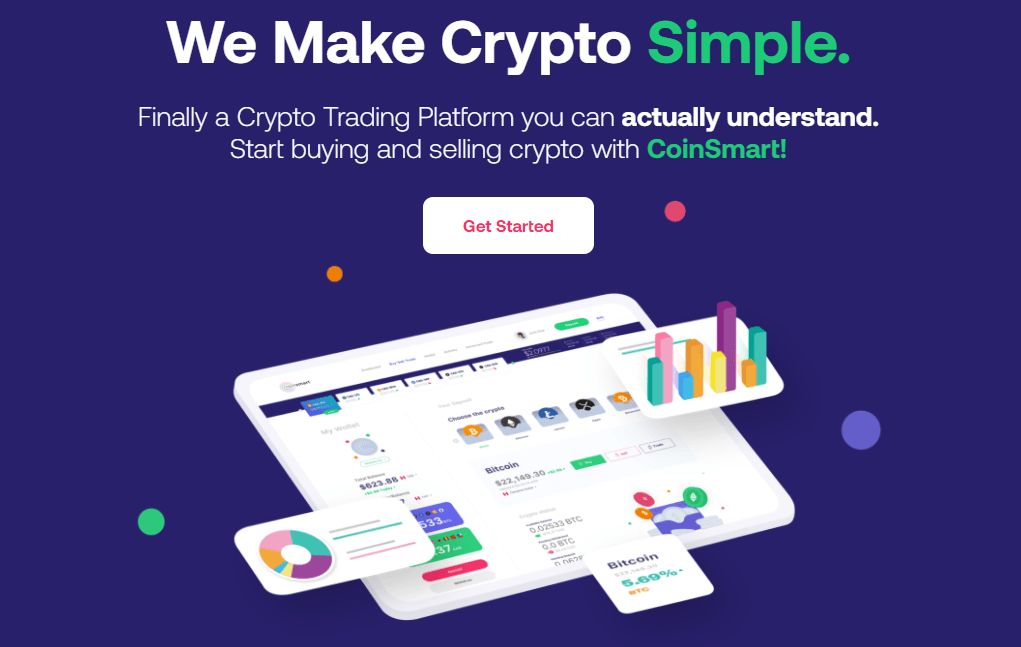 CoinSmart is a crypto exchange platform. It was founded by Justin Hartzman and Jeremy Koven. The Toronto-based platform was officially launched in 2018. That is up to four years now and ever since then, it has been making cryptocurrencies accessible to crypto traders in Canada. It's suited for Canadians since it creates a smooth experience for Canadians to trade Canadian dollars with other cryptocurrencies like Bitcoin and Ethereum. In this article, I'll be assessing the crypto exchange platform to reveal how well it does when compared to other crypto exchange platforms.
Even though CoinSmart is specifically targeted at Canadian users, it is still available to other traders in countries like Brazil, Finland, Greece, Italy, Japan, India, Jamaica, Malaysia, Denmark, Bulgaria, and much more. This means CoinSmart is not only available in North America, but also Asia, South America, and Africa.
How to set up your CoinSmart account
CoinSmart has an easy interface to use. To create a CoinSmart account, follow these steps
Visit the official CoinSmart homepage
To set it up, enter your email address and click on "get started"
Fill in details like your name and your desired password.
After this, click "sign up"
A mail will be sent to your email inbox. Use that to verify your email
Fill in your phone number and verify it as well through the code that will be sent
Enter the required data like your name, address, and date of birth
After this, you will be verified, and that means you can start trading coins on the platform as soon as possible.
Key Factors About CoinSmart
Let's dive right into the review. I will be using four main categories to assess how good the CoinSmart platform is. We'll discuss important factors like security, fees, coin availability, and of course, user interface.
Security
A very important determinant factor that crypto traders often consider before choosing to trade on a platform is how safe it is. Nobody wants to go all out and invest in a crypto exchange platform that packs up before anyone has the chance to recognize what's going on. 
CoinSmart is FINTRAC (Financial transactions and Report Analysis Centre) registered. It's also fully supported by Luminus financial which is a registered bank in Canada.  This goes to say that all your funds in CoinSmart are safe because they value their clients' security and protection more than anything else. They are fully regulated by the appropriate Canadian regulatory bodies. 
I should also add that CoinSmart is the only publicly traded crypto exchange platform in Canada. This means that it has a higher level of transparency and security than a lot of other exchange platforms around. They also offer 95% cold wallet storage. The platform prevents fraud through a thorough identity verification process. With this method, they can easily identify fake information like names, dates of births, and addresses. They work with data collection agencies to scrutinize data, identify fake and real identities, and keep the information of their users secure.
Fees
I would say that CoinSmart doesn't come cheap. When I compared it to some other crypto exchange platforms, I discovered that the transactions costs on CoinSmart are high. CoinSmart charges a trading fee of 0.20% for single trades and 0.40% for double trades. In case you are wondering what the difference is, I'll explain. A single trade is when you trade between two cryptos when one of them is Bitcoin or if you trade between Canadian dollars and any cryptocurrency. On the other hand, a double trade is when you trade between two cryptos where Bitcoin is not among the two.
Withdrawals
A lot of crypto exchanges do not allow their users to withdraw their crypto. Rather they are restricted to buying and selling when they no longer want the cryptos anymore. CoinSmart does not operate in this way. The platform allows users to do anything they want with their crypto including withdrawing it for a specified fee.
Deposits
Regarding deposits, there is a minimum deposit of $10,000 and a maximum of $1,000,000. It's a big plus that they offer same-day deposits for most options. CoinSmart offers free deposits into the platform. The only fee you'll be required to pay is the associated network fee.
Available coins
CoinSmart is limited when it has to do with the number of cryptos available. The crypto exchange platform claims that they have got more than the basics when it has to do with their list of coins, but they don't live up to that promise, in my opinion.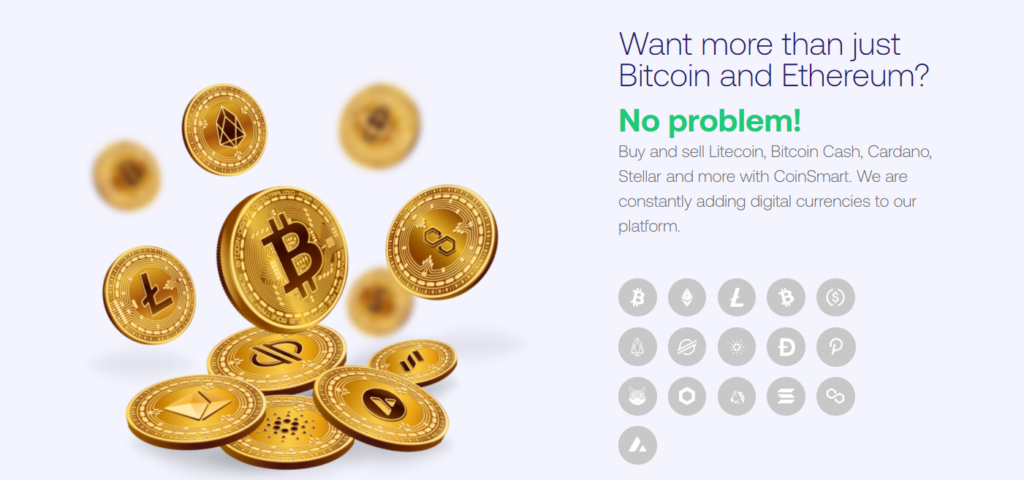 I like the fact that even if you want to deal with something more than Bitcoin and Ethereum, CoinSmart still has options for you. Still, I am not impressed by their coin listing. They currently have about 16 coins which is much lower than some other crypto exchanges in Canada. Nevertheless, the good news is that they are still adding more cryptocurrencies to the platform. 
Some of the coins available on the platform are:
Bitcoin (BTC)
Ethereum (ETH)
Cardano (ADA)
Litecoin (LTC)
Bitcoin Cash (BCH)
Stellar Lumens (XLM)
Ripple (XRP)
Dogecoin (DOGE)
EOS (EOS)
Shiba Inu (SHIB)
Tether (USDT)
Polkadot (DOT)
User interface
The first thing I noticed immediately after visiting the official CoinSmart website is how visually appealing it is. It's impressive how simplified the website is. On the homepage, you are presented with a beautiful blend of colours that make it very easy to navigate even for beginners. Due to its creative interface, CoinSmart has quickly become a favorite among many Canadians. 
Now that we've taken a good look at some of the main aspects that make up a crypto exchange platform, let us now go deeper to highlight the pros and cons of CoinSmart.
Pros
Earn Bitcoin feature
The crypto exchange offers a particularly interesting feature called the Earn Bitcoin feature. Just as the name implies, you can earn Bitcoin through the feature by answering some quizzes. You do have to be verified since that is the only guaranteed way for you to receive your rewards. This is a plus considering this feature isn't available on many other crypto exchanges.
Verification time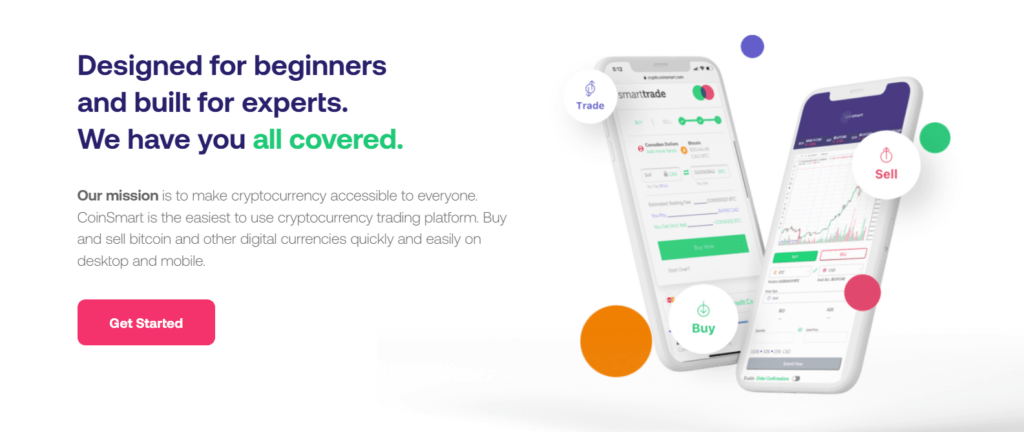 CoinSmart promises a verification time that isn't more than a couple of minutes. From my findings, they do live up to that promise. CoinSmart verifications are very fast and smooth unlike that of some other platforms that even spill over to the next day and even week! 
Customer support
CoinSmart seems to be doing relatively well in this area. They boast of a 97% customer satisfaction rate and this is primarily because of the plethora of ways through which customers can make complaints and inquiries. You can easily connect with their customer care representative through a live chat, email, or even a phone call. This way, all your questions can be answered at any time of the day.
Cons
Limited coin selection
As I already mentioned earlier, CoinSmart is quite limited when it comes to its current coin selection. While it may be enough for the average investor, a more experienced trader might want a more detailed coin listing to play around with.
Fees
There are some fees in CoinSmart that I'm not pleased with. They include a 1% withdrawal fee on all fiat options and an Interac e-transfer funding which features a 1% fee for any amount less than $2000.
Summary
Pros
Earn Bitcoin feature
Aesthetically pleasing user interface
24/7 customer support
Superfast verification
Very easy to set up, especially for beginners
Ease in swapping altcoin to altcoin
Backed by a Canadian bank
Same day deposit of funds available
Cons
1% withdrawal fees on all fiat options
Limited regarding the number of cryptos available
Interac e-transfer funding that features a 1% fee for any amount that falls below $2000
Conclusion
My verdict is this: CoinSmart is a good start for beginners who want an easy-to-use crypto trading platform. It is easy to see that the platform is aimed at making crypto trading very as easy as a-b-c even for an absolute beginner. It may not be the first platform I would recommend to expert traders searching for a trading platform that has a wider array of cryptocurrencies listed for trading. 
It depends on what you are looking for; I believe CoinSmart still has a lot to offer experienced traders. If you ask me, I'll say CoinSmart is not a bad choice, but there are much better crypto exchanges out there to try out if you are not an absolute beginner.