Say hello to the new IPFS blockchain on the block! YanDNA is a newly launched data storage product that enables you to have full control of your data. PAC protocol, which is the largest data blockchain network focused on decentralized storage, recently announced the official release of their YanDNA product. It is as exciting as it sounds, it is brand new, and we can't wait for you to find out all about it if you haven't already.
 If you just heard about the product release and you want to find out more about all the details while it is still fresh and hot from the oven, we would like to congratulate you because you are in the right place. First, let's go back to the basics so that you don't get confused along the way. We'll start from what exactly an IPFS is before we dive into what YanDNA is all about and what you stand to benefit from this new platform.
What is IPFS?
The acronym IPFS stands for InterPlanetary File System. You've most likely heard about the term before, but we'll still straighten up the facts just in case. An InterPlanetary File System is a file-sharing system. It can be used for a variety of purposes, including storing, sharing, and accessing files, websites, applications, and data. The essence of IPFS content addressing is to enable you as a user to store large files off-chain and put immutable, permanent marks in transactions. 
Through IPFS, any content that you desire is made easily accessible for you no matter where it is located in the world. It is an efficient, secure, and decentralized means to dish out content to websites, encrypt communication, share files, and store them without hiccups. We can't discuss YanDNA without mentioning its host network, which is PAC Global. We'll tell you what you need to know about PAC Global in a minute.
What is PAC Global?
PAC Global is a network that is built from cutting-edge technology and championed by blockchain pioneers with the complete elimination of the middleman. PAC Global combines proof-of-stake and deterministic master nodes to allow fast and low-cost transfers. It also allows free-flowing communication of full nodes. This helps it to relay exact copies of blockchain activity. One of the goals of the PAC Global network is to use the IPFS software and the PAC protocol master nodes in all of their product releases. 
Many people usually ask the question, "what does PAC protocol do?" we are happy to answer that for you today. PAC protocol does the job of connecting not only sellers and consumers but also business enterprises as well. Globally, it is an officially recognized fats, secure, and more cost-effective way to send transactions all over the world. Due to the technology through which it operates, PAC Global allows fast, secure, and low-cost transfers. This helps its users to have access to free and instant transactions. It is the PAC Global network that is responsible for releasing YanDNA, which is their very first IPFS product release.
What is YanDNA?
We've said enough about IPFS and PAC Global. Now that you have the basic knowledge about the two concepts, we'll go straight into the main topic for the day, which is YanDNA, of course.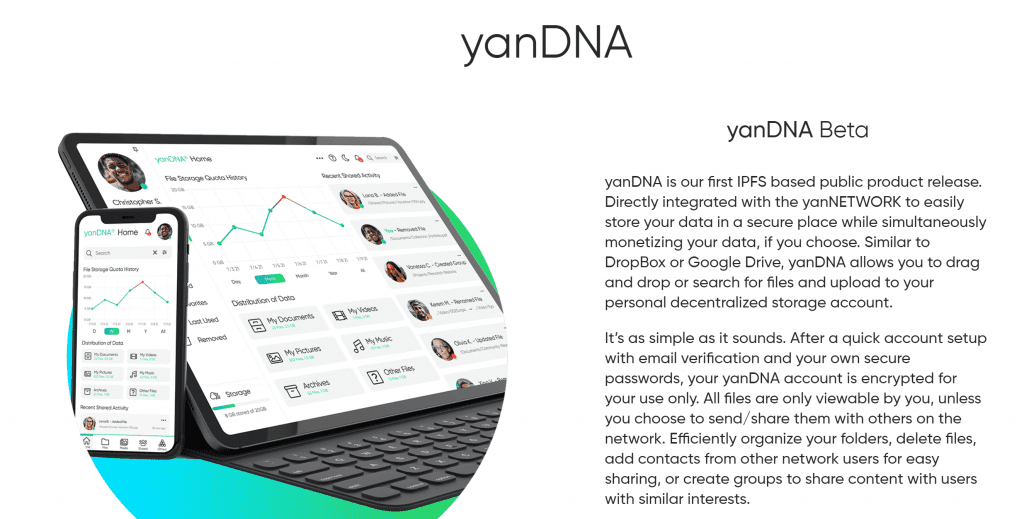 YanDNA is a user-friendly file storage solution. It is a decentralized storage product that is also PAC's first IPFS product release. Now, if you live on planet earth, then it's likely that you have used either Google Drive or Dropbox. If you concur with that prediction, then it means that you already have a basic idea of what YanDNA is and how it works whether you believe it or not. 
We'll break it down a bit. Just like the two applications mentioned earlier, with YanDNA, you can upload your files to your decentralized account and even search for any file of your choice too. 
YanDNA aims to improve and change the way data is being stored and shared. The Yan technology makes it very easy and secure for you to store your data while you monetize it -if that is something you want.
How does YanDNA Work?
YanDNA is a web-based platform. With YanDNA, you get your decentralized storage account. Before you can use the account, you have to set it up through a simple process. The setup process is quite simple, and it only requires you to verify your email and have your passwords. After this, your decentralized YanDNA account will be encrypted so that you'll be the only one who is authorized to use it. YanDNA is very secure, and that means any file that you decide to store on the system will be viewable only by you, except you choose to share them with your friends or family.
Another concept that people need clarification with is how YanDNA can be used to monetize data. Monetization of YanDNA data works by using the $YAN token. The plan is for the $YAN token to be awarded at a deterministic rate. The token will determine the amount of storage space that is made available for each individual on YanDNA. The more $YAN tokens you deposit, the more storage space you'll have for your activities on YanDNA. The good thing about the whole arrangement is that at any point where you decide that you want your $YAN back, you can make a withdrawal of all your tokens, but that will mean giving up the initial storage space it was used to purchase. This route helps you to monetize your data no matter what the content is. This way, you can even use your $YAN to trade on 3rd party exchanges to help others to gain access.
What are the uses of YanDNA?
YanDNA was designed in such a way that it offers its users immense benefits. There are a lot of purposes that you can use YanDNA for, both in your personal life and for business or in your career. Just in case you still want to grasp the many benefits and functions of YanDNA, we highlighted the functions of YanDNA in clear terms so that you know exactly what you stand to gain by using it. Think of it as a little pro list. These are some of the uses of YanDNA:
It is an efficient method of organizing your folders and keeping track of them.
It can be used to securely store your files or any other content.
It helps you to keep your information private and safe. This way, only you have the access to the information. Except you choose to share it with other people.
With YanDNA, you can easily create groups that make sharing content with people who have similar interests easier. 
You have the option of deleting files that are no longer of interest to you.
It gives you the option of monetizing data.
YanDNA helps you to share files. To help you achieve this easily, YanDNA gives you the option of adding contacts from other network users.
There are so many more benefits of YanDNA available, and PAC Protocol is still working on improving its product release to make it better and more efficient for private and public data storage. In summary, it is a very reliable, secure, low-cost storage medium, and it promises to be even better in the years to come. There are many bad social media and streaming platforms that exhibit negative traits like cancelling your channel and even stealing your content. With YanDNA, you can prevent all this from happening to you at all.
What this means and the future of YanDNA
The emergence of YanDNA simply means that there is now a smarter way to store and share your data. YanDNA promises to be very reliable for personal and public data storage. Since its launch, more people have been able to get increased control over their data storage, security, cost, monetization, and other factors that can be considered. Pac's goal of streamlining and simplifying data distribution is even more intense than it has ever been. This means that we can look forward to more in terms of new technology and product releases.
Today, the development of IPFS based products is moving very fast and paving the way for more innovations. Even the people are now recognizing the ability of a scalable IPFS network and built-in network incentive for PAC protocol mater nodes.
Conclusion
That's it. We've put together everything you need to know about YanDNA and what the future expectations are for this technology. YanDNA is the future of decentralized data and file sharing as well. Take back your data today. If it sounds good to you and you are already considering the prospect of having a secure storage platform where you can share and monetize your data, then you should check it out. All you need to start your journey to better data storage on YanDNA is an email account and a secure password, and you are good to go! There is good news for you today, and it comes in just five words: Take back your data today.