Gate.io is a Chinese based crypto exchange, which ranks #12 in volume according to CoinGecko. It is one of the longest-running crypto exchanges, started way back in 2013. It was originally called Bter.com, but was forced to rebrand to its current name when the Chinese government banned Fiat to crypto trading in 2017. From there it refocused to crypto-crypto trades, and Chinese yuan OTC trades, and remains today as one of the largest exchanges.
Basics
Gate.io offers many currency pairs, competitive fees, and perhaps a larger feature set than any other exchange. It has much to offer any active trader. It also lists more coins and pairs than almost any other exchange. Currently, there are 704 coins and 1528 pairs, according to CoinGecko's list of exchanges. Gate.io is unique in that it will list most major projects that apply, so long as they have some sort of volume.
Save up to 20% on trading fees when you sign up using the links in this review
Fees
Gate.io employs a fee structure based on the volume and holdings of its native GT token, which is listed below. The fees are competitive, especially compared to an exchange like Coinbase Pro where Gate.io's first-tier outperforms even their third tier of fees.
Tier
Meet trading volume + GT holding requirements
30-day Volume/GT holding
GT holding only
GT holding
Total holdings only
(account value)
Maker
Standard fee/GT debit
Taker
Standard fee/GT debit
VIP 0
1.5 BTC / 0 GT
0 GT
0 BTC
0.2% / 0.15%
0.2% / 0.15 %
VIP 1
1.5 BTC / 20 GT
100 GT
0.05 BTC
0.185% / 0.139%
0.195% / 0.146 %
VIP 2
3 BTC / 50 GT
300 GT
0.1 BTC
0.175% / 0.131%
0.185% / 0.139 %
VIP 3
6 BTC / 200 GT
1000 GT
0.25 BTC
0.165% / 0.124%
0.175% / 0.131 %
VIP 4
12.5 BTC / 500 GT
2500 GT
0.5 BTC
0.155% / 0.116%
0.165% / 0.124 %
VIP 5
25 BTC / 1000 GT
5000 GT
1 BTC
0.145% / 0.109%
0.155% / 0.116 %
VIP 6
75 BTC / 2000 GT
12000 GT
2.5 BTC
0.135% / 0.101%
0.145% / 0.109 %
VIP 7
200 BTC / 5000 GT
25000 GT
5 BTC
0.125% / 0.094%
0.135% / 0.101 %
VIP 8
500 BTC / 10000 GT
50000 GT
10 BTC
0.115% / 0.086%
0.125% / 0.094 %
VIP 9
1250 BTC / 20000 GT
120000 GT
25 BTC
0.105% / 0.079%
0.115% / 0.086 %
VIP 10
2500 BTC / 40000 GT
250000 GT
50 BTC
0.095% / 0.052%
0.105% / 0.058 %
VIP 11
3000 BTC / 50000 GT
500000 GT
100 BTC
0.085% / 0.015%
0.095% / 0.045 %
VIP 12
6000 BTC / 50000 GT
1000000 GT
200 BTC
0.075% / 0.01%
0.085% / 0.04 %
VIP 13
11000 BTC / 50000 GT
2000000 GT
400 BTC
0.065% / 0.005%
0.075% / 0.035 %
VIP 14
20000 BTC / 50000 GT
4000000 GT
750 BTC
0.055% / 0%
0.065% / 0.03 %
VIP 15
40000 BTC / 50000 GT
1500 BTC
0.055% / -0.005%
0.065% / 0.025 %
VIP 16
75000 BTC / 50000 GT
2500 BTC
0.055% / -0.01%
0.065% / 0.025 %
However there are additional fees, the biggest of which are withdrawal fees that vary heavily from coin to coin. According to withdrawalfees.com, some are very high, but also some still end up being the best in the market. Deposits, on the other hand, are completely free.
Features
Gate.io is a full-featured exchange, allowing most functions that a typical trader would want and more. On top of the typical market trades, there is spot trading, ETFs, Futures, Borrowing, and Margin Trading up to 100x leverage on some coins. However, some of these additional features are not allowed in the United States, and the exchange is not available at all
in New York and Washington State. Canada and Japan also see limits to their functionality, being only able to trade a few whitelisted coins.
On every pair's page, there is a full trading interface including a candlestick chart, order book, depth chart, and trade history watch. When trading on technical analysis, traders have all of the information they need to make informed decisions on one page. These features will appeal more to professionals and day traders, however, those new to crypto and trading might be overwhelmed. There are multiple interface styles to choose from, from the default light mode to a green interface, to a dark mode.
Customer Service
Customer service on Gate.io is easily accessible through a live chat icon in the corner of the screen and is available 24/7. In addition, they have an email address for technical support. Though the support is there, they can be slow to respond. If there are any issues, additional help can be found on their help centre page.
Strategy Bots
A unique feature of Gate.io is its automated strategies, where users can select from a variety of bots to run trades, right from inside the exchange. Some of these bots advertise annualized yields of over 300%, though this certainly varies heavily from week to week. The spot trading bot claims to have over 726,111,652.51 USDT staked to it. In addition to just creating their own strategies, users may also copy other peoples strategies that are public, and there is a leaderboard for the highest performing strategies. The best ever was a strategy that spot traded SHIB / USDT, and earned over $2,000,000 over the course of 2 days.
Hodl and Earn
One of Gate.io's main attractions outside of trading is its Hodl and Earn program, where users may stake their crypto in exchange for high APRs up to 50%. There is an earnings program for most of the major blockchains, including BTC, ETH, TRON, and EOS. However some of these programs are limited in quantity, and popular programs such as the Ethereum and Bitcoin staking programs are usually filled up. This makes sense, as they offer attractive 10% annual returns.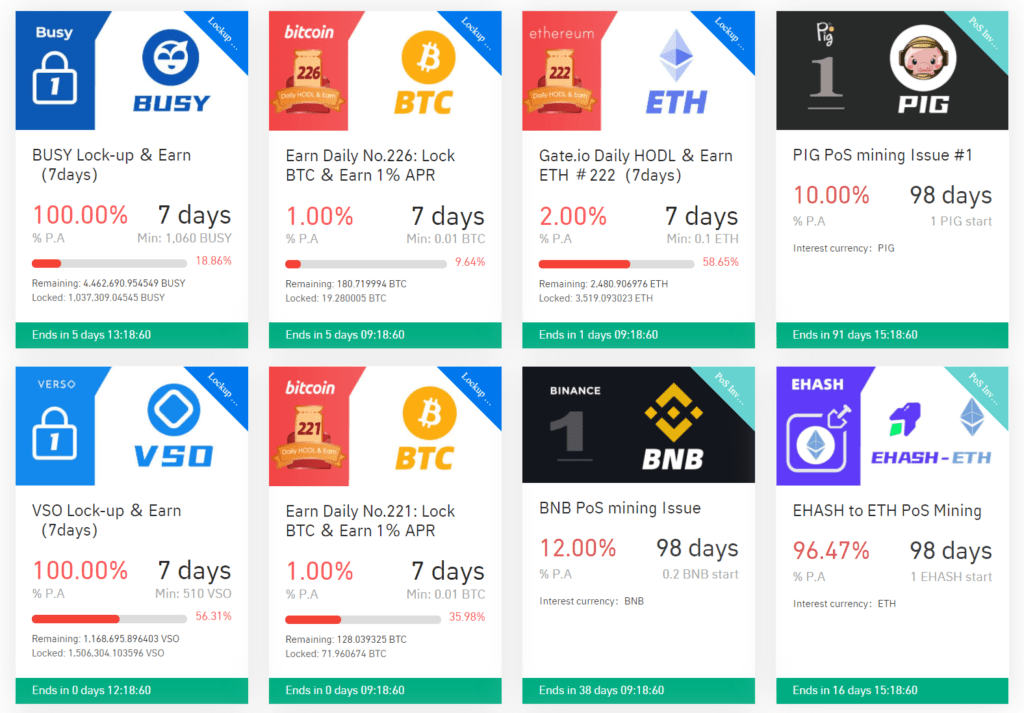 In addition to the Hold and Earn program, Gate.io also offers Ethereum staking, which does not have a limit. Users may freely swap between ETH 1 and ETH 2 to exit or enter staking positions.
Social Features and Leaderboard
Another way Gate.io is unique is in its focus on social features, which is rare for an exchange in today's environment. There is a highly active public status wall where anyone may post, generally, there will be a couple of posts a minute. However, as it is a mainly Chinese exchange, most posts are in Chinese. Here you can like, comment, and even share posts. In addition, there is a leaderboard where the biggest moneymakers of the past 30 days are shown, and according to the UI, there will soon be an option to copy-trade them.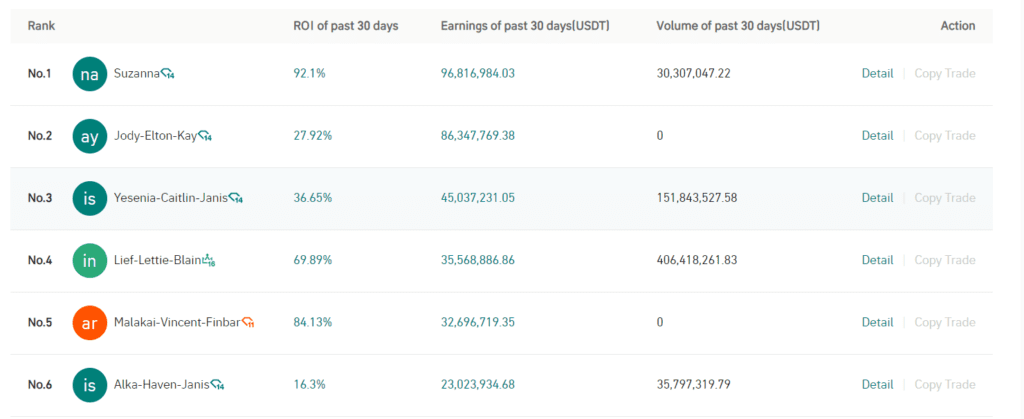 Security
Gate.io ranks #6 on Crypto Exchange Ranks for security, this is a reputable website that compares many different metrics of crypto exchanges. It has in the past ranked at the top of the list. However, it does not have a spot free record for security concerns. Back in 2015, over 7,000 BTC was stolen from cold wallets. While this wouldn't be anywhere near as significant as it would be if that amount was stolen today, this hack was still worth a few million. As far as exchange hacks go, this is a relatively ok record, as many exchanges have at least one hack, and this one occurred a long time ago.
Today Gate.io takes measures such as storing funds in cold wallets, (though some are still stored in hot wallets), allowing two-factor authentication, and other security features. Many of their best security features are on the client-side, where they allow for such things as additional password requests on withdrawals, blind Ip logs, and anti-phishing codes.
Despite its KYC requirements, Gate.io is an unregulated exchange and using it may entail more risks than some other exchanges, as legal options against it would be limited if something were to go wrong. There are reports that funds can be deposited without KYC, however, it's important to avoid this as funds could be stuck on the exchange with little recourse.
GT Token and GateChain
GT Token does not only give the aforementioned fee benefits, it is also the native currency of Gate.io's blockchain, GateChain. GateChain is an Ethereum based public blockchain that offers many of the same features, its main technical difference being that it works on a delegated proof of stake system, allowing faster transactions and lower fees.
Gate.io claims to have built an entire DeFi ecosystem on top of GateChain, however, adoption is currently lacking, with only 3,441 addresses and $60,000 in daily volume according to their websites. Perhaps this will pick up in the future, however, with so many others launching exchange based chains with similar promises such as Binance, OkEX, and Huobi, it is questionable if GateChain will find much adoption of its own ecosystem.
Conclusion
For many people, Gate.io is a fantastic option for trading crypto. However, in some localities, features are limited, and users might be better off looking elsewhere if they wish to do more advanced trading. Nevertheless, the low fees and yield earning features could make it an attractive option for anyone.
Gate.io Promo
| | |
| --- | --- |
| Gate.io Referral Link | Sign up link |
| Sign-up Bonus | Save up to 20% on trading fees |
| Referral Terms | Sign up using our referral and save 10% on trading fees. |
| Last Validated | November 2021 |