Buying and selling cryptocurrency can be challenging, so make sure you choose a reputable exchange. It's also necessary to find an exchange that meets your requirements while also being simple to use. Nothing is more frustrating than opening an account on a cryptocurrency exchange just to discover you have no idea how it operates. If you are considering opening a Binance account, then this guide is definitely for you.
Save up to 10% on trading fees when you sign up using our Code: 79382944
In this guide, you will learn everything you need to know about Binance. You will learn how to sign up for Binance, how to trade on the platform, and the number of trading fees you will have to pay in the exchange. You will also learn about the security strategies employed in the exchange, as well as the types of users it's intended for. Without much further ado, let's get started with a short introduction to the exchange.
Brief Introduction to Binance
Binance is a cryptocurrency exchange founded by Changpeng Zhao and Yi He in China in 2017. Before deciding to start their crypto exchange, Yi and Zhao both worked at the OKCoin exchange. After the Chinese government banned cryptocurrency trading in September 2017, the company was forced to leave the country. The platform location was then shifted to Japan and Taiwan. However, it is currently headquartered in Malta.
Binance has its cryptocurrency, which is known as Binance Coin (BNB). The good thing about the exchange is that traders who pay their trading fees in BNB are often given discounts. According to CoinMarketCap, Binance is considered the biggest cryptocurrency exchange on the market with more than $56 billion worth of cryptocurrency being traded there on a 24 hours basis.
Binance is a crypto-to-crypto platform implying that users can only use it to exchange cryptocurrencies. However, you will need to purchase a cryptocurrency of your choice if you don't have any before you begin trading with Binance. Once you have accumulated a cryptocurrency, you can use it to exchange with more than 200 coins and tokens on Binance. Just so you know, Binance is one of the few exchanges that offer this opportunity of trading with multiple coins. 
After going through the introduction, you should be ready to learn how to use Binance. However, before discussing that, you will need to know how to create a Binance account.
How to Create a Binance Account
Go to Binance and click the Register button in the top right corner.
Type in your email address and a strong password. Now is also the time to enter any referral codes use "ZWV38MYL" to save 10% on trading fees.
Input the code sent to your email address or mobile number as directed in the account verification instructions.
Your Binance account should now be set up once you have been verified.
After that, you must complete the Know Your Customer (KYC) process. KYC allows the exchange to verify that you are who you say you are and that you meet our legal criteria. After that, you are one step closer to purchasing cryptocurrencies, so let's get started on how to trade on the platform.
How to Trade on Binance
There are two trading options on Binance, which include the Basic and Advanced trade settings. 
The Basic trade setting is very easy to use and understand. This is mostly recommended to beginners. Only the most crucial information for trading is shown. You should keep in mind that Binance is a skilled trading platform, so even the Basic trade setting can be too difficult for some beginners to use. However, it won't take you long to figure it out.
The Advanced trade setting is another form of trading on Binance. Here, expert traders can use the Advanced trading setting to get all of the price charts and market data they need to make complicated trades. 
Since this is a tutorial mainly for beginners, I will just show you how to trade on Binance in the Basic setting. So, let's take a look at how to use Binance for Basic trades below;
Go to Binance and log in to your account.
Fill up your Fiat and Spot wallets with funds. Fiat currency can be deposited and used on the exchange by moving funds from your bank account or credit/debit card.
Choose the currency you will use to pay and the coin you want to buy. After that, your purchased crypto will be credited to your Fiat and Spot wallet once the process is complete.
Select Basic from the Exchange menu on the taskbar.
Pick a trading pair to work with. Hundreds of trading pairs are available on Binance. These are the coin pairs for which Binance provides an exchange rate. For instance, if you bought Bitcoin, you can pair it with up to 143 different coins on Binance. All you have to do now is choose the coin for which you want to pair with your Bitcoin. You can choose from Ripple (XRP), Ethereum (ETH), or any other coins supported.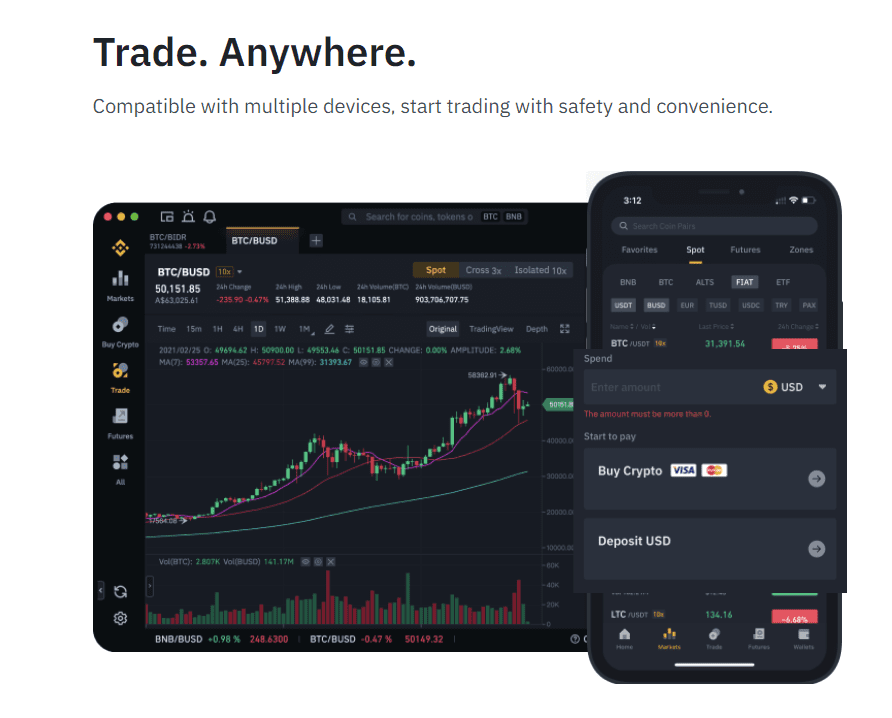 Binance Trading Fees
The trading fees on Binance are very affordable on the market. Users are not charged for making deposits on Binance. This is because the exchange only accepts cryptocurrencies, thereby removing the high fees that fiat trading exchanges do charge their users.
Different cryptocurrencies have different withdrawal fees, but they are all very low. For instance, withdrawing Ethereum will cost you 0.01 ETH, while withdrawing Ripple will cost you around 0.25 XRP on Binance.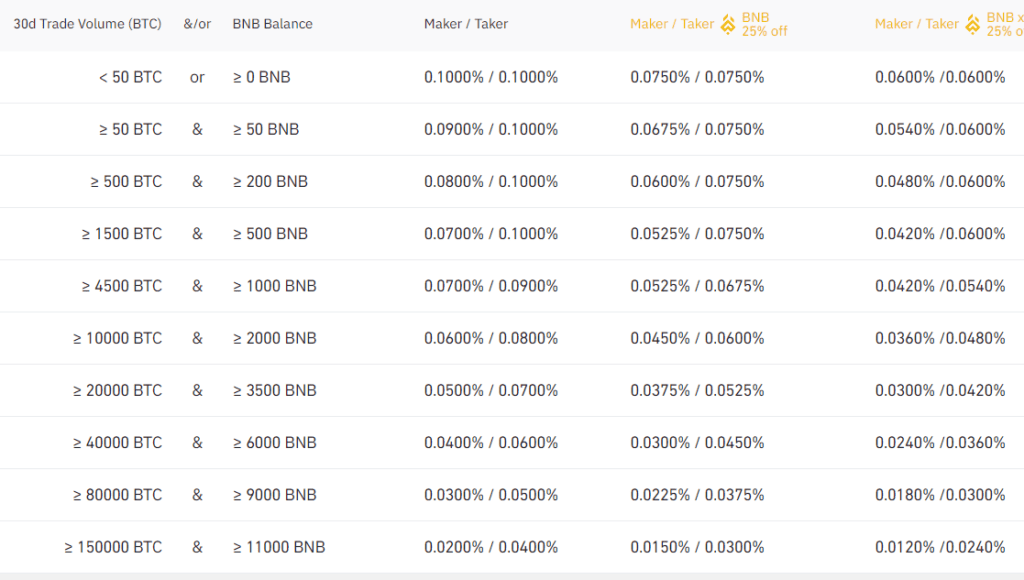 The fees charged by Binance are capped at 0.1% of each purchase or sale made. Traders who pay with Binance Coin get a 50% discount on this fee. As a result, the final fee is just 0.05%. By taking a look at the trading fees of its rivals, it's easy to see why Binance is one of the most profitable exchanges on the market. Using Coinbase as an example, the exchange charges a spread of around 0.5% for cryptocurrency sales and transactions which is higher than that of Binance. From this example, you can see why Binance trading fees are one of the unique features of the exchange. 
How to Secure your Binance Account
In the crypto world, increasing the security of your account is very important. Thanks to Binance, you can keep your funds secure by using a solid password and their built-in security features. To ensure your account is secured, proceed with the security precautions below:
Create a strong password that you can update whenever you want
This is very important because hackers find it hard to get access to such accounts. However, you would be surprised by how many people still use passwords that are quick and easy to remember. It's often because they want passwords that they can remember easily. When creating your password, uppercase and lowercase characters, as well as symbols and letters, should always be included. And, of course, keep it safe and don't give it out to anybody.
Enable Two-Factor Authentication (2FA)
I highly advise you to allow two-factor authentication (2FA) on your account. This adds an extra layer of protection, as hackers will need access to your physical 2FA device to log in even though your password was compromised.
Activate the Anti-Phishing Code on Binance
When you add an anti-phishing code to your Binance account, it will appear at the top of any email you receive from Binance. This way, you can be sure the message you are getting is from Binance and not a spammer. To put it another way, it aids in the prevention of phishing attacks.
Who is Binance for?
Binance is intended to cater to a wide range of users. It is a cryptocurrency exchange that I will suggest to almost every level of crypto trader. The only people who may have difficulty using Binance are those who are new to trading.
However, once you have learned the fundamentals, you will be good to go. The good thing about the exchange is that its Basic and Advanced settings will take you from beginner to professional trading. Start with basic market trades and work your way up to more tricky limits and stop-limit order trades. Binance provides its users with a wide range of coins as well as market data which are unavailable on most other exchanges.
Final Note
The demand for cryptocurrency exchanges is pretty crowded. The exchanges that thrive would be those that have features that are accessible to all traders. I believe after going through this guide, you would have probably noticed that this exchange is capable of doing that. The trading value of Binance is over $1.4 billion, which is very remarkable. 
Binance has millions of satisfied customers across the globe. They use Binance because it is easy to use and has excellent trading features. To be clear, signing up for a Binance account and making your first trades is a little introduction to the world of cryptocurrencies. It's about a lot more than just buying and selling on the exchange. Just so you know, there are a plethora of other opportunities on the Binance platform that you can take advantage of and explore.
Binance Sign Up Promo