There are various multi-currency wallets currently available. However, most of them are limited in terms of functionality. If you want to store crypto, send payments, invest in a new project, or use DApps, you will need an all-in-one solution application that can handle all of your needs. The Trust Wallet application is one of such wallets that provides this service.
Here, a review will be done on this wallet, and the basic guides on how you can use Trust Wallet will be discussed. But first, let's take a quick look at a brief introduction to Trust Wallet.
Brief Introduction to Trust Wallet 
Trust Wallet is a multi-coin wallet that is currently under the influence of Binance. It was created with an emphasis on simplicity and usability. It's an open-source, community-driven multi-currency wallet that can hold a huge number of cryptocurrency coins and tokens. Trust wallet not only gives you a simple and convenient way to access all of your cryptocurrencies in one place, but it also gives you complete control over your private keys. Because it's a mobile wallet, you will still have access to your money, even when you are always busy. Furthermore, it is compatible with decentralized exchanges.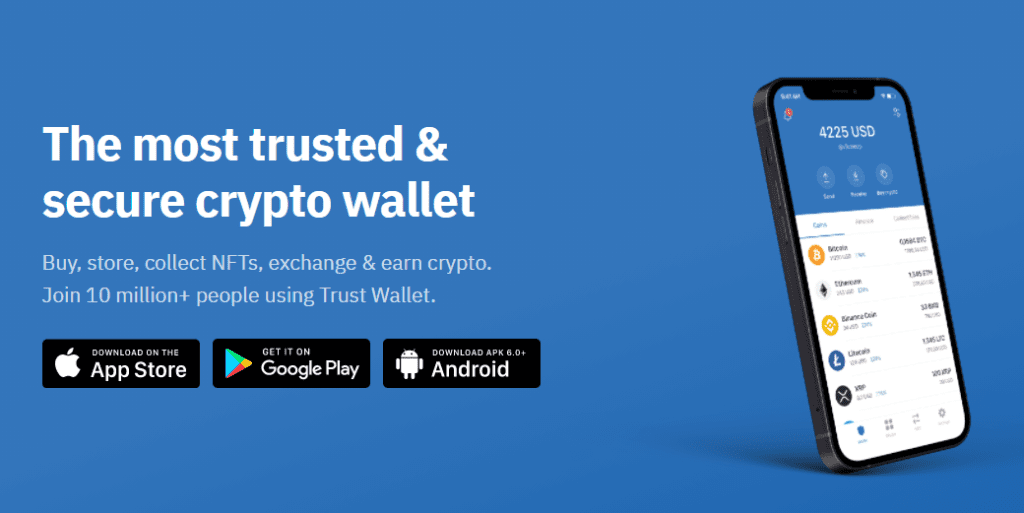 How Trust Wallet Works
Although Trust Wallet is owned by a centralized exchange, the wallet is decentralized, implying that as a user, you can manage your wallet and the private keys will be stored on your device. Furthermore, the wallet is community-driven and open-source implying that anyone can partake, review the code, and help with the development.
This app enables developers to build new wallets and DApps without worrying about anything. This is why, rather than creating an official wallet for their project, most blockchain developers now use a universal multi-coin wallet application like Trust Wallet.
How to Create Your Trust Wallet Account
Setting up and using a Trust Wallet is simple and straightforward. However, there are a few things to keep in mind before you begin.
Just so you know, Trust Wallet is only available as a mobile application, which can be downloaded for both Android and iOS devices. There is no desktop application for the Trust Wallet. If you come across some, it may be a phishing site that is set up to steal your money.
After the application has been downloaded and installed, you will be guided to a page where you can register for a Trust Wallet account. Create a new wallet by clicking the Create a New Wallet button.
After that, you must write down your recovery phrase. Make a note of it, keep it, and don't share it. Just so you know, you would be unable to have access to your wallet if you forget your recovery phrase.
Then, after entering the words in the correct order, double-check your recovery phrase. Your account will be created, and you will be able to access it after this check.
How to Set Up Your Trust Wallet Account
Below are ways you should employ in setting up your Trust Wallet account.
Choose Your FIAT Currency
You can buy and see the exchange rate between your FIAT currency and the various cryptocurrencies available on Trust Wallet by selecting your FIAT currency. The FIAT currency is often set to the US dollar ($USD) by default. To adjust it, go to Settings and choose Currency from the drop-down menu. After that, you can choose your preferred currency like the euro (€) or the pound sterling (£).
Turn on Notifications
When you turn on notifications, you will be alerted if one of your wallets receives a transaction. To enable this function, go to Settings and then Push Notifications. To enable notifications, click on the Allow Push Notification button.
Choose Your Desired Speed of Transactions
You can better control your transaction costs by choosing transaction speed. In reality, if you make a quick transaction, your transaction fees would be much higher. In comparison, if you prefer a slower transaction, the fees would be smaller. Go to Settings, then tap Transactions and Transaction Cost to adjust the transaction speed. There will now be three options available to you, which are;
Cheap – Transaction speed is slow, but the cost is low.
Regular – The ideal combination between transaction speed and cost.
Fast – Transactions are completed quickly but at a high cost.
Add Crypto Wallets on Trust Wallet
When you sign up for Trust Wallet, you'll get a wallet with Bitcoin, Ethereum, and Binance Coin by default. Click the + icon in the top right corner of your wallet to add more coins to your account. The lengthy list of currencies available on Trust Wallet will then appear. Select the coins you would like to add to your wallet by reviewing them. After that, you can use the created wallet address for each coin to send and receive cryptos on Trust Wallet.
How to Secure Your Trust Wallet Account
In general, mobile wallets are intended to provide convenient, fast, and easy access to cryptocurrencies. The best wallet for this is Trust Wallet. A wide variety of cryptocurrencies can be stored, and the wallet allows for quick access to them at any time, making asset management easy. It also provides a safe and stable storage option for all of your cryptocurrencies. However, keep in mind that how you secure your wallet and mobile device is crucial to the safety and protection of your assets.
Below are some of the most important mobile wallet security features to keep in mind.
1. Private Key Management
Unlike other third-party wallets which store private keys on their servers, Trust Wallet stores this information locally on your device. So, you retain full control of your private keys.
2. Universal Backup Solution
Trust Wallet stores private keys locally on your device, unlike other third-party wallets that store them on their servers. Because of that, you maintain complete control over your private keys. Your private keys are protected by Trust Wallet using industry standards. Recovery phrases, which will be given to you during the wallet creation process, are used for better protection and comfort when handling multiple assets. To back up all of your coins and tokens, all you have to do is memorize this 12-word recovery phrase, and you are good to go. 
3. Open-Source Feature
As I previously said, this app is an open-source mobile wallet, and the wallet code can be viewed online. An open code means that you, as a user, can read it and recommend changes in case a modification is required to prevent your coins from being compromised.
4. Encryption and Passcode Feature
The wallet has a passcode feature to avoid unauthorized access to your funds. This protection feature can be turned on in the settings. When you unlock the passcode, you'll have to enter it any time you open the wallet or access your funds. This prevents your cryptocurrency from being stolen.
5. Anonymity
You are not required to provide any personal information to download, install, or use the app. This is because Personal Identity Information is not collected by this wallet. Even when using the wallet's built-in exchange, the app does not capture or store personal information such as phone numbers or credit card numbers. Instead, they are sent via a safe link to the service providers.
Final Note
Trust Wallet is, without a doubt, the most reliable mobile crypto wallet application currently available. In both Google Play and the App Store, it has a significant number of positive reviews and ratings. It streamlines the process of sending, receiving, and storing coins and tokens.
The fact that this wallet does not collect any personal details distinguishes it from others. It stores private keys locally and backs them up using industry standards. This implies that it will keep your crypto safe and secure them from third parties. However, it is important to know that mobile wallets will never be as safe as hardware wallets. With that in mind, you should know that this wallet can only be used to store coins and tokens that you use regularly.