FTX is a prominent crypto derivatives platform that would interest you because it is currently teamed with Binance. This collaboration implies that it is very much reliable and secure like its partner. In this review, you would be provided with an insight into what the FTX exchange is all about and how it differs from other platforms by analysing its features, user interface, services, transaction fees, and other aspects. The goal of this guide is to give you precise and up-to-date information about this exchange, as well as a brief description of its native cryptocurrency. So, without much further ado, let's get started.
What is FTX?
FTX is a cryptocurrency derivatives platform that was created by a set of traders to provide an active forum for competent trading businesses, intermediate traders, and amateurs. It was founded in May 2019 by Alameda Research's CEO and co-founder, Sam Bankman-Fried, and Gary Wang, a former Google software developer.
In this exchange, users get authorized to a variety of trading markets, including futures, options, volatility stocks, and leveraged tokens. The exchange aims to procure a platform that is both sturdy and user-friendly for professional trading firms, which is quite remarkable.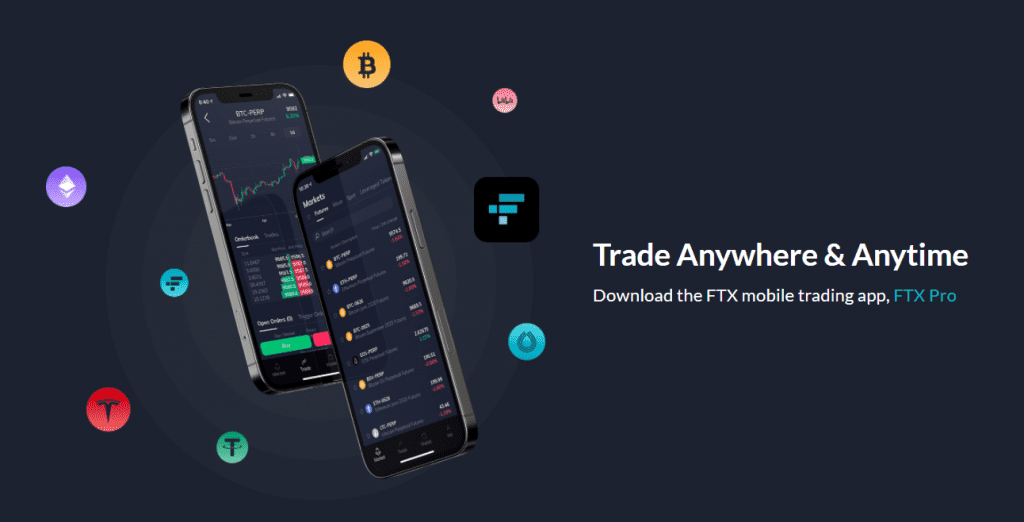 Due to its reputation, the exchange has received a lot of encouraging feedback from users across the crypto-world -which is amazing.
Also, the platform already has a lot of daily trading traffic. This makes it a top-notch crypto platform. Constant spot trading is also available, as well as transactions in fiat and a variety of cryptocurrencies, including BTC, ETH, and various stable coins.
FTX seeks to satisfy both retail and institutional traders by offering a variety of interests and services geared toward more outstanding traders. There is also an OTC service for those who intend to make huge crypto transactions and a mobile app for those who intend to keep track of their accounts regularly.
FTX Basic Features
FTX has been attracting a significant number of users at an astounding rate as a developing crypto derivatives trading platform by offering a wide range of innovative trading tools. FTX is also the first to deliver several distinctive and novel trading stocks, such as leveraged tokens and MOVE contracts, which have conformed to define the exchange to a well-known crypto derivative platform.

In addition to an OTC desk, comprehensive customer service assistance, as well as up-to-date iOS and Android mobile apps, the exchange aims to satisfy the needs of all kinds of traders trading on the platform.
Further relevant features of this exchange include:
Transfer of Fiat Currencies – This implies that as a user, you can send money in USD, Euros, CAD, GBP, and AUD. Furthermore, making deposits with credit cards are also acknowledged at the exchange.
Leverage up to 101x – Another unique feature of FTX is that it offers substantial leverage, which allows traders to maximize their profit on the platform.
Stablecoin Settlements/Easy Currency Conversions – This implies that users can easily modify currencies within their accounts and conduct trades on all derivatives with a solitary margin wallet.
Comprehensive Customer Support – Another unique thing about FTX is that it offers several amazing features and resources that aim to assist users in navigating the platform. This platform also has chat groups that are available in over ten languages which is quite remarkable.
Administrative Quality Services – This exchange also offers amazing features like intense liquidity and order books, endless withdrawals, a liquidation fund, and an OTC desk. All these make the exchange very unique from other platforms.
What is an FTT Token?
FTT is the native cryptocurrency of this exchange and is known to be the backbone of the FTX ecosystem. The token went live in July 2019. Meanwhile, only 350 million of them are currently available. It would interest you to know that the FTT token is a utility token on the FTX ecosystem, and it was created on the Ethereum blockchain.
Meanwhile, if you intend on purchasing the FTT token, you can get it literally from the FTX exchange. The good thing about this token is that the holder of this token benefits from lower trading fees, earnings from the insurance fund, and fees generated by weekly purchasing and other activities. Also, you can use the FTT token as futures trading collateral which makes it quite remarkable.
FTT Staking
It would interest you to know that traders on the platform are being encouraged to stake FTT on the exchange. This is because there are a few unique advantages that come with this, and they include:
Stakers have a fee schedule that takes precedence over the standard fee schedule, and this is on top of the existing FTT discounts.
Before launching a new financial mechanism on the platform, the platform often surveys traders, and this makes the users a part of the new project.
There are also Increased SRM airdrop rewards which are the Serum ecosystem's native token. In recent times, FTX exchange has succeeded in allocating 5% of the entire supply of SRM to FTT holders, which is quite remarkable.
There are also high referral compensation rates. In this case, traders who stake FTT are understood to receive a higher percentage of their mediator fees in the exchange's affiliate program.
How to Register for an FTX Account
The registration procedure for FTX is very easy and quite similar to that of other popular cryptocurrency exchanges. To begin the registration process, do the following:
Head straight to the top right corner of the home page and click on the Register tab. After that, a pop-up registration box will appear. Then, enter your email address and password to continue.
Now, click on Sign Up to create an account. You will then receive an email confirmation which you will use to proceed with the registration.
Thereafter, you can now access your account, but you will have to secure it. To do that, head straight to Account Security and click on Authy, Google Authenticator, or SMS from the drop-down menu. These are options for securing your account.
After that, you now have the access to deposit funds to trade. However, it is important to note that unless you are done with KYC verification, your account's total withdrawal limit will be $1,000. 
You are to complete the KYC verification procedure so you can unlock higher withdrawal limits. After that, you are good to go.
FTX Trading Derivatives
FTX offers several cryptocurrency derivatives that may be traded using a solitary margin wallet on the platform. The following are some of the trading stocks available on the platform:
Futures – As a bonafide user, you can trade futures on popular coins like BTC and ETH on the platform. Meanwhile, each coin has three futures contracts which you should be aware of.
Leveraged Tokens – The exchange also offers users tokens that can be purchased and sold with up to 3X leverage without the need for a margin.
Options – Users also get contracts that grant them the right to purchase at a future discount rate but not the obligation to do so. The good thing about Options is that they can be used by advanced traders to protect their open holdings from price volatility.
MOVE – Users also get contracts that illustrate the ultimate value of how much a coin's price changes over time.
Spot Trades – Users also get trades that pursue the asset's underlying price without the need for any margin or collateral.
FTX Trading Fees
FTX has a variety of trading fees depending on the transactions you are carrying out. For its futures and spot markets, the exchange charges a minimal trading fee ranging from 0.07- 0.04%, based on a maker-taker basis. For leveraged tokens, the charges vary between 0.10% invention and redemption cost to a 0.03% daily administration fee. Meanwhile, if you use 50x or more leverage, the trading cost will increase by 0.05%, with half of the FTX fees going to the Insurance Fund.
FTX has no fees for depositing or withdrawing bitcoin coins and tokens, which is quite commendable. However, if your deposit or withdrawal exceeds your trading volume, you may be charged a fee of up to 0.10% by the exchange. Also, if you are responsible for this cost, the exchange will contact you. Furthermore, it is important to know that any sum less than $10,000 in fiat withdrawals will be charged a $75 fee.
The FTX Exchange's Level of Security
The FTX exchange helps maintain users' assets in safe custody. So, there is no need to be much worried about your assets. However, even though that is the case, it is always a good idea to store your digital assets in a wallet that you own while you are not actively trading.
To access accounts and make withdrawals from your wallet, FTX procures two-factor authentication. In this way, your account gets protection from unscrupulous hackers who intend to gain unauthorized access to your assets.
FTX collaborates with top-class security personnel to help strengthen the security of their trading products and services. Thus, ensuring that they remain online and secure at all times. According to the FTX security policy, the FTX team collaborates actively with the computer security community to address the probable vulnerabilities that could occur on their platform.
Final Words
For crypto traders hoping to engage in a variety of derivatives and leveraged trades, FTX is deemed to be a prominent platform for that purpose. When you consider that the exchange offers Bitcoin options and cryptocurrency futures attached to both prominent and obscure coins, it's simple to see what the lure is.
Furthermore, given the exchange's expansion potential, the exchange's native token, FTT, has a great potential that should not be disregarded. As a result, the exchange is swiftly establishing itself as the right platform for seasoned crypto and derivatives traders looking forward to broadening their trading alternatives.
FTX Promo
| | |
| --- | --- |
| FTX Promo Link | Sign Up |
| Sign-up Bonus | Receive a 5.00% fee discount on trades |
| Sign up Terms | New users who sign up using the link in this review |
| Last Validated | November 2021 |