BitPanda is a cryptocurrency exchange founded in 2014 in Vienna, Austria, by Eric Dumuth, Paul Klanschek, and Christian Trummer. Its reliability, security, and competitive fees make it one of the best exchanges for European users. In addition, it has offerings of stocks, ETFs, and precious metals, which are unique among crypto exchanges. Here we'll go in-depth about everything BitPanda has to offer.
Basics
Verification

Before using BitPanda, a user must create an account and go through a KYC verification process, as with most exchanges. The process is simple but is slower than many other exchanges, sometimes taking a few days to verify thoroughly. Once KYC is completed, a new user is set to go. However, they will need to complete a 'verification deposit' with their bank to access the complete deposit and withdrawal limits.
Using BitPanda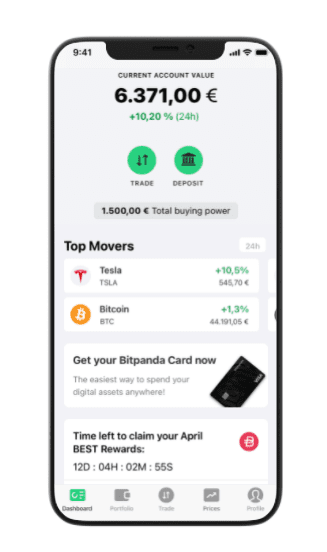 Once all verifications are completed, the interface and process of using BitPanda are simple. The primary functions are to buy, swap, and sell assets, which are self-explanatory. A user can find all of these options in the main menu. Next to these is another option, the SEPA Savings Plan, which allows BitPanda users to make automatic deposits while getting cashback if using a SEPA bank account. Non-SEPA accounts are accepted as well; however, they do not get the cashback. There is a maximum cashback amount, which is determined by a user's level in the BitPanda VIP Rewards program, which we'll touch on later. Through, the Savings plan, users can make automatic deposits in any interval they wish, whether it's once a month or twice a week.
BitPanda supports 60 different cryptocurrencies, including most major chains like Bitcoin, Ethereum and many major DeFi protocols. More are always being added based on demand; sometimes, new options are put to the vote among holders of the native BEST token. This is a fair number compared to other exchanges, being about the same as Coinbase. When clicking on a coins interface, users can see a chart of the coins price over time, buy and sell options, and an option to enable notifications on the coin price. This can send alerts to your phone, desktop or email when the coin either hits a particular price or moves a certain percentage. This is incredibly useful for traders that want to buy or sell on certain market moves. Another cool feature of BitPanda is its ability to withdraw funds directly from crypto into a bank account. This avoids the additional step of selling and is very handy for convenience. The funds are automatically converted into the currency of choice and withdrawn in one button click, with confirmation.
Fees and Limits
In trading, BitPanda has one of the simplest fee structures of any exchange. There is a flat 1.49% premium on all buying and selling of tokens. This can be reduced up to 20% by using the native BEST Token, which will be discussed later.
The other main fees are on deposits. These can range from free to relatively high depending on the payment option. There is a 1.5% charge on credit card deposits, 3.6% charge on Skrill deposits, and 1.99% charge on SOFORT deposits. Bank transfers are free but can take a little longer.
There are a couple of additional options for users with bank accounts from specific countries. For users with an Austrian bank account, EPS is offered. EPS is instant and charges a fee of only .25 EUR +2%, up to a maximum of 2 EUR. The same fee structure applies to Giropay for customers with a German bank account, and this is also instant.
The deposit limits on BitPanda are relatively high, with daily limits for credit cards at 2,500 EUR, and for bank deposits over 5,000,000 EUR. This will meet the needs of most traders.
The BitPanda Ecosystem Token (BEST)
The BitPanda Ecosystem Token is the native token of BitPanda and is used in its rewards program and for a few different utility purposes. The full list of features is here and includes a 20% discount on trading fees when paying with the BEST token, guaranteed value of at least 0.132 EUR when paying fees, regular token burns to decrease supply, VIP votes on subjects such as token additions, and lower deposit fees. Some of these scale with a user's rank in the VIP program.
The VIP program and benefits are as follows:
| | | |
| --- | --- | --- |
| Level | Minimum BEST | Features |
| 1 | 5,000 | +0.05% BEST monthly participate in VIP votes |
| 2 | 50,000 | +0.10% BEST monthly participate in VIP votes 20% lower deposit fees using credit cards and 25% lower for SOFORT +4% additional affiliate revenue |
| 3 | 500,000 | +0.15% BEST monthly participate in VIP votes 20% lower deposit fees using credit cards and 25% lower for SOFORT +8% Affiliate revenue BitPanda Plus, a program for high volume traders |
Stocks, ETFs, and Metals
One of BitPanda's most unique features among cryptocurrency exchanges is its offerings of exposure to Stocks, ETFs, and Precious Metals. Interestingly, BitPanda has found a way to offer this with additional features over traditional brokers. Rather than the customer holding the asset directly, they are sold derivatives of the Asset, while BitPanda holds the underlying assets (fully backed). This enables the bypassing of some inefficiencies of the stock and commodities markets. For one, there are no more trading hours, customers may buy or sell at any moment. In addition, customers are allowed to buy fractional shares if they can not afford the full thing. This is particularly advantageous on those shares that cost thousands of Euros.
For metals, BitPanda offers Silver, Gold, Platinum, and Palladium. The full list of stocks and ETFs offered can be found here.
BitPanda Pro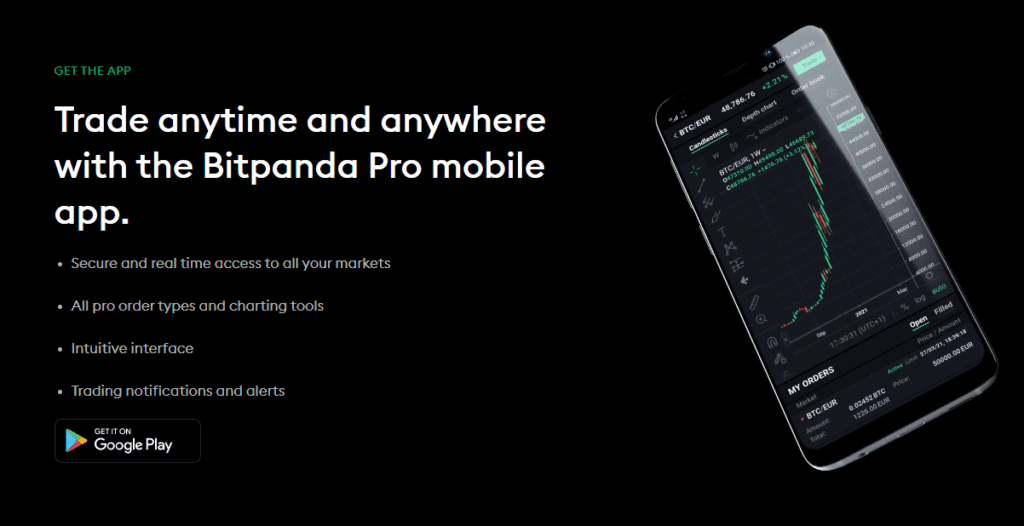 BitPanda Pro is BitPanda's advanced trading platform, and it is to BitPanda what Coinbase Pro is to Coinbase. BitPanda Pro is for advanced users that are trying to get the best possible prices. It offers a detailed interface, including candlestick charts, depth charts, and order books. In addition, there are more trading options such as limit orders and stop losses. Traders can choose the prices they wish to buy and sell crypto at, instead of to on the regular BitPanda exchange where market orders are the only option. Plus, there are lower trading fees. BitPanda Pro also offers access to its API's for those who wish to do automatic trading or otherwise need the price data.
Security and Safety
BitPanda is an extremely safe platform. All user funds are stored in cold-stored offline wallets with best practices employed for maximum protection. Unlike many crypto exchanges, BitPanda has never been hacked, which is a strong testament to their robust security. One possible concern is that BitPanda lacks the assurances of strong regulation, insurance, or promised reimbursement in the event of a hack found on most other cryptocurrency exchanges. In addition to securely storing users' crypto, there are other features offered to ensure maximum security. This includes two-factor authentication, IP monitoring on user accounts, and SSL encryption on transactions.

Other Exchanges
BitPanda is a competitive exchange, with its best features being its low fees, strong rewards program, and ease of use. Its offerings of additional assets are also a great feature that sets it apart from other exchanges. However, it lacks in other respects. For one, it is not currently offering any yield-bearing program, which is becoming commonplace in other exchanges. In addition, some users might be put off by its lack of insurances, which could be painful in the case of a disaster. However, it is not alone among crypto exchanges in this deficiency.
Conclusion
Overall BitPanda is a great exchange for the European crypto market and has earned its place as one of the most popular, with over 1 million European users trust it with their crypto business. Most users will find everything that they're looking for an exchange and more here, especially with the additional asset offerings. However, those looking to earn yield or for complete peace of mind in storing their assets should look elsewhere.