Mode is a new type of digital banking app that intends to integrate Bitcoin into mobile banking. The platform provides the simplest way to buy, manage, and increase your Bitcoin by combining the innovation of digital assets with the security of conventional banking. In this guide, we will conduct a review of Mode, giving you enough details about the platform, including its features, how it works, deposit and withdrawal methods, security measures, among other things. So, keep on reading to get more info about this platform. 
What is Mode?
Mode is a UK-based crypto banking app that allows users to purchase, sell, and store Bitcoin. It is dubbed 'the next-gen wallet app for money & bitcoin'. It also allows users to earn interest in their cryptocurrency investments. The team behind this app consists of seasoned investors, technologists, bankers, and fintech experts with combined expertise in offering cutting-edge services all over the world, totalling over 200 years.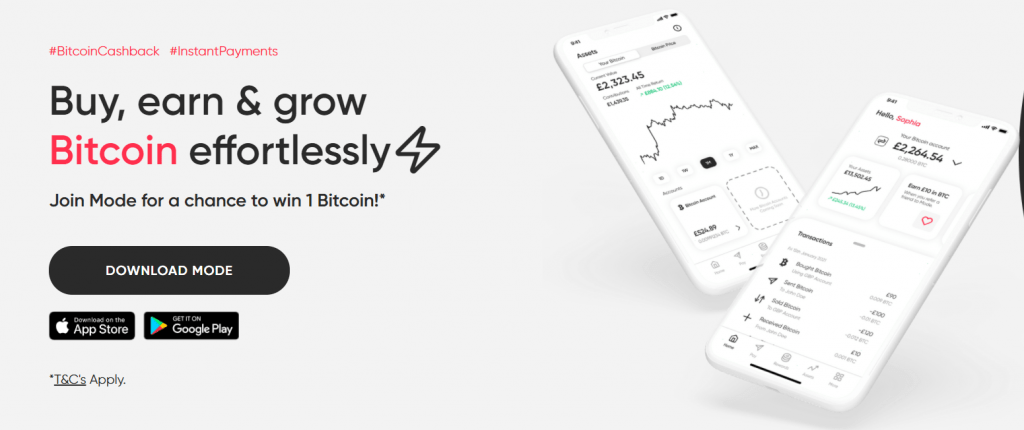 Furthermore, Mode allows users to increase their BTC holdings in Bitcoin Jar. The Bitcoin Jar lets users earn up to a 5% annual yield on their Bitcoin holdings. The good thing about it is that users can withdraw their BTC holdings from their Bitcoin Jar at any time, unlike other competitors who have pre-determined "lock-up" periods. In essence, the Bitcoin Jar allows users to earn compounded BTC on their digital assets with no restrictions or lock-up periods, as well as unrestricted contributions and withdrawals. To spice it up, weekly rewards in BTC are also available.
How Mode Works 
The ultimate purpose of Mode is to make Bitcoin as accessible as possible. Using Mode is simple for users, and even newcomers to BTC can benefit from it right away. As a result, everyone using the Mode App can earn Bitcoin Cashback. All you need to do to qualify is to simply use Mode to complete your next purchase from one of the partner brands of the app, and your Bitcoin will be credited to your Mode Account immediately.
The majority of today's digital banking apps ignore one of the most interesting aspects of the current financial world: digital assets. As a result, the app's developers have made it their mission to develop the best banking app that allows regular people to have access to the new and fascinating world of digital assets.
The Mode app is finally bringing Bitcoin into the world of standard mobile banking with this new advancement. Thus, many difficulties that the crypto industry still faces today, such as a lack of trust, limited transparency, and complexity, have been addressed along the way. 
Mode Features
Swift Payment 
With Mode, no card details, billing addresses, or CVVs are needed when you intend on buying Bitcoin. You can easily make swift payments from your UK bank account or Mode balance. You can use secure Face or Touch ID technology to authenticate your payment with only a few taps after you've conducted the transaction. The best part is that you'll get your Bitcoin Cashback right away after making your purchase.
24/7 Live Chat Support
Mode also offers its users 24/7 live chat support, which they use to lay complaints in times of issues.  
Easy User Interface
The Mode app's user interface is easy to use, making it excellent for users who are new to Bitcoin and crypto apps. The transition between screens is seamless, and you're never inundated with jargon or confusing options.
Instant Deposits and Withdrawals 
As a user of the Mode app, you can use your UK bank account to add or withdraw funds instantly. With the app's minimal and transparent fees, you can also buy Bitcoin at any time and from anywhere.
Safe and Secured
Your funds are safe and secure with Mode, as it is the first UK-based Bitcoin company to be listed on the London Stock Exchange. As a result, you can relax knowing that your Bitcoin is safe with a reputable crypto custodian.
Getting Started with Mode 
The registration process is extremely straightforward, with a basic KYC and ID verification process that takes only minutes to complete before whitelisting. You can fund the app with GBP or Euros using near-instant free top-ups from your existing banking account's online app once you have logged in.
After your account has been credited, you can purchase Bitcoin for a flat fee of 0.99% per transaction. When selling, the same fee is charged. When compared to some of the most popular exchanges, this rate is fairly reasonable. However, with Mode, you're paying for convenience, and the purchasing process is relatively easy.
How to use Mode to Deposit Funds, Acquire Bitcoin, and Earn Interest
To deposit, switch from your default BTC account to your GBP account first. You can deposit funds from your bank account here, then buy BTC, which will be credited to your account. One of the best benefits of Mode as a banking crypto app is the possibility to earn interest on your Bitcoin while it sits in your account. At 5% APY, this is far greater than what commercial banks offer and comparable to some of the US crypto apps that are available to UK citizens, such as BlockFi and Nexo.
Mode Fees
In terms of the fees implemented on Mode, there is a withdrawal fee of 0.0005 BTC per transaction often charged. Although this is comparable to other interest-earning crypto wallets, other apps often provide at least one free withdrawal per month, which the Mode app does not. Mining fees for bitcoin are still somewhat expensive. Therefore, this price is perhaps justified. If you have a little crypto holding and wish to withdraw it, the fee is still pretty high.
However, one important aspect of Mode that compensates for this is that you can send Bitcoin to your friends and family who also have Mode accounts for free, and the payments will be completed promptly. 
Mode Referral Scheme

There's a referral program in Mode like you can find in many other crypto wallets, apps, and exchanges. In this referral scheme, you can earn £10 in Bitcoin if your referral buys £100 or more in crypto within 30 days of registering their account. The same sum is given to the person who opens the account. This crypto banking app is fantastic since it allows you to earn Satoshis by sharing your referral link with family and friends that are interested in cryptocurrency.
Mode Security Measures
To enable users to optimize their Bitcoin holdings, Mode seeks to provide the most reliable and safe path into Bitcoin. Holding and growing your Bitcoin over a lengthy time horizon is a well-known technique to do this as a user. The app does this by incorporating security best practices such as two-factor authentication, KYC verification, and biometric security, making it a safe and secure way to transfer and store your funds.
With that in mind, the developers have worked tirelessly to ensure that the appropriate regulatory milestones are met to reach the highest degree of compliance possible. Mode also has an Electronic Money Institution license (EMI) and a Crypto asset registration from the Financial Conduct Authority (FCA), which is a legal necessity for enterprises doing authorized crypto activities in the UK.
In addition, Mode stores your Bitcoin with BitGo, the industry's premier crypto custodian. As a result, the vast majority of users' Bitcoin is kept in 'cold storage,' which is inaccessible via the internet and hence safe from cyber-attacks. Mode also makes use of Open Banking technologies to transfer funds directly from your bank using your bank's safe environment rapidly and securely.
FAQs
Below are some frequently asked questions you might want to ask concerning Mode. 
Who can apply for a Mode account?
Anyone above the age of 18 can register for a Mode account. However, the app is currently unable to accept applications from US citizens, even if they live outside of the United States. But you can return to the official website to see if the situation has changed. Furthermore, you must be able to prove that you live in the UK or one of Mode's supported European countries to make GBP/EUR deposits and withdrawals. You are also required to have a GBP/EUR bank account in your name.
What is Bitcoin Cashback, and who is eligible to receive it?
By conducting valid purchases with Mode at one of the app's partners' brands, Mode users can earn Bitcoin for free. The cashback will be in satoshis (Bitcoin's smallest unit), and it will be a simple method to accumulate Bitcoin over time without taking the risk of investing your money.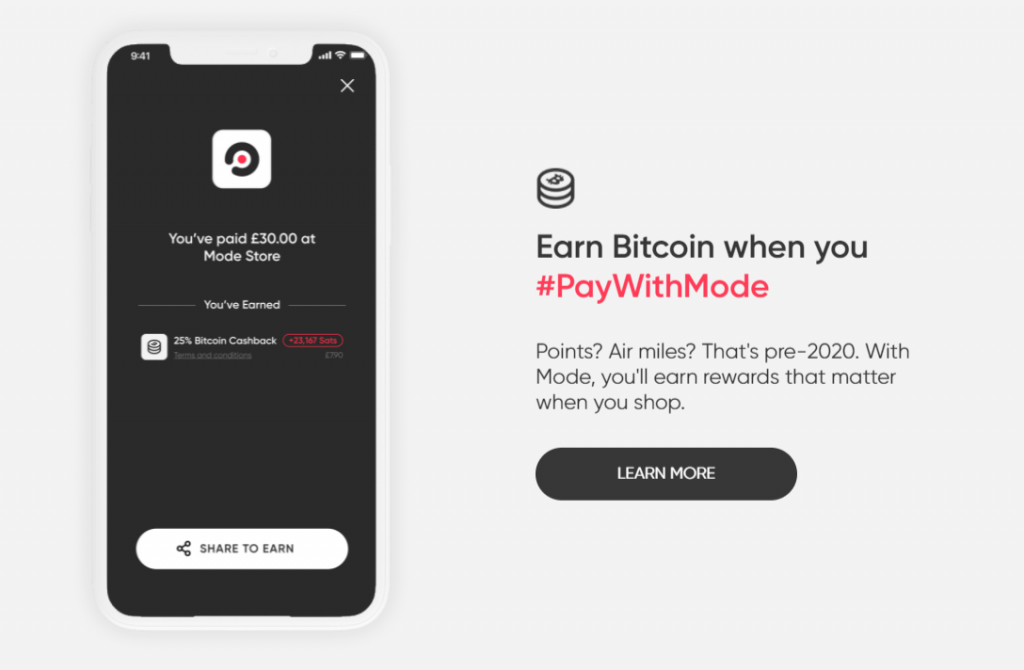 What is the maximum amount of Bitcoin Cash Back I can get?
As you may assume, several conditions must be met to receive your Bitcoin Cashback. Rates and limitations for Bitcoin Cashback may vary based on the qualified merchant. Before you make a payment, the actual cashback rate will be displayed on the merchant's checkout page.
Mode Sign Up Offer
| | |
| --- | --- |
| Mode Referral Link | Click here to sign up |
| Sign Up Bonus | Get £10 in BTC |
| Sign Up Terms | Buy at least £100 of Bitcoin or spend £100 at Mode's partner merchants to get £10 in BTC |
| Last Validated | January 2022 |
Final Words
Mode is a safe and reliable crypto banking app that helps users conduct transactions with Bitcoin. The app is supported on both Android and iOS devices. The Mode app's interface is incredibly easy to use making it ideal for beginners. One intriguing feature about Mode is that it offers 5% Bitcoin Cashback on purchases made through its increasing list of partner brands.
There is also live chat assistance available seven days a week to assist users with any concerns they may have. Ultimately, this app is appropriate for crypto enthusiasts who wish to leverage their BTC holdings conveniently and effectively inside a transparent and trustworthy ecosystem.