Nexo is one of the well-known platforms that allows users to earn investment returns on their daily paid-up cryptocurrencies. It leverages protocols and blockchain technology on the platform to process transactions, despite not being considered a decentralized app. As a user, you will not only earn money through interest on their crypto and fiat currencies like USD and EUR, but you can also borrow cryptocurrencies by using their crypto coins as collateral.
In this Nexo review, we will go over all there is to know about Nexo, including its features, pros and cons, and many more. So, without much further ado, let's get started.
What is Nexo?
Nexo, like most platforms, is built on blockchain technology, but it also supports crypto lending, which allows users to get quick crypto-backed loans. The platform was launched in 2018, and it has grown in popularity in the bitcoin industry in recent years. Nexo's slogan is "Banking on Crypto," and the company aims to use crypto assets to replace conventional banking services.

Nexo supports a concept, in which users can not only lend but also receive loans in exchange for their cryptocurrencies. They can also use their crypto assets to deposit, loan, and earn interest, and they can instantly access fiat currencies without relying on credit scores. Nexo is anchored by blockchain technology, which ensures that its activities are transparent. It also simplifies the processing of Ethereum smart contracts and stores the essential tokenized data for transactions.
Features of Nexo
Let's have a look at some of the features that make Nexo such a great platform for all kinds of investors:
Nexo allows users to open an account in a matter of minutes and deposit cash, fiat currency, or cryptocurrency into their account. After answering a few questions about their personal information and authenticating their account, the user is ready to go.
The platform is remarkably easy to use, and the interface is simple to browse, especially for novice users who are unfamiliar with trading platforms or cryptocurrency transfers. With just a few clicks, users can see their holdings, available credit, and whatever they have borrowed.
Nexo also enables users with two-factor authentication to prevent any security breaches and ensure that the user's investment is protected to the fullest extent possible.
Furthermore, Nexo automatically computes interest earned daily after an account is set up and funded with fiat or cryptocurrency. Thus, it will transfer them directly into the user's account.
Nexo also provides the user with an in-app message informing them that their interest has been deposited and the amount of interest they have earned. So, if users wish to leverage compounding interest on their fiat or cryptocurrency currency, they don't have to wait a month.
Nexo Fees 
Nexo charges a no fee for opening a crypto savings account. When compared to a traditional savings account, Nexo does not charge any type of account maintenance fee, and the user is free to withdraw their fiat or cryptocurrency anytime without any charges. It covers the transaction fees of the user account, which means the user only needs to pay a brokerage fee when they transfer from their exchange wallet to their Nexo account. Moreover, these fees are different and depend on the broker used. There is no minimum amount of cryptocurrencies you, as a user, can deposit to your account to start earning interest.
How to Get Started with Nexo
Nexo's account creation is simple and takes less than a minute. After the user's email has been verified, you can begin earning interest.
The platform includes three levels of authentication and KYC; the basic and starter levels allow clients to earn interest on their digital currency while limiting withdrawals to a lower amount. The advanced verification level, on the other hand, allows users to earn interest on fiat currencies and has larger withdrawal limits when utilizing a Nexo account.
Investors must provide basic verification information such as their full name, address, and phone number. The user can acquire a credit line of up to $2,000,000 per day. Additionally, a user can withdraw up to $20,000 from their savings account daily after the SMS verification is issued to the phone number and confirmed.
Nexo's advanced verification level allows investors to take advantage of the platform's features. An investor can withdraw a maximum of $5,000,000 from their savings account and $2,000,000 from their credit line at this time. This enhanced stage also enables bank account transfers that were previously unavailable during the verification process. It allows transferring money from traditional bank accounts to the Nexo account simple and quick. Users are eligible for Nexo token dividends and can apply for the Nexo crypto credit card after completing the KYC process.
You can top up your account as soon as you've been validated. Nexo currently offers top-up options in Euro or USD-backed Stablecoins. Currently, cryptocurrency top-ups are only available to borrowers who will use the crypto credit line.
Nexo Wallet
Both Android and iOS users can use the platform's wallet app. Nexo wallet is the greatest option for those who want to access crypto credit fast and create a side income by earning interest on their crypto at any time and from anywhere. All of the users' permitted digital assets can be stored in their wallets.
Nexo wallet also offers a transfer and exchange service. The investor can use the transfer service to move their assets from one account to another. It also makes it easier to access the platform's most recent reward schemes, such as the Nexo loyalty service. By putting crypto-assets into the account, the user gains access to two significant depositing services on the site, including a crypto-backed loan service.
Supported Tokens and Coins on Nexo
Nexo currently accepts top cryptocurrencies such as BTC, ETH, LTC, and others as collateral. As a user, you can instantly access the value of your crypto holdings by taking out a loan in your preferred fiat currency after depositing your collateral. The following is a complete list of cryptocurrencies on which you can earn interest using Nexo: BTC, ETH, LTC, XRP, EOS, XLM, BCH, USDT, USDC, TUSD, DAI, PAX, TRX HUSD, LINK, PAX Gold, and BNB.
Nexo Token
Nexo has its ERC20 corporate token, NEXO. The NEXO Token is the world's first dividend-paying, asset-backed token, according to its developers. Nexo distributes 30% of its profits in the form of dividends to token holders. The firm changes the incentives that incentivize token holders to keep their NEXO tokens regularly. NEXO token holders currently enjoy benefits on both the borrowing and lending sides, with reduced interest rates on their credit lines and greater APYs reserved for NEXO token holders
Pros & Cons
Below are a few pros and cons of the Nexo platform;
Pros
It has a user-friendly website and mobile app.
For commercial accounts, it provides complete support.
There is no time limit on withdrawals, and the user can make money at any time.
There are no transaction, platform, or withdrawal fees.
Has advanced security features and insurance.
Nexo tokens can be used to earn an additional 30% of income in the form of interest.
For regular transactions, you can get a free Nexo card.
There are no credit checks or hidden costs.
Cons
Nexo tokens are held on the platform in exchange for the best loan and savings rates.
When compared to its competitors, it provides fewer instructional resources.
Lender interest rates are sometimes a little higher than borrowing rates.
Is Nexo Safe?
Nexo is built on a foundation of trust and security. It is a regulated and licensed digital currency provider that adheres to tight rules in more than 200 countries around the world. Before allowing users from foreign countries, the team ensures that all compliance and regulatory requirements are met.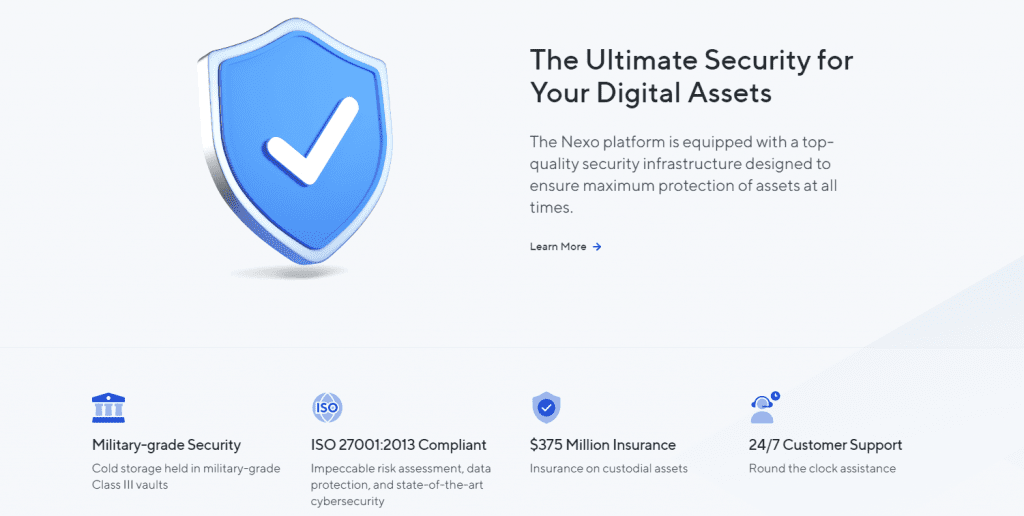 To minimize risks, it adheres to global AML and KYC requirements as well as rigorous restrictions. Nexo has implemented security measures and has established itself as one of the most secure crypto lending platforms. It has a robust firewall server architecture, biometric-based identity verification, and segregated multi-signature cold wallets, as well as a ledger vault to keep the client's assets.
Nexo Review: Final Words
Wrapping it up, because of the extensive use and popularity of cryptocurrencies, the concept of crypto financing has emerged as one of the most revolutionary developments. Nexo is widely regarded as the first cryptocurrency lending platform to offer instant cryptocurrency-backed loans.  Nexo has stayed consistent so far, independent of market situations. This platform is best suited for long-term investors who want to leverage cryptos to increase their wealth. Nexo provides users with a secure and insured option to earn interest or borrow money. Nexo also has a market capitalization of over $4 billion and over 1 million users which makes it quite remarkable
Nexo Promo
| | |
| --- | --- |
| Nexo Referral Link | Click here to sign up |
| Sign Up Bonus | Join & Earn $10 in BTC |
| Sign Up Terms | Create and verify your account and top up $100 or more. |
| Last Validated | January 2022 |