Since the invention of a cryptocurrency over some years back, several attempts have been made to develop more advanced, safe, and user-friendly wallets to store them. As of now, a hardware wallet which is a physical device usually used to store cryptocurrency private keys in a secure encrypted format is the current pearl standard for security.
Ledger, the company behind the popular Ledger Nano S hardware wallet—and the Ledger Nano X, its flagship device—is one of the most notable firms active in initiating this innovation. The Nano X is an update to the Nano S coming with a larger screen, Bluetooth connectivity, and a built-in battery. Below, we will be taking a look at a brief review about Ledger Nano X. So, without much further ado, let's get started.
Description
The Ledger Nano X is a high-end hardware digital wallet that is designed to keep your digital assets safe. Compared to hot wallets which are connected to the internet and are susceptible to attack, the Nano X stores your private keys offline, on the device itself. In terms of size and weight, the Ledger Nano X is almost twice as huge and more than twice as hefty as the Ledger Nano S.
Its size is estimated to be 72mm x 18.6mm x 11.75mm and weighs about 34g. The Nano X's larger size is due to its built-in 100mAH battery. This allows it to be used effectively, unlike its predecessor, which requires a USB cable to be plugged into a computer to draw power.
Furthermore, increased memory and a bigger OLED screen complement the package. Altogether, the Ledger Nano X has a modern appearance that is comparable to the Ledger Nano S, but more streamlined. This is all thanks to the buttons being integrated into the device's body and sitting flush with the casing.
Things in the box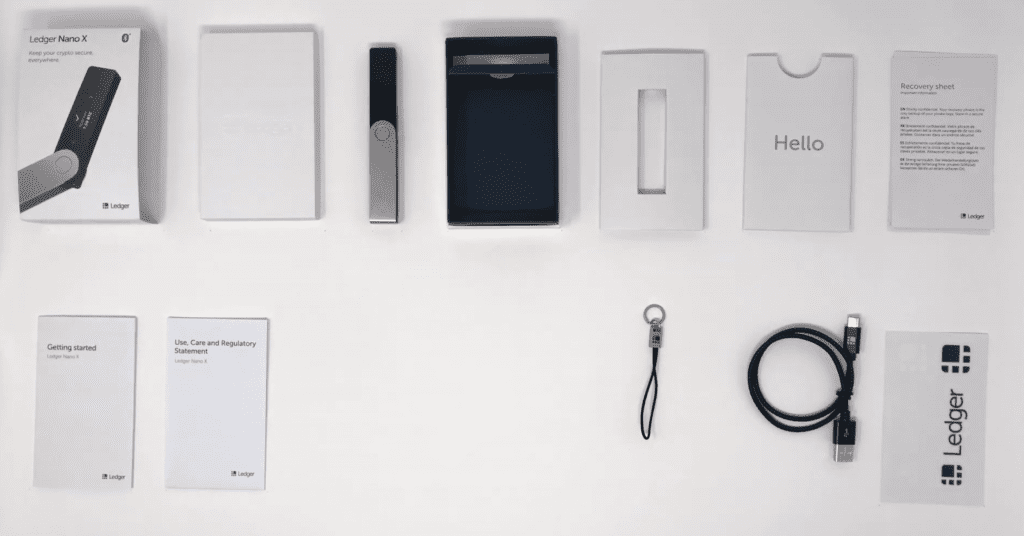 The Ledger Nano X is packaged in a compact cellophane-wrapped box that measures about 80mm x 131mm x 31mm in terms of size. The Ledger Nano X device is included in the box, along with a braided USB A to USB C cable and a keychain strap. A getting started pamphlet, three recovery sheets (for recording recovery phrases), and various stickers with Ledger branding are also included in the box.
Ease of Use
Although the Nano X is larger than the Nano S, it is still a little gadget. As a result, browsing the device menu isn't exactly the most straightforward process, especially given the fact that it only possesses two buttons. The larger screen and controls, on the other hand, allow for a far less complex user experience compared to the Ledger Nano S.
To navigate the device's menu, you are required to use the left and right buttons to scroll left or right. You also have the option to press both buttons at the same time to select options. Apart from that, the majority of the action takes place on the Ledger Live app, with the Ledger device serving primarily as a means of verifying addresses and authorizing transactions.
The larger screen of the Ledger Nano X addresses one of the most popular complaints about the Nano S. This is because crypto addresses can now be seen in full rather than having to scroll. One minor setback is that the Nano X comes with a 50cm USB cable, which can be difficult to use if your computer isn't in the most accessible spot.
Getting Started with Ledger Nano X
You must first download and install the Ledger Live application for your operating system before you can get started with the device. Most desktop operating systems, including Windows, Mac OS, and Linux, as well as mobile operating systems like iOS and Android, are currently supported.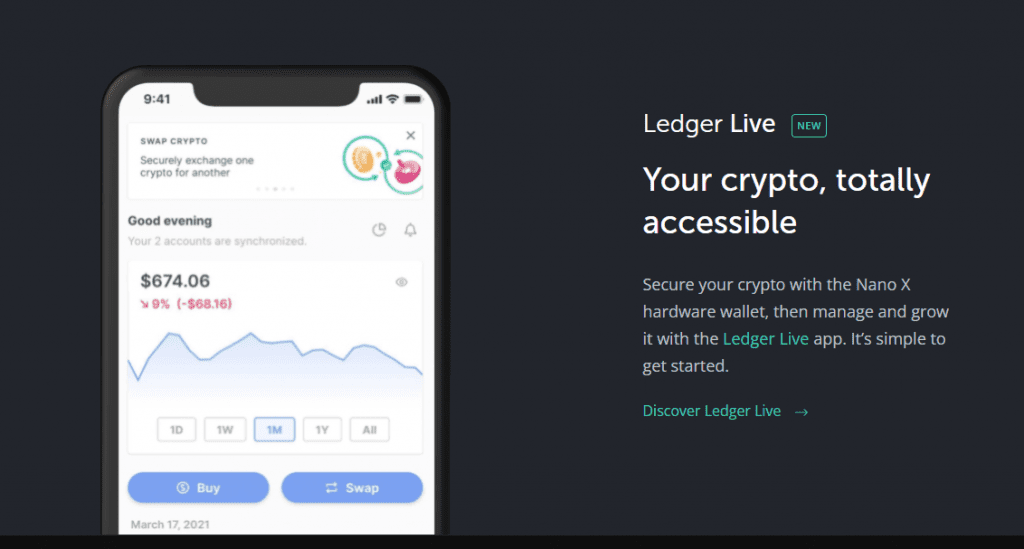 You can power up the Ledger Nano X device by holding the left button once Ledger Live is up and running. You can then go through the startup screens to set up the device. This will entail selecting a 4- to 8-digit PIN, as well as backing up and checking the devices randomly generated 24-word recovery phrase. This procedure takes about 5 to 10 minutes to perform and it is pertinent to know that it only needs to be done once.
Features
The Ledger Nano X is primarily designed as a hardware wallet for the storing of cryptocurrency and other digital assets safely and securely. As a result, the Ledger Nano X is compatible with virtually every major cryptocurrency, with new assets being added regularly.
The Ledger Nano X also improves on one of the Ledger Nano S's biggest flaws by increasing the accessible internal memory from 320kb to 2048kb. This allows users to store up to 100 apps on their smartphone simultaneously, significantly more than that of Ledger Nano S. As a result, the Ledger Nano X can now hold the complete app library in memory at the same time. Thus, eliminating the need to manually delete and switch out apps due to memory limits.
Furthermore, the Ledger Nano X is the first cryptocurrency hardware wallet with a built-in 100mAH battery. This is a required update given that the gadget now comes with Bluetooth connectivity out of the box. The device may now connect to mobile devices without the use of a Ledger OTG Kit. Whereas, the prior Ledger Nano S could only connect to mobile devices via a Ledger OTG Kit.
With this, Ledger has paid attention to the flaws of its previous products. This was achieved by initiating an attempt to make properly holding crypto assets a less difficult task with the addition of wireless connectivity, expanded memory, and a much larger screen.
Supported Crypto Assets

The Ledger Nano X currently supports over 1,000 different digital assets, including 23 different coins and all ERC-20 tokens. Many of these may be controlled through Ledger Live, while others require the usage of a compatible wallet and the Ledger Nano X. Below are the crypto assets supported by Ledger Nano X;
Bitcoin (BTC)
Ethereum (ETH) and ERC20 tokens
Bitcoin Cash (BCH)
Ripple (XRP)
Litecoin (LTC)
Tether (USDT)
Binance Coin (BNB)
Stellar (XLM)
Cardano (ADA)
Monero (XMR)
Cosmos (ATOM)
Polkadot (DOT) and over 1,000 more
Security
The Ledger Nano X is a hardware wallet that caters to the small percentage of cryptocurrency users that choose security over anything else. As a result, the team behind the product has considered the various ways in which such a device could be attacked. As a result, the team of developers has developed a broad range of potential protections.
The Nano X, like other Ledger devices, has cutting-edge security and has a physically isolated security element that is certified as CC EAL5+. These security elements are identical to those you see on credit and debit cards. They are also the industry standard for protecting financial data.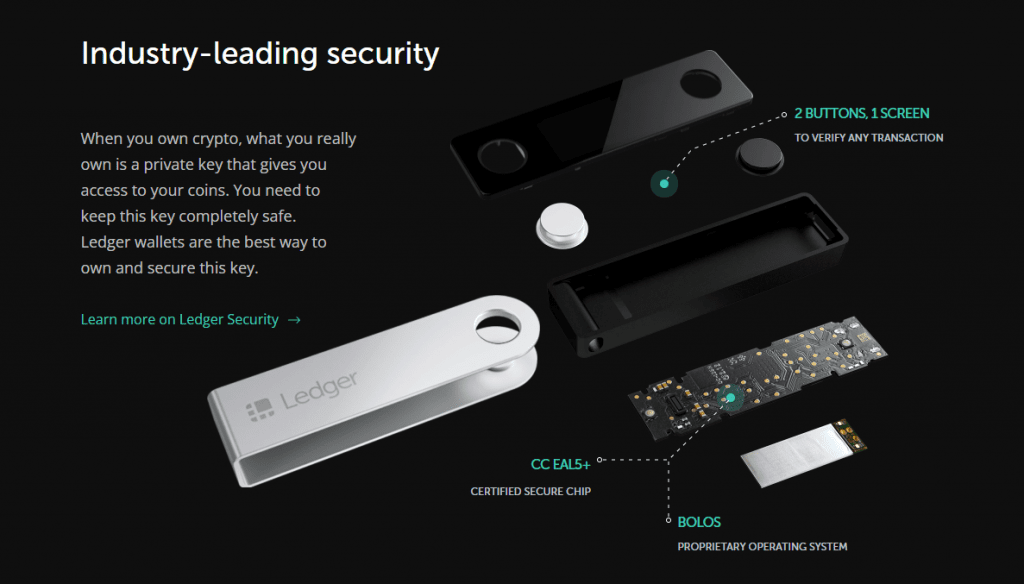 A dual-core MCU regulates communication between the connected device and the Ledger secure element. It runs a proprietary operating system called BOLOS. Although adding Bluetooth to the device potentially increases the number of possible entry points for hackers, the Ledger Nano X encrypts Bluetooth traffic between the mobile device and requires personal verification for all key device actions.
These hardware-based security measures are reinforced by several software-based ones, including a 4- to 8-digit digital security PIN, automated inactivity lockouts, and a Ledger Live password lock. Altogether, the Ledger Nano X is without a doubt one of the safest cold storage devices currently available.
How to Buy Ledger Nano X in the UK
If you're in the UK, you can acquire a Ledger Nano X for about £109 via the Ledger website. With that stated, authorized third-party stores, as well as official Amazon resellers, are usually economical. However, you should take caution when acquiring any hardware wallet, ensuring that you only buy from authorized sources and that you never use a hardware wallet that has already been configured.
Transferring Funds
It's relatively easy to transfer and receive cryptocurrencies with the Nano X. Transactions may be set up and approved with only a few buttons clicks when the device is connected to the Ledger Live app. What makes the Nano X unique is the ability to buy cryptocurrency directly from the Ledger Live app, thanks to a partnership with Coinify. You can avoid any transaction costs by acquiring cryptocurrency on an exchange and then triggering a transfer to your Ledger wallet this way.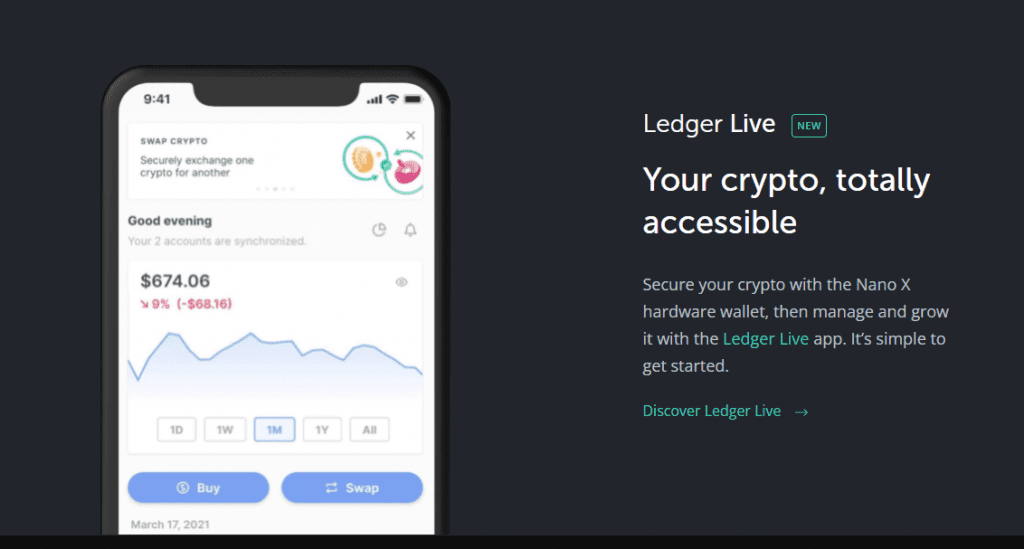 Ledger Live also has some Defi capability, allowing you to simultaneously use and safeguard your crypto. You can lend Ethereum-compatible assets and earn interest as a reward for bringing liquidity to the network thanks to an alliance with lending protocol Compound.
Finally, the Swap option allows you to easily exchange one crypto asset for another (for example, Ether for Bitcoin), which is a convenient method to diversify your portfolio without having to switch back to fiat currency. However, in some areas, such as Japan and the United States, this feature is currently not available.
Final Words
The Ledger Nano X is a visually appealing, highly secure, and simple-to-use hardware cryptocurrency wallet that will ease your mind when it comes to storing your crypto. Unlike other hardware wallets on the market, it also lets you buy crypto directly, swap tokens, and earn interest on your holdings via the lend function.
The Nano X is one of the more expensive hardware wallets on the market, costing twice as much as the Ledger Nano S. It's undoubtedly worth the money if portability and usability are your top priorities. However, if you are satisfied with the Ledger Nano S, there's no incentive to make a change.