Applications merging CeFi and DeFi have been one of the biggest trends in crypto over the past year, offering a blend of security and great rates that can not be found in traditional finance or the DeFi ecosystem. One of the top players to emerge in this niche is the mobile app Celsius, which offers some of the most competitive yields and borrowing rates on crypto assets.
Celsius have filed for Chapter 11 Bankruptcy. DO NOT SIGN UP TO THIS PLATFORM
What is Celsius Network
Celsius is effectively a decentralized banking app, offering high-interest rates, lending, and payment services for crypto assets. It was founded in 2017 by tech entrepreneur and CEO Alex Mashinsky, developer Nuke Goldstein, and entrepreneur Daniel Leon.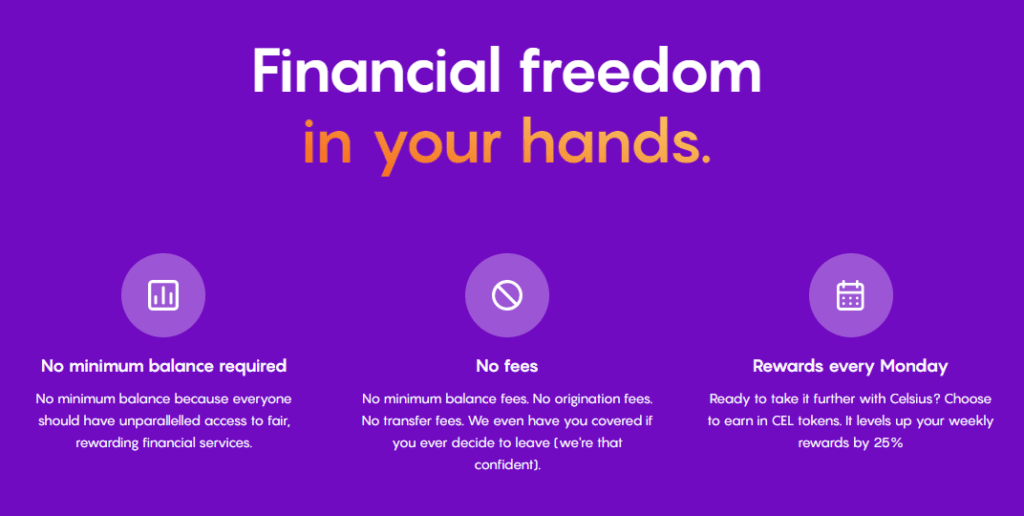 The overall mission of Celsius is best summed up in this quote from their website:
"Celsius is proud to provide a platform of curated services that have been abandoned by big banks – things like fair interest, zero fees, and lightning-quick transactions. Our goal is to disrupt the financial industry, one happy user at a time, and introduce financial freedom through crypto."
The case can definitely be made that Celsius is on its way to meeting these goals, as their rates alone are evidence that the app is doing something drastically better for their customers than how traditional banks operate.
Earning Interest
Celsius pays interest just as a traditional bank would, the big difference being that the interest on Celsius is drastically higher. While a traditional bank today would typically provide less than 1% interest on their customer's savings, Celsius advertises interest of up to 17.78% APY.  Of course, this is the absolute maximum, rates on most assets before additional rewards from the Celsius Loyalty Program (Which we'll get into later) range between 5-10% depending on the asset. Still, these are competitive rates not only against traditional finance but also in the crypto space.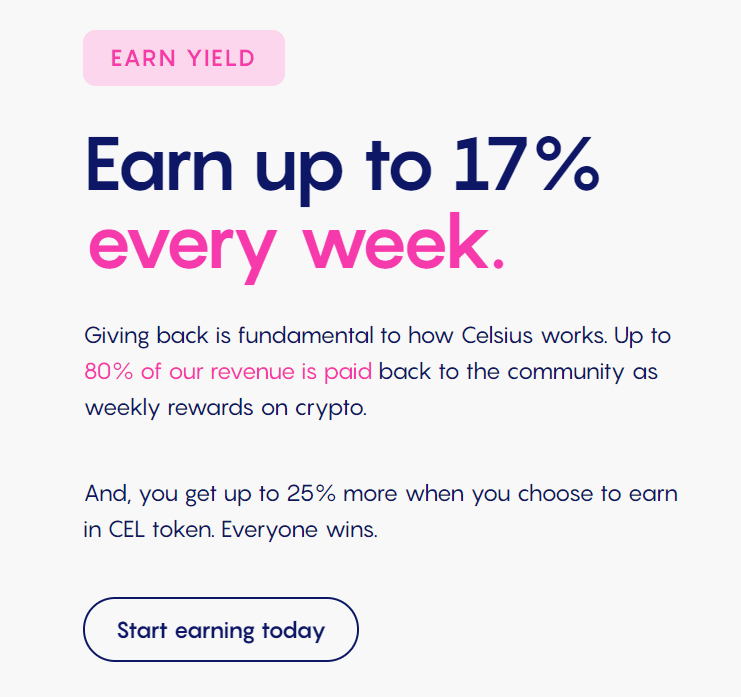 Interest is earned by lending out assets and paying the earnings back to the users who are providing capital. This is basically how interest at a bank works, however, the main innovation of Celsius is that they are taking less of a cut than banks are and paying more money back to their users. There is also other deadweight that's cut, like shareholders profit. While most banks keep 80% of lending revenue and pay 20% back to the customer, Celsius flips this, keeping only 20% of the revenue and paying 80% back to their community.
This is all done with no minimum deposit, no lockup period, and no withdrawal fees. The system could not be simpler, customers deposit to earn interest, but put their funds under no obligation to the Celsius network in doing so.
There are two options for earning interest in Celsius. Customers may either earn 'In Kind' rewards, where they earn more of the asset they deposit to Celsius, or CEL rewards, where they earn the native Celsius token on top of their deposits. However, earning in CEL is not available to United States customers due to regulatory issues. The utility of the Celsius token is explored later in this review.
You may view and calculate reward rates on the Celsius Network at this link
Borrowing
In addition to providing interest on assets, Celsius also provides access to the other side of the lending equation. Customers may borrow stablecoins at highly competitive rates, as this function also benefits from Celsius's motto of reducing the profit-taking middle man. Depending on the loan terms borrowers can have rates as low as 1% APR. There is one big catch here, which is that loans on celsius need to be overcollateralized with other crypto assets. So if you were going to borrow $1,000 dollars, you would need to put down at least 150% of that value in an asset like BTC or Ethereum.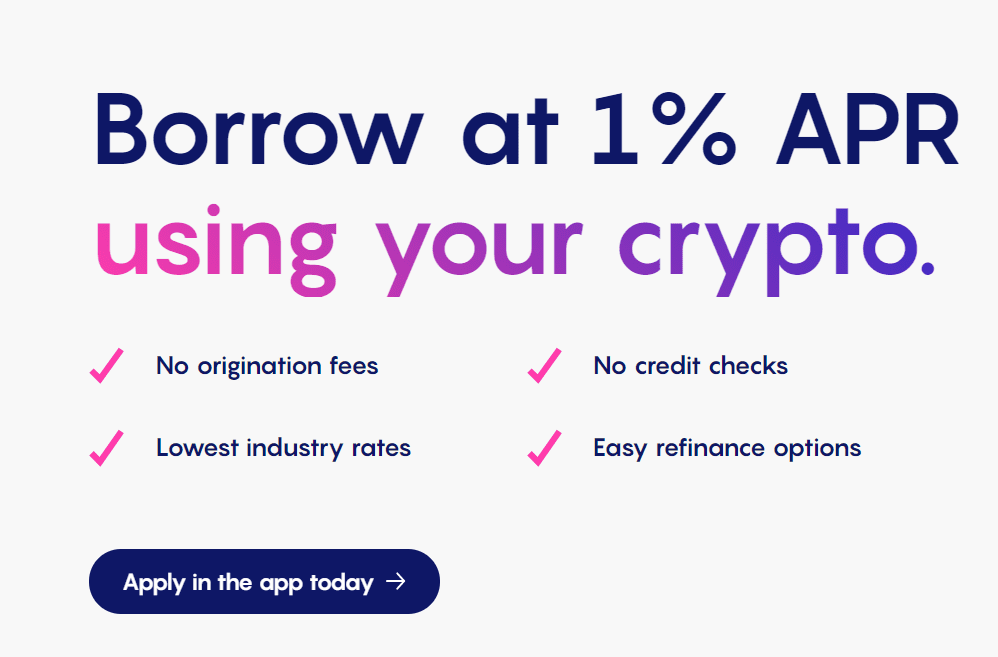 There are a few benefits to this system, for one this is what allows Celsius to rapidly approve loans. Since more than the loan amount is given to Celsius as collateral, little to no review is needed for most loans and funds are often sent out in as little as 30 seconds. This also works out to be a great system for people who don't want to sell an asset but want access to USD, since they can get the stablecoins while maintaining their exposure. Still, some downsides must be considered, such as not being able to earn interest on your collateral while it is inside Celsius.
There are a couple of ways to further reduce your lending rates on Celius. One way is to further over collateralize your loan, heavily collateralized loans provide the absolute best interest rates. Another way is to pay off the loan in CEL token, which can give a heavy bonus, taking off up to 2% from the interest rate in some scenarios.
You may calculate borrowing rates on Celsius at this link
CelPay
CelPay is the payments section of the Celsius app, as you might infer. This service allows Celsius users to quickly send crypto payments to any of their phone's contacts that have the Celsius app installed. Or, if they don't have the app installed, they can send the payment anyway with a link to download the app.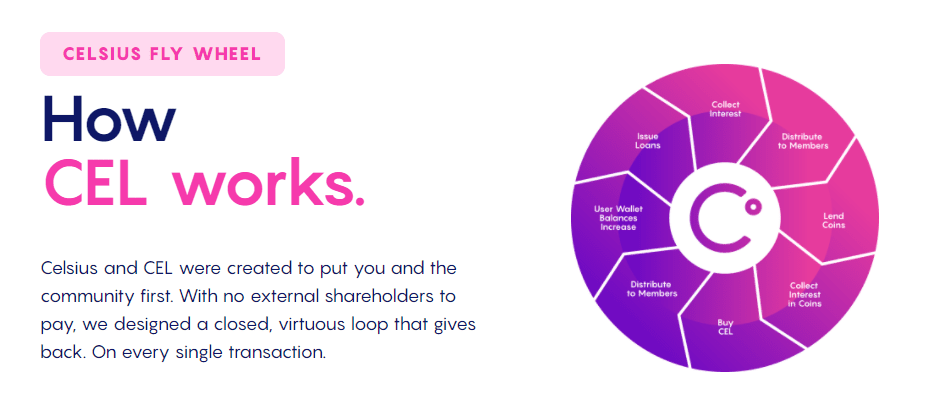 It works very simply, you choose the crypto, the user you wish to send to, and click the pay button. For security purposes, you must confirm the transaction via email before the other user is able to accept the payment.
There are some major limitations to CelPay. For one, it is limited to other users of Celsius, and though it's a growing app this is still a relatively small portion of even the cryptosphere. You can not send payments to outside crypto wallets. In addition, payments are limited to $2,500 every 24 hours, so you can forget about it if you're sending large amounts. For these reasons, those looking for a day to day payments solution should look elsewhere, as there are few advantages over even a basic crypto wallet.  However, there may be some circumstances where it is convenient to use, especially if you have other friends that use Celsius.
Celsius fees
Celsius is unique in that it does not charge any direct fees to its users. While the end-user is not seeing any fee, Celsius is taking a cut of the earnings they receive from lending out the user's assets, which is how they earn their money. For a user trying to maximize their yields, this could be seen as an indirect fee, since there might be better rates on platforms that take less of a cut or no cut at all, such as on dApps like AAVE or Compound. Still, many would consider Celsius very appealing even with this cut, since the rates are still very good and there are other benefits to using Celsius such as their secure custody, rendering the fee moot
Supported Cryptos
Celsius supports earning yields on over 40 different cryptocurrencies and is adding more all the time based on user demand. The list includes names like Bitcoin, Ethereum, and Chainlink, as well as major DeFi protocol coins like COMP, SNX, and UNI. Of course, the native Celsius coin is also included. A full list of supported coins for earning yield can be found here.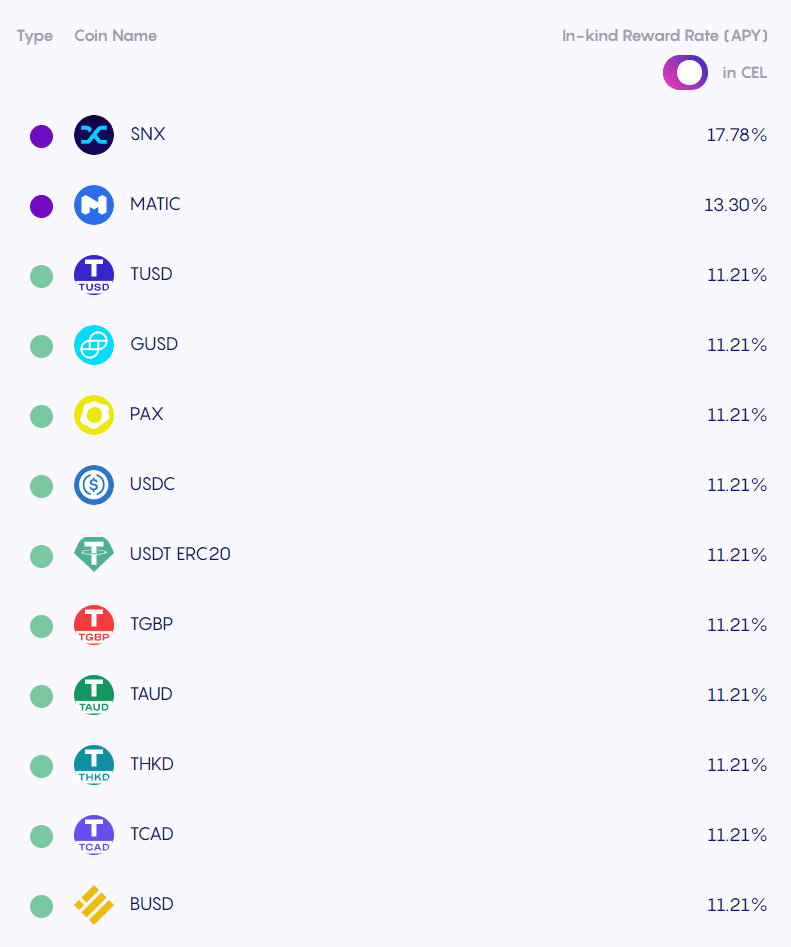 In addition, a few coins can be bought directly in the app through a partnership with GEM. This includes Bitcoin, some of the Bitcoin forks, Ethereum, Stellar Lumens, and a selection of the major stablecoins like Tether and USDC. A full list of buyable coins can be found here
Celsius Web App
Though Celsius has to this point primarily been a mobile application on IOS and Android, they have recently launched a web application to provide some of the same basic functions as the mobile app. Features are initially limited, but will eventually include most of what is available in the mobile app.
Right now users can see an overview of their account, including all of their holdings and reward earnings. One added feature of the web app is the addition of many new charts and graphs for a statistical breakdown of holdings in Celsius. On top of this, users can also send and receive all of the supported assets to and from their Celsius account.
Though these features will be handy for users, the web app is still missing most of the core features of the mobile app, however, in their medium article on the web app's release, the team claims that these will be rolled out in 'the coming weeks and months.
The Web App is available here.
Celsius Utility Token
Much of the Celsius app is built around the Celsius ($CEL) Token, which was released in May 2019. Its primary purpose is to give benefits to its holders, mainly higher rewards or lower interest rates, giving benefits on rates of up to 25%. See the Loyalty Program section below for more details on this. In addition, the token itself can earn yield in the app at a rate near 5% APY, not counting any bonus.
The token has a total supply of 695,658,161, with 522,197,452 of that circulating, or around 75%. Of the total supply, 117,000,000 is locked, and 334,769,441 is held by the team. The rest circulates freely.
If one wishes to acquire CEL, they can either earn it through the app, buy it through the Celsius wallet, or buy it on an exchange. Exchanges supporting CEL include Bitfinex, Bitrex, FTX, Gate.io, as well as DEX's such as Uniswap and Sushiswap.
Loyalty Program
The prime function of the CEL token is to participate in the Celsius Loyalty Program. The program works based on the percentage of user's holdings in Celsius that is in the CEL token. So if a user is holding more of the token, they will get more rewards.
Here is a breakdown of the Reward Levels in the Celsius Loyalty Program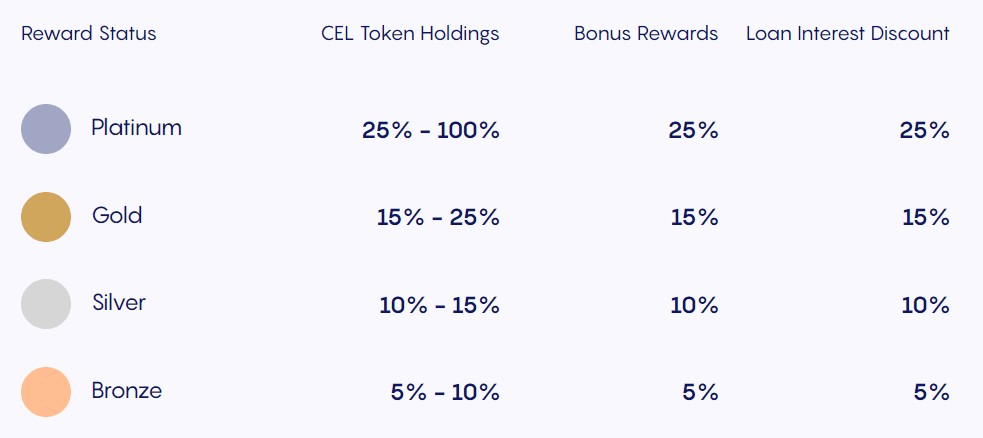 Is Celsius Safe?
Celsius has so far proven to be safe, and that is why it's trusted by over 750,000 users. For one, the app is completely legitimate, being run by known and notable public figures like the CEO Alex Mashinsky, and having a large focus on regulatory compliance so all operations in any country follow all applicable laws and regulations. Anyone using Celsius should have no concern about getting 'rugpulled' as they might in some other crypto apps, but again anything can happen.

In addition, there is very little risk of the app running into any sort of financial trouble, due to the high collateralization rates on all loans they give out. Unlike a traditional bank, the total funds held by Celsius actually increase whenever they give out a loan.
The only remaining potential issue is in security, where Celsius also maintains strong procedures. Their systems are audited by the firm Nyman Libson Paul, and their funds are insured by brokers Fireblocks and PrimeTrust. There has never been a breach on Celsius's crypto holdings, however, there was a breach on their email system in April 2021 which resulted in a phishing scam being sent out to some users.
Beyond security on the server-side, Celsius provides systems to help security on the client side. This includes two-factor authentication and tools like their 'HODL mode', which prevents funds from leaving the Celsius wallet for a certain period of time. This is useful if a user knows they won't be moving anything and wants to make absolutely sure nobody else could move mischievously move their assets for a time period.
Still, anyone using Celsius should be aware of where things could go wrong. They may be susceptible to attacks through Phone OS vulnerabilities, Sim Swap attacks, or Phishing attacks. When using crypto, it is important to be aware and make use of all the best security procedures.
Alternatives
Celsius is a competitive option for earning yield on and borrowing crypto, though users should be aware of what else is out there. The competition includes other centralized options such as BlockFi, NEXO, and the native yield programs of crypto exchanges such as Gemini and Coinbase. In addition, there are decentralized options offering similar services, such as AAVE, Compound, and YFI.
Specifically, yield-focused centralized options such as BlockFi and NEXO offer similar rates to Celsius, though both of these are lacking in options for what assets can be deposited. The exchange programs usually offer lower yields than these and depending on the program offer more or fewer assets.
The strongest competitors as far as pure yield goes are the decentralized options, as these have eliminated as much of the middle man as possible and usually operate in the most efficient market for yield. So in addition to not taking massive cuts out of the interest earned, the rates are free to spike massively if there is a sudden increase in demand for an asset within the DeFi ecosystem, which doesn't tend to happen as much on more centralized options due to the roadblocks in getting from CeFi to pure DeFi. The drawback some might find in these is that they are riskier, being prone to hackers and not necessarily insured.
Celsius Network Promo Code
Celsius have filed for Chapter 11 Bankruptcy. DO NOT SIGN UP TO THIS PLATFORM
| | |
| --- | --- |
| Celsius Promo Code | 153305032c |
| Sign-up Bonus | New users receive $50 in BTC |
| Referral Bonus Terms | New users receive $50 in BTC when they transfer $400 or more in crypto. See terms |
| Last Validated | August 2021 |
Conclusion
Celsius is a great and competitive option for earning yield on or borrowing crypto assets. Their team has created what is the equivalent of a bank while cutting out much of the middleman, and passing the profits to their users. The benefits to the end-users are massive. Anyone looking to earn passive income on their cryptocurrency holdings, or borrow stablecoins, should look into it as one of the top options out there.