The dramatic rise in cryptocurrency trading and conversion to digital assets has allowed crypto exchange platforms to accumulate a large number of users.
However, newbies may find it difficult to navigate their way through these platforms and find the ones that are appropriate for them. That's because the more options available, the more factors to consider while selecting the best platform for one's needs and requirements. Before settling down to the platform of your choice, proper research has to be done.
Notable things to consider include security, user interface, fees, customer support, supported cryptocurrencies, among other features.
With that being said, there comes a well-renowned exchange named Bitrue. Like any other advanced crypto platform, a thorough review has to be done to ensure you have detailed info about the exchange. So, without much further ado, let's get started on what you need to know about this platform.
What is Bitrue?
Bitrue is a Singapore-based crypto exchange that was launched way back in July 2018. It was founded by a group of blockchain enthusiasts, with Curis Wang, being the CEO. In terms of crypto trading and XRP trades, it is one of Ripple's preferred exchanges for transactions. It is a safe and reliable platform that allows users to trade crypto and blockchain-based digital assets using their Bitrue accounts.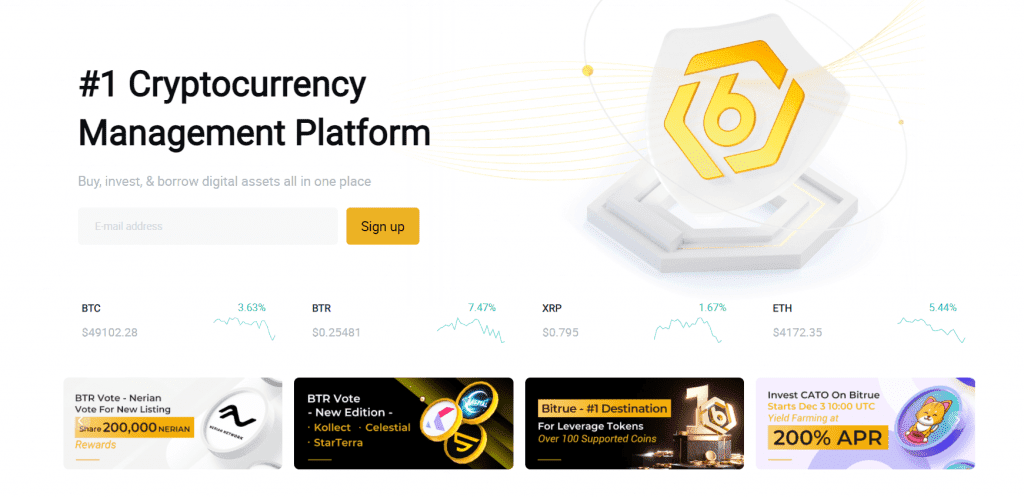 In addition, Bitrue is a one-stop trading platform with a reputation for speedy transactions. It is also one of the first exchanges to offer loans secured by cryptocurrency and blockchain technology. Likewise, in terms of security, the platform does exceptionally well in securing users' assets.
Bitrue Services
Bitrue provides several useful financial services, including the ability to buy/sell, withdraw/deposit, invest in futures, and use BTR token. In addition to that, Bitrue's unique features include XRP and Power Piggy crypto and blockchain lending services. The Power Piggy feature allows investors to invest in cryptocurrencies and earn a constant passive income from them. Bitrue also includes a mobile app that allows you to keep track of all of your transactions and is supported in both Android and iOS devices.
Bitrue Supported Cryptocurrencies
Bitrue currently supports over 300 cryptocurrencies with over 600 trading pairs. Some of the notable ones include;
Bitcoin (BTC)
Ethereum (ETH)
Ripple (XRP)
Litecoin (LTC)
Bitcoin Cash (BCH)
Luna (LUNA)
Gala (GALA)
Hai (HAI)
Dogecoin (DOGE)
Polkadot (DOT)
Tronix (TRX)
Cardano (ADA)
Solana (SOL)
SHIBA INU (SHIB)
VeChain (VET)
Stellar Lumens (XLM)
Tezos (XTZ)
Algorand (ALGO)
Avalanche (AVAX) etc.
Getting Started with Bitrue
Registering an account on Bitrue is relatively easy. All you need to do is to submit an email address, create a password, and confirm your registration using an email verification code. After that, you can trade and withdraw up to 2 BTC every day even without completing KYC on the platform. However, loans are not offered to users who have not completed a KYC.
In terms of completing KYC, you will be asked to submit the following details; first name, last name, birth date, ID number, and residential information. You'll also be asked to upload a selfie with your ID to verify the information you've provided. When the Bitrue team confirms these details, the verification process will be completed, and you will be able to start trading.
Trading With Bitrue
Bitrue's trading and charting user interface is quite similar to Binance's advanced mode, which is the world's largest and most popular trading platform for buying and selling digital currencies. TradingView provides charts and trading tools, with hundreds of technical indicators and graphic overlays. There is a Day and Night mode for changing the user interface's backdrop color, which is a good feature.
Bitrue's order types don't quite match those provided by Binance, but they do feature the most commonly used orders including Market, Limit, and Stop-Limit. However, the one-cancels-the-other (OCO) order is the only feature that Bitrue does not provide. Overall, charting and trading on Bitrue is beneficial to altcoin traders who can take advantage of the wide range of technical indicators available to evaluate charts and place market orders.
Trading Fees
The fees on Bitrue vary depending on the trading pair chosen, ranging from 0.098 % to 0.28 %. For buy and sell orders, the more liquid trading pairs against BTC, ETH, and USDT have a trading charge of 0.098% per transaction. For XRP trading pairs, a 0.2% or 0.28% trading fee is usually applicable. Whereas, when you pay for transaction fees with Bitrue's native exchange token BTR, you get a 30% discount.
Overall, the trading fees are fairly low in the market, especially for BTC, ETH, and USDT pairs. Bitrue's fees are slightly lower than those of Binance and Kucoin. For new investors on the platform, however, the various fees depending on the trading pair can be bewildering. However, if you want to know more about the complete list of trading fees, you can check it on the official website.
Deposit & Withdrawal Fees
One of the benefits of using Bitrue is that it does not charge a fee for digital currency deposits. Withdrawal costs, on the other hand, are determined by the coin and the current state of the blockchain network. Bitrue, on the other hand, does not appear to charge a fee for transferring cryptocurrency from their exchange to an external wallet. Bitcoin, for example, has a withdrawal charge of 0.0005 BTC, which is the typical network fee.
However, users who sell crypto for fiat currency and withdraw to a bank account will be charged a wire transfer fee. A $30 bank wiring fee will be levied to sums between $500 and $10,000. Withdrawing fiat to a bank account for amounts higher than $10,000 normally incurs no costs.
Bitrue BTR Token
The Bitrue token (BTR) is the platform's native digital token, and it helps in driving the platform's services and ecosystem. The coin was created on Ethereum and is integrated into the system to provide its holders with several perks. On Bitrue's cryptocurrency trading platform, you can get BTR by exchanging BTC, USDT, XRP, or ETH for BTR. As a BTR token holder on this exchange, you can get discounts on trading fees, earn extra income on your cryptocurrency holdings, participate in Defi mining by staking BTR, and obtain voting rights on the Bitrue network, to name a few benefits.
Security Measures
When choosing an exchange, one of the most important elements to consider is security. If the exchange turns out to be subject to hacker assaults or fraud, instead of enjoying your winnings, you'll have to go extra lengths to get your money back. Furthermore, there is no guarantee that you will be able to recover your funds. It implies that if you're thinking about utilizing an exchange, you should look into the platform's security features and read customer reviews to see whether anyone has complained about being defrauded or mistreated.
Let's look at some security steps you can use to protect your Bitrue account. First and foremost, you must enable two-factor authentication. If you don't activate this feature, you won't be able to use the exchange effectively. The reason for this is that 2fa reduces the chances of your account being hacked greatly. When 2FA is activated, no one may access or withdraw money from your account without first providing a one-time password. The password is generated locally in the Google Authenticator app on your mobile device. As a result, if hackers do not take your wallet, they will be unable to empty your Bitrue wallet.
Enabling a PIN adds another layer of security. Every time a withdrawal is made, this shortcode will be required. For security reasons, including a cell phone number can improve security even more. While logging in, the phone will be used. Furthermore, you can use your phone to receive alerts about your trading activities. In addition, you can create a whitelist of addresses. This feature restricts the number of valid withdrawals addresses to those on the list. As a result, if hackers gain access to your account, they will be unable to withdraw funds to one of their addresses.
Finally, each user receives a unique code that is included in every Bitrue email that will be sent. So, if you receive a message without this code, it's a hint that someone is posing as a member of the Bitrue team to defraud you. Overall, the exchange has a good set of security measures in place for its users.
Conclusion
The Bitrue trading platform is a well-known crypto exchange that offers an unrivaled number of services at a lower cost than most other exchanges. The exchange is committed to offering a secure and convenient environment for cryptocurrency trading, as well as being the greatest global aggregator of supported cryptocurrencies.
Bitrue should be one of your best bets if you're crossing off your crypto platform list. In terms of security, Bitrue goes to great lengths to keep your assets safe and secure. With all its unique features, you will always get the best from the platform.