In the field of global finance, the introduction of cryptocurrencies has changed the process of economic transactions. The commodity market has seen a steady flood of interest in virtual exchange systems, indicating that cryptocurrency exchange platforms are in for some fascinating times ahead. Several firms have sprung up in response to the growing demand for a crypto exchange platform. However, just a few have been able to meet the demands of their users.
Thanks to its well-developed technical infrastructure and financial knowledge, Liquid is one of those successful firms that has rightly directed and serviced its users. That takes us to the focus of this guide. Below, we will be conducting a review of the Liquid crypto platform. This review will contain everything you need to know about the platform including its features, security measures, and trading fees.
What is Liquid?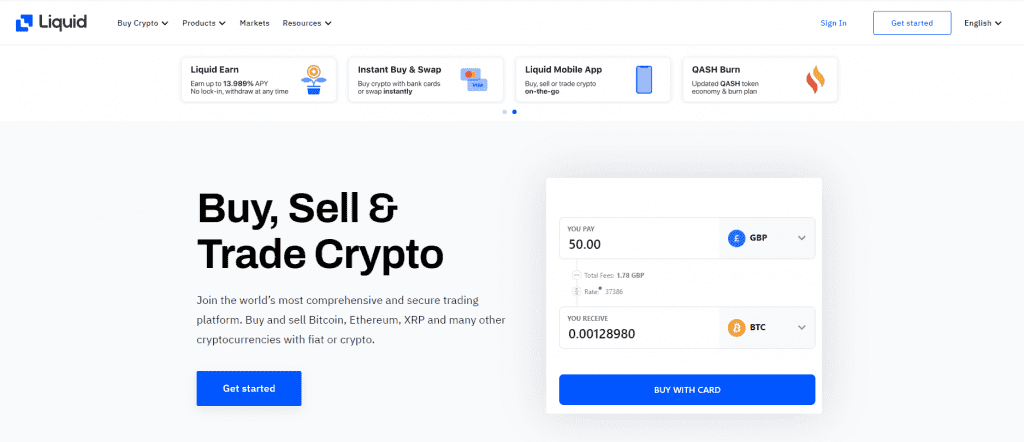 Liquid is a cryptocurrency exchange based in Japan that was founded in 2014. It is one of the largest cryptocurrency-to-fiat exchange platforms in the world, with millions of users. This exchange is a centralized, global-source trading platform that connects fiat and cryptocurrencies together. As a result, Liquid provides a great solution to financial traders' current challenges.
As a firm, Liquid is dedicated to establishing a safe crypto ecosystem in which each trader and user may benefit from secure financial transactions and cutting-edge blockchain technology. Being listed among the top ten regulated crypto platforms gives the crypto firm a competitive advantage, and also provides a solid platform for its users to enjoy fantastic services while being safe. Through its innovative interface, Liquid has been able to integrate useful features and measures into its unique design, allowing its users to have a fantastic experience.
Basic Features of Liquid Exchange
Below are some of the core features of the Liquid crypto exchange;
Easy-to-use User Interface
Liquid is a user-friendly platform built for everyone, from beginners to professionals. The platform's simplified UI designs make it easier for all kinds of users to assess it without any difficulty.
Safe Storage
The platform manages users' digital assets using a combination of cold wallets & Multi-party computation (MPC) technology. That's to ensure that users' assets are safe and secured from potential hackers.
Swift Withdrawals
Using multi-party computing, the Liquid crypto exchange can offer swift withdrawals while maintaining its rigorous security protocols. Therefore, conducting transactions on this platform is quite fast without going through many hurdles.
Fiat Gateway
The Liquid platform accepts deposits of major fiat currencies such as USD, JPY, EUR, SGD, HKD, and AUD.
24/7 Customer Support
As a user, if you have a problem or just need to ask something, the platform's customer support team is always available to help 24/7.
Liquid Services
Liquid's reputation as a successful cryptocurrency exchange platform has evolved over the years. The firm's main contribution is a platform for selling, buying, and exchanging cryptocurrencies like Bitcoin and Ethereum with or without fiat currency. It also supports spot cryptocurrency trading as well as margin trading in a variety of marketplaces.
In today's market, the majority of traders desire to profit from their trades. Liquid Earn is a fantastic tool that allows traders to earn money while trading in virtual currencies. The "buy and swap" feature is a relatively new addition to the platform's service offering. As a result, users can now buy or exchange cryptocurrencies with a single touch.
Liquid's Supported Cryptocurrencies
To compete with some of the global names in the market, Liquid accepts different fiat and cryptocurrencies. Some of the cryptocurrencies supported on the Liquid exchange include the following:
Bitcoin (BTC)
Ethereum (ETH)
Ripple (XRP)
Bitcoin Cash (BCH)
Litecoin (LTC)
Stellar Lumens (XLM)
NEO (NEO)
NEM (XEM)
Ethereum Classic (ETC)
Qtum (QTUM)
Electroneum (ETN)
Fusion (FSN)
Alliance Block (ALBT)
Liquid Fees
Liquid's pricing structure is effective because it lowers trading prices, allowing for more interaction with traders and clients. Trading fees are calculated based on the user's trading volume. Trading fees for transactions made through QASH are waived by the firm. It also gives its traders referral discounts, which strengthens their loyalty to the exchange. Liquid charges a 0.3% fee, which can be reduced depending on trading volume. Traders who trade less than $10,000 per month are also exempt from fees on the site.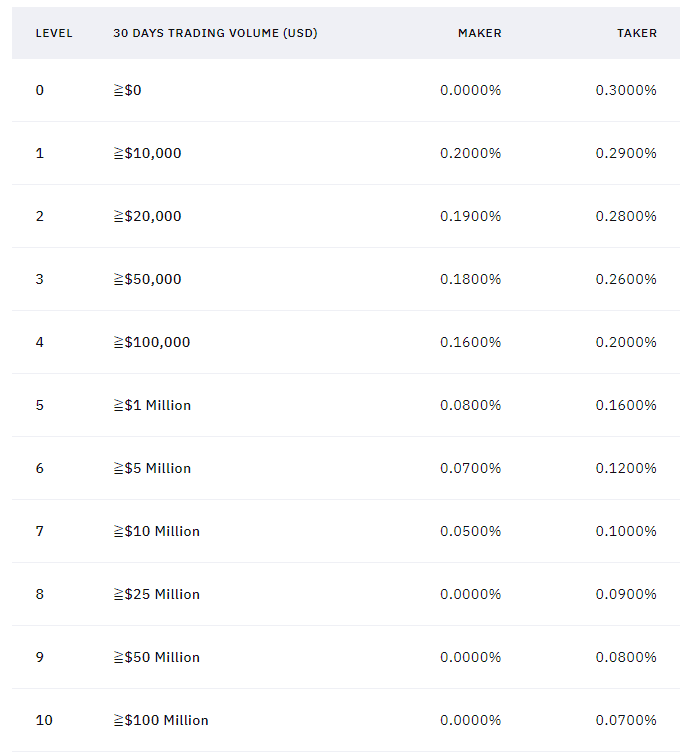 Deposits and withdrawals are typically free, although fiat transactions are charged a small fee of 0.10%. Liquid also understands the necessity of keeping bitcoin withdrawal fees low. Bitcoin withdrawals presently cost roughly 0.0007BTC, while Ethereum withdrawals cost around 0.01ETH.  Furthermore, Liquid accepts a variety of payment options. It accepts payments via bank deposits and credit cards. However, the latter may incur higher fees.
Getting Started with The Liquid Platform
Let's begin by going through the registration process. Liquid simplifies the registration and trading processes. Unlike many other exchanges, the site does not need you to complete KYC verifications straight away.  Meanwhile, you can complete the verification process when you are ready to commence trading.
The Liquid exchange also has a swift registration process. It will take you less than a minute to complete the process. It is, without a doubt, beneficial to both newbie traders and seasoned professionals. After all, no one likes to waste time enrolling on a website of any kind. With that in mind, here are the steps to take if you want to join the platform:
Step 1: Visit the official Liquid website. Tap the Get started icon in the top-right corner of the screen once you've arrived at the registration page.
Step 2: Next, provide your legal name, email address, referral code (if applicable), and the country in which you currently reside.
Step 3: After that, you must confirm your email address. To do that, go to your inbox and click the confirmation link in the email that you received from the Liquid exchange.
Step 4: After the email confirmation, all you have to do now is log in to your account and begin trading.
How to Start Trading on Liquid
After registering on the platform, it's time for you to fund your account, and start trading. Let's have a look at how to do that below;
Step 1: Log in to your Liquid account by inputting your email address and password.
Step 2: You will be taken to your dashboard after that. There, you will be given some tips on how to appropriately set up your account, including two-factor authentication, KYC, and account funding.
Step 3: You will then be taken to the trading page after some legalities and verifications. There, you can use a credit or debit card to buy the cryptocurrency you want, or you can swap one asset for another. You will also see the fees you'll be charged, as well as the exchange rates.
Step 4: If you haven't set up 2FA or completed KYC verification, you'll be routed to your profile page, where you'll be prompted to do so. Once you have completed the verification requirements and your account has been secured and certified, you can then be able to add a credit or debit card to your account and begin trading.
Liquid Security Measures
Without a doubt, the most significant feature of any trustworthy cryptocurrency exchange is security. That implies that a crypto exchange is simply not worth its value if it lacks basic security features. While the multiple features and bonuses found in most crypto exchanges can be quite appealing, if your account and the assets contained therein are not properly secured, you risk getting hacked and having all of your cryptocurrencies stolen.
Fortunately, Liquid has some excellent security features in place. To begin with, the Liquid exchange uses mandatory 2FA – two-factor authentication on each account. This feature is quite effective and can keep your account safe most of the time.
There is also a withdrawal protection policy on the platform that notifies users if a new IP address has been detected on their account. Since all account operations must be approved, you can rest assured that if a possible hacker gained access to your assets, you would be notified instantly. There are also asset protection elements to consider. These are the areas where the Liquid exchange's security features flourish.
Another interesting feature is that Liquid retains 98% of its users' crypto assets in cold wallets. Furthermore, you can expect thorough KYC and AML inspections and verifications from the Liquid crypto exchange. This allows Liquid to come to know its users very well, making it far more difficult for hackers to steal their assets.
Liquid Promo
| | |
| --- | --- |
| Liquid Referral Link | Click here to sign up |
| Sign Up Bonus | Save 10% On Fees |
| Sign Up Terms | Create and verify your account. |
| Last Validated | December 2021 |
Conclusion
The Liquid crypto exchange is a fantastic platform with a lot of new and intriguing features. Its accessibility is aided by the fact that it is available in over 100 countries.
The platform is also incredibly user-friendly and inclusive due to its variety of trading options that are excellent for both beginners and experienced traders. However, its margin trading platform is only recommended for experienced traders since it is a highly volatile market. Finally, it features a robust security system which makes it quite recommendable to users.