Bitstamp is one of the industry's most prominent and oldest cryptocurrency exchanges available. The platform, which was launched in 2011, allows users to purchase, sell, and exchange various cryptocurrencies with ease. Bitstamp is also renowned for allowing users to buy cryptocurrencies with fiat currencies. Users can also use their credit and debit cards to deposit and withdraw fiat money. While its trading and currency dashboards are distributed across a few different sites, they are well-designed and intuitive to use for both inexperienced and professional traders.
So, if you're considering opening a Bitstamp account, take the time to read this detailed guide first. Below, we will take a look at everything you need to know about this crypto exchange so you can get started.
What is Bitstamp?
Bitstamp is a cryptocurrency exchange based in the United Kingdom and registered in Luxembourg. Although the platform was designed with European users in mind, it currently serves users across the world. You can buy and sell cryptocurrencies on the Bitstamp market, and you can deposit and withdraw funds using common payment methods like a debit/credit card or a bank account.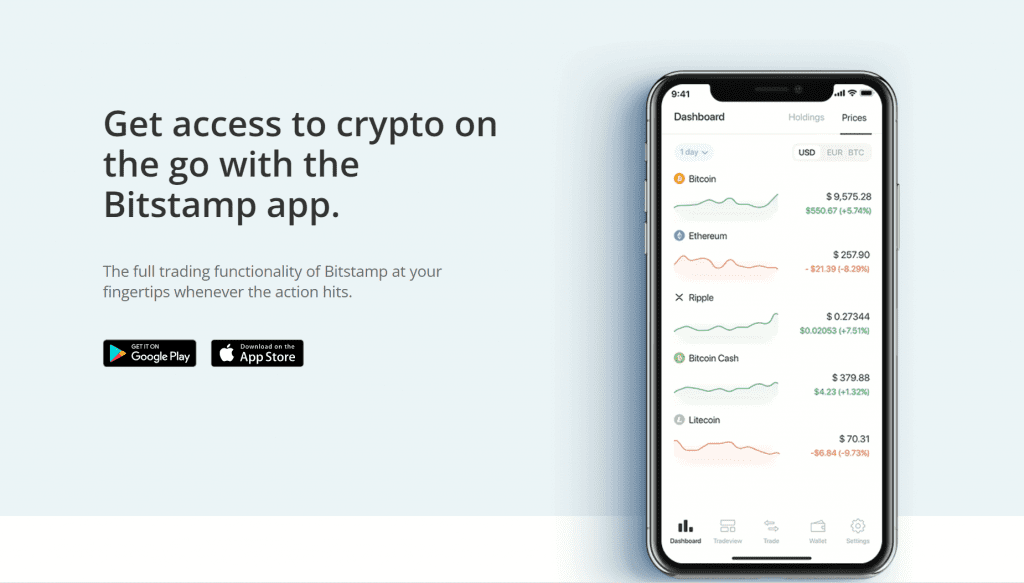 It is one of the longest-running exchanges in the crypto trading sector, having been active since 2011. Bitstamp can be a fantastic option for those just getting started in the crypto world, thanks to its simple fee structure and the ability to buy crypto using fiat currency directly from a bank account, credit card, or debit card.
In essence, Bitstamp is a user-friendly and reliable crypto exchange for both newbies and experienced traders. It boasts a lot of beneficial trading options, a lot of liquidity, and its security has been thoroughly tested over its ten years of operation.
How Does Bitstamp Work?
Bitstamp is identical to the other prominent cryptocurrency exchanges in the crypto sector. After you have created an account and deposited funds, you'll be able to buy and sell coins. The platform acts as a middleman between buyers and sellers, acting as a third-party intermediary.
As a result, buying cryptocurrency on Bitstamp is not the same as buying it directly from the exchange. Instead, you're buying coins from a third-party vendor, which Bitstamp authorizes. In exchange for matching buyers and sellers, Bitstamp charges users trading fees. As a result, the platform's services can continue to be provided without interruption.
Unlike other well-known cryptocurrency exchanges, Bitstamp only allows you to go long. This means that while you can make a profit if you predict that the value of a cryptocurrency will rise, you won't be able to do so if you feel the markets will fall. This is a huge drawback, as day traders want to have the option of going long or short in the cryptocurrency markets.
Supported Cryptocurrencies on Bitstamp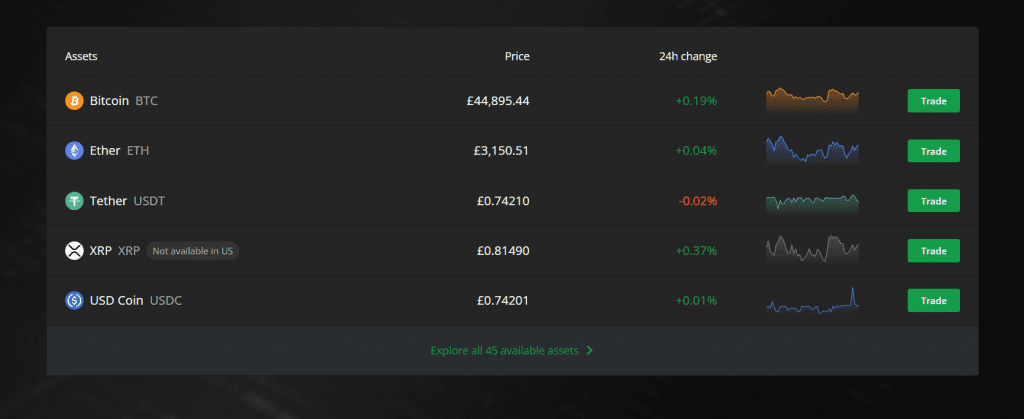 Bitstamp currently supports over 30 cryptocurrencies. Let's have a look at some of them below;
Bitcoin (BTC)
Ether (ETH)
Tether (USDT)
USD Coin (USDC)
Ripple (XRP)
Audius (AUDIO)
Uniswap (UNI)
Bitcoin Cash (BCH)
Litecoin (LTC)
Chainlink (LINK)
DAI (DAI)
The Graph (GRT)
Paxos Standard (PAX)
Basic Attention Token (BAT)
Curve (CRV)
Stellar Lumens (XLM)
AAVE (AAVE)
Algorand (ALGO)
Maker (MKR)
Compound (COMP)
Bitstamp Fees
When it comes to trading fees, Bitstamp generates profits on two bases. The platform normally charges fees for trading and depositing. Even though Bitstamp's cost structure is more complex than that of other exchanges, its deposit and withdrawal fees are still reasonable when compared to those of other exchanges.
Cryptocurrency deposits are free, but withdrawals are subject to a network fee that varies depending on which coin is being withdrawn. The only exceptions are users withdrawing bitcoin using BitGo Instant, which charges 0.1 percent of the transferred amount, and users withdrawing Ripple, which costs 0.2 percent of the amount sent.
When making use of fiat currency, users are often charged for deposits and withdrawals. While it's difficult to compare Bitstamp to most other advanced exchangers, credit and debit card purchases are charged. Bitstamp will charge a 5 percent fee on any amount paid using a bank card, in addition to any additional fees imposed by the card issuer.
Bitstamp is in the middle of the pack when it comes to trading fees when compared to other exchanges. For all trades done by users with less than $10,000 in 30-day volume, its trade expenses start at 0.50 percent. If you're a professional trader who trades more than $20 million in a single month, though, you may get this down to 0.10 percent.
As a result, Bitstamp is neither the cheapest nor the most expensive cryptocurrency trading platform. If you're a high-volume professional trader, you can negotiate a lesser fee, although there are cheaper exchanges. However, because SEPA payments and withdrawals are very modest in Europe, the exchange is helpful to low-volume European traders.
As a result, Bitstamp is not the cheapest trading option available, likewise, it is also not the most expensive. You can get a lower fee if you're a high-volume professional trader, but there are less costly exchanges available. However, the exchange is beneficial to low-volume European traders because SEPA payments and withdrawals are quite low there.
How to Sign Up and Trade on Bitstamp
If you want to proceed with using Bitstamp, below is a simple step-by-step guide that shows you how to get started.
Step 1: Open an account with Bitstamp
Once you've arrived at the Bitstamp homepage, click on register. After that, you'll have to fill up some personal information. This includes filling in your full legal name, email address, and country of residence. Make sure this information is correct because you may be required to prove your identity in the future.
Step 2: Verify that your email address is correct
After that, you are required to confirm your email address. To do so, head straight to your email inbox and click the Bitstamp verification link that was sent to you. Then, you will be shown your unique account ID once you've done so. Make a note of this and save it somewhere safe since you'll need it to log in to your Bitstamp account.
Step 3: Boost your account's security
You can improve the security of your Bitstamp account now once you've opened it by using two-factor authentication (2FA). By doing so, every time you intend on logging in or withdrawing funds, you will be asked to input a unique code that will be sent to you via SMS or email.
Step 4: Verify your identity
The next step is to have your identity verified. Before doing this, ensure you have a government-issued ID. A copy of your proof of residence is also required. In addition, a utility bill with your address on it or a bank statement would suffice.
To begin, log into your Bitstamp account and click on 'verify.' Upon logging in, your account would be marked as unverified. Unless you are a business-minded client, select 'personal account verification.' Meanwhile, you'll have to wait for about 24 hours for Bitstamp to confirm your credentials after you are done with the verification steps. Thereafter, you can make a fiat-currency deposit as soon as you receive an email indicating that your account has been validated.
Step 5: Deposit funds and buy Cryptocurrencies
To deposit funds, head straight to the top of the screen and click on 'deposit. After that, you'll see a drop-down menu with all of the payment methods available to fund your account. Simply select your preferred payment option, enter the desired deposit amount, and click 'confirm.' It's now time to trade when you've completed this. Click 'buy/sell' at the top of the screen. Then you must decide on the type of cryptocurrency trading pair you want to buy or sell, and you are good to go.
Bitstamp Security
Bitstamp has gone a long way from its high-profile hack in 2015 when it was hacked and lost about $5 million in BTC due to a targeted phishing assault. Today, the exchange employs a range of measures to keep accounts secure. Users can enable two-factor authentication, which works with Google Authenticator, and are encouraged to do so. Furthermore, all withdrawals require email confirmation, and password changes require two-factor verification. The exchange also encrypts the files users must send to authenticate their accounts with Pretty Good Privacy (PGP).
On the technical side, Bitstamp takes a variety of precautions to ensure that its platform as a whole is secure. In the unusual case of a loss, 98 percent of all cryptocurrency is stored offline in cold wallets, which are insured. Bitstamp launched multi-signature wallets after the January 2015 attack, which require multiple secret keys to approve transactions.
Furthermore, Bitstamp offers two-factor authentication (2FA) for account security and requires email confirmations for all withdrawals. Overall, Bitstamp is a safe and reliable exchange. Even though it has been hacked in the past, it has made necessary improvements and does not appear to be having any issues now.
Conclusion
Bitstamp is a safe and reliable cryptocurrency exchange that can be used daily for all sorts of transactions. Although it does not have the lowest costs or the most cryptocurrency available, it has an easy user interface for both newbies and professional users. Bitstamp is a fantastic option if you're looking for a good crypto exchange with a great user experience. Most specifically, Europeans can take advantage of the platform's free deposits and low-cost withdrawals.