For most individuals, buying huge amounts of bitcoin is not a financially realistic investment option. However, the good news is that there are now more options than ever before for those who want to earn bitcoin. And, believe it or not, in some scenarios, you can start earning with practically little effort. Some crypto platforms have now made it easy for people to earn in Bitcoin through their reward programs. These reward programs could be in the form of a new user bonus, staking, or referral rewards after making certain deposits on your account.
However, these crypto platforms' reward programs vary. So, each is unique in its ways. If you are wondering which platforms offer such bonuses in BTC, you are in the right place. Below, we will be exploring six crypto platforms where you can earn free bitcoins with just a few easy tasks. From the list below, Nexo, BlockFi, Coinbase, Gemini, Crypto.com, and Celsius Network are the major platforms offering such reward programs. With that said, let's take a look at the reviews of each of them and how you can earn free bitcoins from these platforms. So, without much further fuss, let's get straight to the point.
Nexo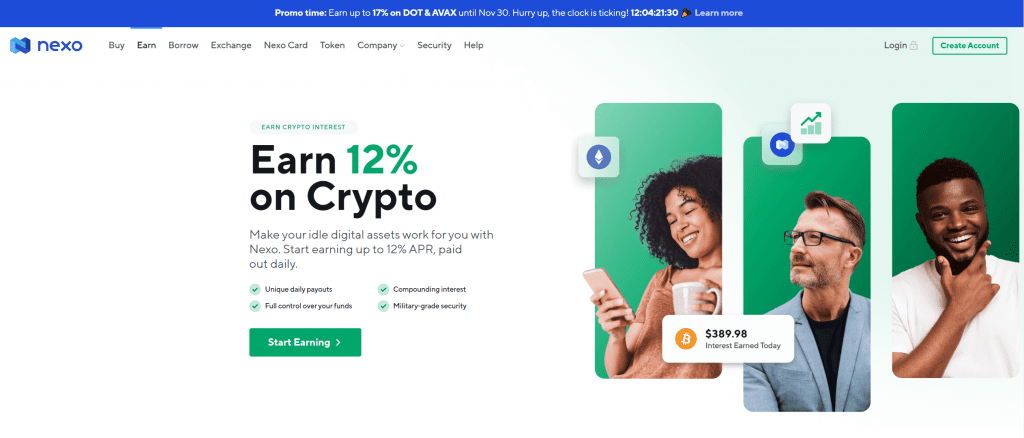 Nexo is one of the most popular cryptocurrency services in the world, allowing users to earn compound interest on their crypto assets that are paid up daily. In addition, the company offers interest on stablecoins, such as the USD Coin, which is pegged 1:1 to the US dollar. Nexo is also the first blockchain business that offers its services in over 200 jurisdictions and 40 different fiat currencies. Their objective is to maximize the value and usability of cryptocurrencies, which has resulted in the processing of $30 billion for over 2 million users around the world.
As a new user, if you join Nexo using a referral link, you will receive a $25 BTC incentive after completing the appropriate procedures within 30 days. Simply open an account, deposit $100 or more in assets, and you'll be eligible for the incentive.
You can also earn by participating in the platform's referral program. To get a $25 BTC incentive, all you have to do is refer a friend to Nexo. In addition, your friend will receive $25 in bitcoin. Within 30 days of completing KYC verification and topping up $100 or more of any asset supported on the Nexo platform, you and your referred friends will receive your incentives.
BlockFi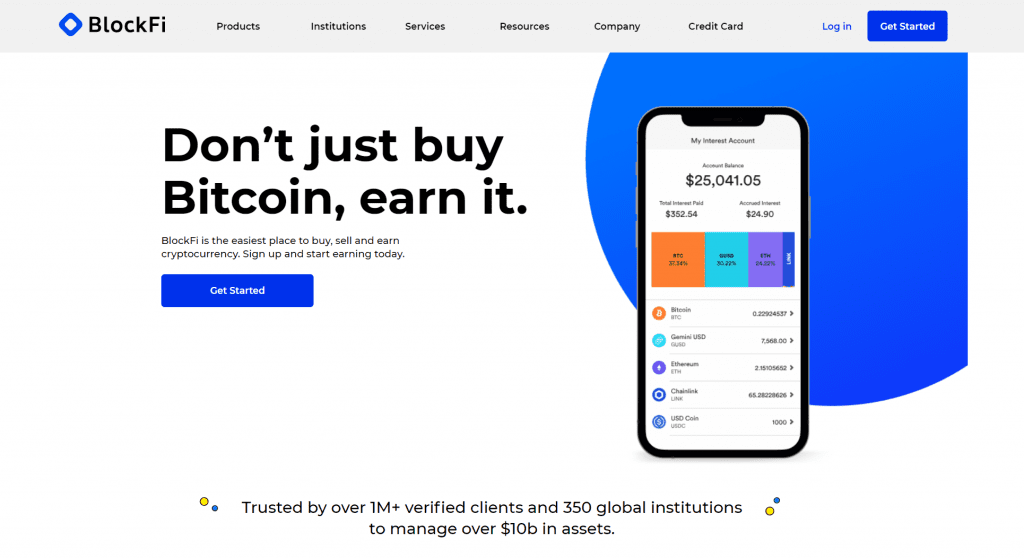 BlockFi is a cryptocurrency trading platform that functions in the same way as a bank account. BlockFi, unlike many other cryptocurrency wallets, pays interest on cryptocurrency amounts held in an Interest Account. You can use your cryptocurrencies as collateral for a loan to unlock the equity in your cryptocurrency holdings without selling them, similar to how you would use a home for a mortgage or a car for an auto loan.
BlockFi trading allows you to convert your dollars into crypto and vice versa. BlockFi has a smaller number of supported coins than some of its competitors, but it is backed by Fidelity, Coinbase Ventures, SoFi, Akuna Capital, and Winklevoss Capital.
With BlockFi's interest-earning account, there are no hidden fees and no minimum balances. Throughout the year, it gives new and existing clients incentives and sign-up bonuses for new accounts. New deposit incentives, trading volume bonuses, and referral bonuses are among the limited-time offers. When opening a new BlockFi Interest Account, new investors can receive a $250 sign-up bonus.
Once you've signed up for BlockFi, you'll be eligible for their referral bonus scheme. You and your friend will each receive $10 in BTC for each individual who signs up using your BlockFi referral code and deposits $100 or more into their BlockFi interest account. After having five referrals, you'll start earning a $20 BTC bonus for any subsequent referrals. Your referred friends, on the other hand, will continue to receive $10 BTC bonuses once they make their required deposit.
Coinbase + Coinbase Rewards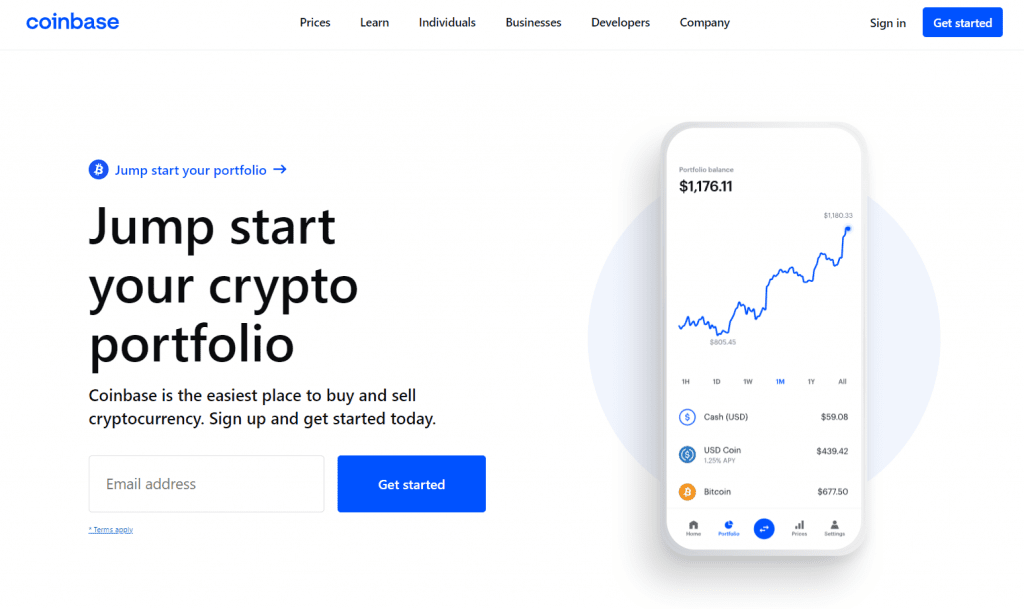 Coinbase is one of the world's most well-known and largest cryptocurrency exchanges, trading approximately 100 different cryptocurrencies. When you sign up as a new user on the site and spend at least $100 in cryptocurrency, you will receive a $10 BTC referral credit. This translates to a 10% discount. A referral program allows you to earn a bonus for each friend who registers up and performs a crypto trade using your registration link.
Your referrals only need to finish their account setup and deposit a minimum of $100 from the platform after registering. With that, you will each receive $10 BTC. Please keep in mind that the transaction must take place within 180 days of the account being opened. Orders can sometimes take up to four days to fulfil.
Furthermore, Coinbase provides a unique method to earn money while learning. Users can learn about cryptocurrency trading and some of the cryptocurrencies available through a series of video classes and tests offered by the platform. Users can also earn particular cryptocurrencies by taking the classes.
Gemini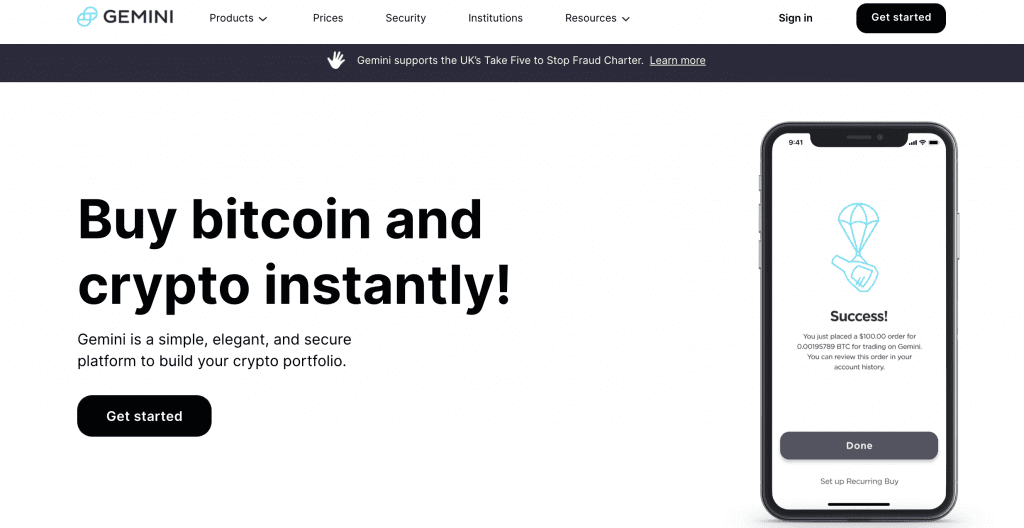 Gemini is one of the more popular crypto exchanges for several reasons. One of them being the simplicity of the platform, it's super easy to buy and sell crypto on the Gemini platform.
This is one of the few exchanges that is FDIC insured up to $250,000, so you know you're in good hands having Gemini as your crypto platform.
For experienced traders, Gemini offers ActiveTrader giving traders extra features like advanced charting, multiple order types, auctions and block trading. This is simlair to Coinbase Pro.
New users can get $10 in bitcoin when they sign up using the link below. Remember you need to trade $100 worth of crypto to get this sign up bonus.
Crypto.com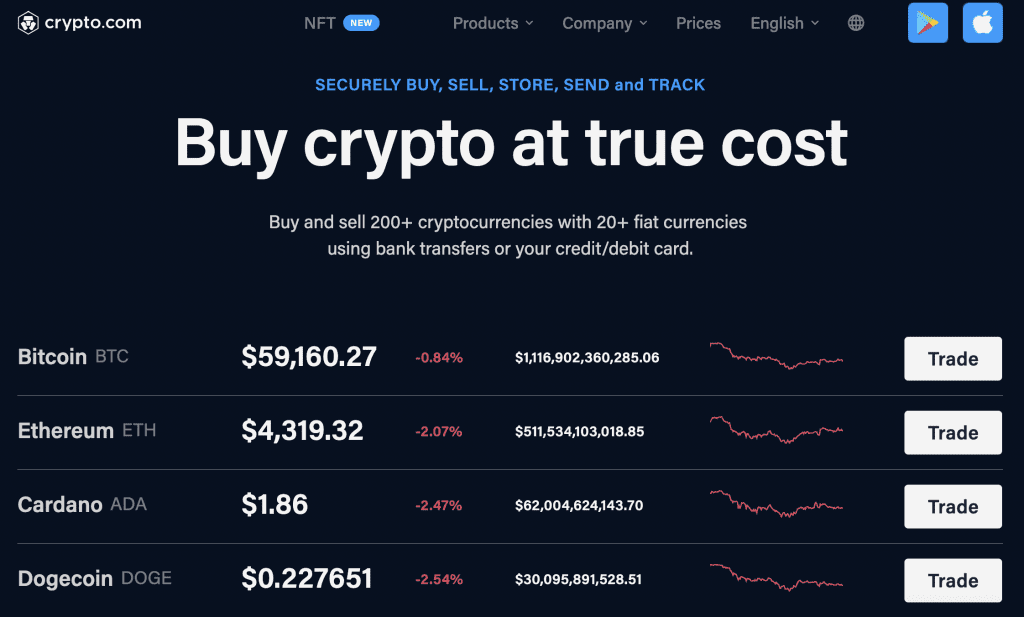 Crypto.com, a renowned global exchange, offers over 40 cryptocurrencies and stablecoins, each with its interest rate. Crypto.com is on a mission to accelerate the adoption of cryptocurrencies around the world, with over 10 million users in over 90 countries. And with the exchange's outstanding interest rates, this user-friendly trading platform is doing just that. The company's leadership is committed to a set of common ideals that distinguish Crypto.com from its competitors.
For experienced users, Crypto.com also offers a decentralized finance (DeFi) wallet and token swap. And, as the exchange's products evolve, the cryptocurrencies linked with the platform will undoubtedly provide significant profits for investors.
The interest rates accessible on Crypto.com are slightly greater than those given by competing exchanges. While you see your crypto.com holdings grow, you may earn income by following a few simple steps. All you have to do is create an account on Crypto.com, buy some cryptocurrency, and earn interest on your cryptocurrency. You can start earning over 12% interest on your crypto assets in seconds with this.
Celsius Network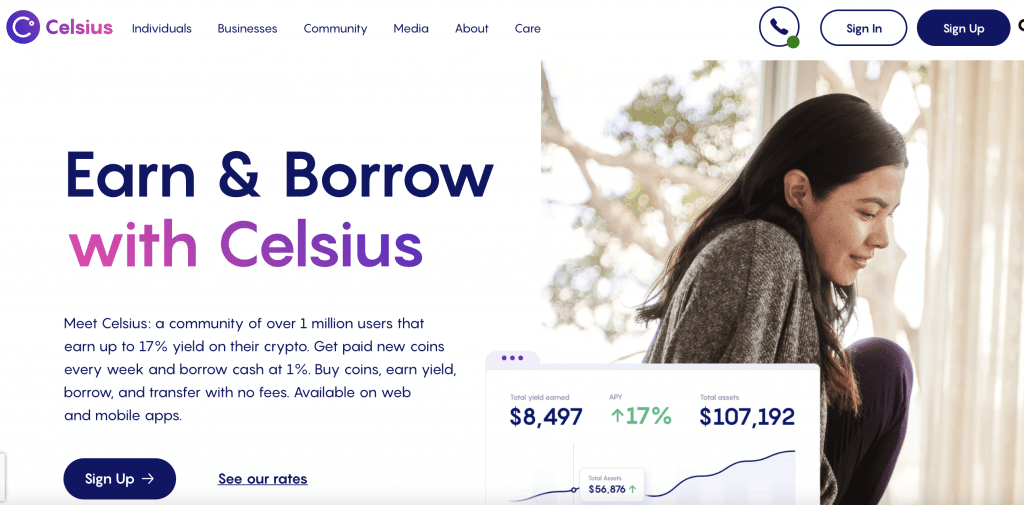 Celsius is a cryptocurrency exchange situated in London. Celsius does not charge any fees for purchasing cryptocurrencies and pays you high-interest rates on your cryptocurrency. Interest is paid monthly in BTC, CEL, or the token you deposit, so it's an incredible additional bonus to compensate for the time spent waiting.
When you sign up via a referral link and deposit at least $400 in supported crypto in your first transfer to your Celsius Wallet, Celsius will offer you $40 in Bitcoin. You can retain your cryptocurrency for 30 days. To trigger the benefits, this must be done in one transaction. The bonus will be locked for 30 days, and you'll be able to see it in your Bitcoin wallet.
However, if you cash out before the unlocking period is over, you will forfeit both incentives. After the deposit is credited, the bonus appears with a 30-day unlocking date. Furthermore, Celsius accepts several stablecoins, which you can deposit to avoid excessive price swings.
Mode App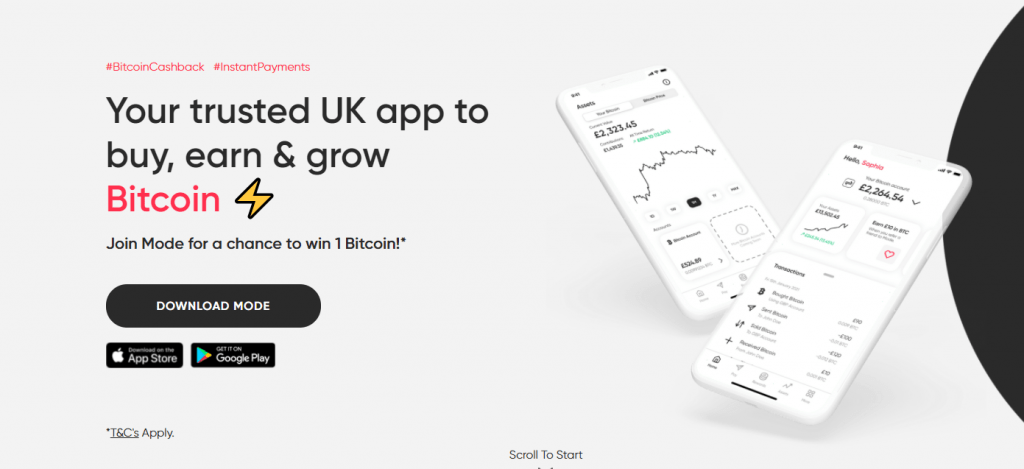 Mode is a UK-based crypto app that allows users to buy, sell, and store Bitcoin while earning a 5 percent interest rate on their assets. Aside from being a Bitcoin wallet, the crypto app has a 'shop, earn, and save' feature that allows users to earn BTC rewards from a variety of well-known partnership brands.
All you need to do is simply register and verify your Mode account, pay with Mode at your favorite stores, and instantly receive your Bitcoin cashback. Another prominent way to earn free bitcoin in the Mode app is through the referral scheme.  To be eligible, your referral(s) must purchase £100 or more in cryptocurrency within 30 days of creating their account, and you'll receive £10 in Bitcoin. Meanwhile, the same amount is also given to your referral(s).
This crypto app is fantastic since it allows you to earn Sats by sharing your referral link with family and friends that are interested in cryptocurrency. The Mode app is available on both the Android PlayStore app and the iOS Apple Store app.
The registration process is very straightforward, with a simple KYC and ID verification process that takes only a few minutes to complete before whitelisting. You can fund the app with GBP or Euros using near-instant free top-ups from your existing banking account's online app once you've logged in.
After your account has been credited, you can purchase Bitcoin for a flat fee of 0.99 percent per transaction. When selling, the same cost is charged. When compared to exchanges like Coinbase, this rate is reasonable, but it is more expensive than crypto trading platforms like Binance.
Meanwhile, one useful aspect of Mode that somewhat compensates for this is that you can send Bitcoin to your friends and family who also have Mode accounts for free, and the payments will be confirmed promptly and without further delay.
In essence, Mode is a great-looking app, easy to use, and looks appealing to beginners especially because of the BTC cashback you tend to get as rewards. The crypto app is also dedicated to making your financial lives easier and also revolutionizing how people use financial services. 
Conclusion
Earning BTC is one of the things most users would like to do regularly. The fact that there is a bonus attached for a certain transaction in a crypto platform motivates users to join such platforms. These crypto platforms have made it easier for users to accumulate BTC into their wallets through different means. Each of them has its unique ways of allowing users to earn BTC.