The use of cryptocurrency exchanges is growing in popularity in several countries. Canada is one of the most significant markets for cryptocurrency adoption. Meanwhile, most Canadians are unsure which exchange to use. However, if you are looking for a reputable crypto exchange to use in Canada, NDAX is highly recommended.
The National Digital Asset Exchange (NDAX) is a platform that guides Canadians through the process of becoming successful cryptocurrency traders and investors. In this NDAX review, we will take a look at how this Canadian exchange helps Canadian traders benefit in the crypto market. So, without much further ado, let's get started.
What is NDAX?
NDAX (National Digital Asset Exchange), is a cryptocurrency exchange based in Canada. It has gained a reputation for its vast range of cryptocurrencies, free deposit fees, a unique referral scheme, and FINTRAC membership since its inception in 2018. NDAX was created to make crypto trading easier. The majority of user assets are held in an offline, multi-signature wallet on the platform. That's a fancy way of saying your digital assets are safe and secure and will be available whenever you need them.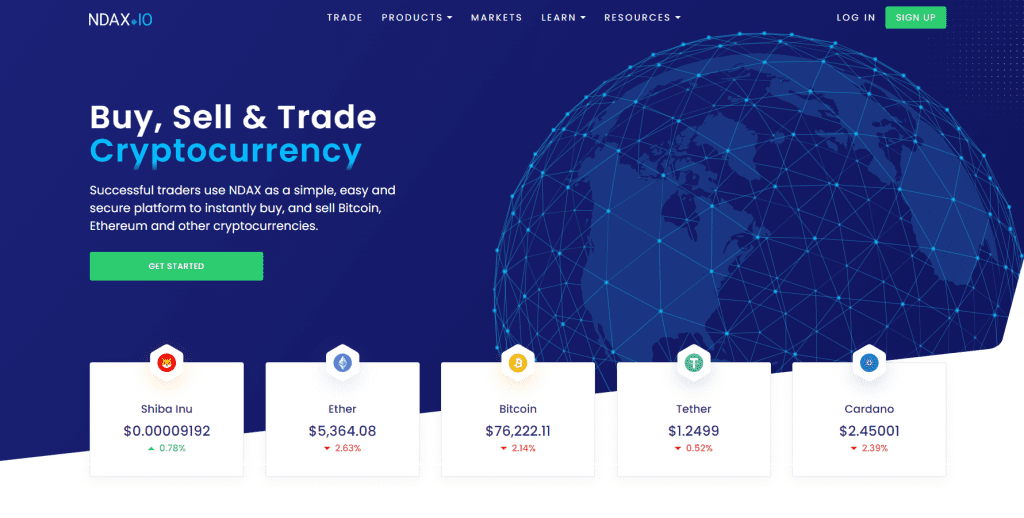 NDAX provides a collection of sophisticated cryptocurrency trading tools for Canadian crypto investors. All trading pairings are in Canadian Dollars (CAD). The platform is used by both newbies and professional traders since its user interface is simple to use and comprehend. The classical user interface, like all excellent designs, incorporates some more complicated functionality. Their portfolio of digital assets is solid, covering all the bases for amateur investors while also exposing more seasoned investors to more speculative possibilities.
Furthermore, NDAX is the benchmark for cryptocurrency trading in Canada. Secure digital asset storage, numerous funding options, and same-day deposit and withdrawal settlements are all available on the platform, allowing you to focus on trading, tracking, and managing your crypto portfolio.
How NDAX Works
The platform functions similarly to other major cryptocurrency trading platforms. As a user of this cryptocurrency trading platform, you can make use of the exchange's OTC services while conducting transactions. This platform comes with several sophisticated tools. These tools assist users in making profitable cryptocurrency trades. Thus, as a user, you get to profit from these trades, while the NDAX platform makes money through commissions and fees.
Getting Started With NDAX
To create an account, go through a quick registration process to get your NDAX login credentials. NDAX assures that an instant ID verification approach is used in this process so that you can begin trading with NDAX as soon as possible. Trading begins shortly after account verification in this process.
After that, go to the website and register with an email address, a name, and a phone number. Then, using email address verification, a username and password are generated. After that, you must agree to NDAX's terms and conditions and be a legal Canadian resident over the age of 18.
When NDAX gives you an account confirmation email, click the link in that email to activate your account right away. In this part of the registration procedure, the site collects additional information such as government-issued identification, proof of address, passport, and a crypto-friendly bank account.
The procedure also captures a live image of you. After completing the account registration process, you can fund your account using Interac e-Transfer or wire transfer. You can also make deposits and issue bank drafts in CAD fiat money.
NDAX Security and Privacy
NDAX is a reputable cryptocurrency trading platform. The firm that runs NDAX, National Digital Asset Exchange Inc., is registered with the Financial Transactions and Reports Analysis Centre of Canada (FINTRAC) and must follow its rules and regulations. For the highest level of protection, NDAX keeps the majority of its users' bitcoin assets in offline, cold storage.

Furthermore, when assets are moved from cold storage, several permissions from the senior management team are necessary, adding to the safety and security of the process. Throughout, two-factor authentication (2FA) is employed, making it considerably more difficult for your account to be hacked or hijacked.
NDAX Supported Cryptocurrencies and Countries
NDAX is exclusively available in Canada, and it is not available anywhere else on the globe. This Canadian exchange supports just the Canadian Dollar as a fiat currency.
The coins supported by NDAX include;
Bitcoin (BTC)
Dogecoin (DOGE)
Ether (ETH)
Cardano (ADA)
XRP (XRP)
Tether ( (USDT)
Polkadot (DOT)
Litecoin (LTC)
Chainlink (LINK)
Stellar (XLM)
EOS (EOS)
Uniswap (UNI)
Compound (COMP)
Aave (AAVE)
The Graph (GRT)
Polygon (MATIC)
USD Coin (USDC)
NDAX Fees
NDAX offers Canadian crypto investors one of the lowest and most transparent fees in the crypto industry. A fixed fee of 0.20 percent is charged for buying and selling cryptocurrencies. While many other crypto exchanges advertise themselves as having no commissions, they make profits by adding a margin or spread to the reference bitcoin pricing.
NDAX keeps things simple, and you know exactly how much you'll pay to trade on their platform. On a $1,000 transaction, you'll only pay $2.0 in trading fees at 0.20 percent. When trading on NDAX, there is also a spread. However, because NDAX spreads are so tight, your overall buy price will most likely be less than 0.50 percent, a fraction of other exchanges' expenses.
Interac e-Transfer, Wire transfer, and Bank draft deposits are all free. Crypto deposits are likewise instantaneous and cost nothing. Withdrawals, on the other hand, are subject to fees. Fees for withdrawing fiat currency are fixed. So, whether you withdraw $100 or $1,000, you'll pay the same amount. Withdrawal costs for cryptocurrencies are similarly flat and vary depending on which coin you're withdrawing. Withdrawals are processed instantly on this platform, which is a plus.
NDAX Referral Program
The NDAX referral program is one of the best in Canada for crypto trading apps. They'll compensate you for referring your friends to sign up and trade a minimum amount, just like many other crypto platforms.
However, NDAX takes it a step further by offering you a bigger incentive based on how many people you promote. Even better, you'll be eligible for a lifelong portion of any commissions earned through your referrals.
Payments are made on a monthly rolling average basis under the referral program. Active affiliates can earn $10 for each referral and add up to 10 users per month. Affiliates can add up to 20 users and earn $15 per one while partner affiliates can recommend up to 20 members each month and earn $25 for each one.
Pros and Cons
Let's have a summary about the pros and cons of this crypto platform below;
Pros
Trading fees for both selling and purchasing cryptocurrencies are competitive at 0.2 percent.
When depositing monies from a Canadian bank account, the transaction is free.
Instant verification allows you to start trading on time.
Customer service is available 24 hours a day, 7 days a week by email and live chat, which is both convenient and reassuring.
Some of the most popular cryptocurrencies and altcoins are available for trading.
Cons
Withdrawal fees are estimated to be around CAD 25, which is quite expensive.
Other exchanges offer a wider range of digital assets for trading.
Staking is now unavailable on NDAX.
The exchange is designed particularly for Canadians, with deposits limited to Canadian bank accounts.
How to Make Deposits and Withdrawals in NDAX
To deposit funds into your NDAX account, go to the Dashboard and select Deposit, or go to My Wallet and select Deposit, where you'll find CAD. Choose from Interac e-transfer, wire transfer, and bank draft as your payment option. Complete and submit the form. Finally, log into your bank account, select Interac e-transfer, select Send to Interac Recipient, enter the amount, and then select Next. To add a new recipient on Interact, go to NDAX, copy your name, and paste it into the name form. Do the same for email. Thereafter, select Next. Copy and paste the unique message code into the message tab, then click send and okay.
If you intend to withdraw from NDAX, head over to your dashboard. Then, click on withdrawal. There is also another withdrawal option. In this case, head over to My Wallet and click withdrawal, then select CAD, and you are done.
Final Words
NDAX is a fantastic cryptocurrency exchange that caters particularly to Canadians. It's simple and quick to get started. It offers low costs, good customer service, and a significant number of cryptocurrencies to trade.
A simple Quick Buy and Quick Sell function make it very simple for newbies to get their hands on their first Bitcoin, Ethereum or altcoin. Experienced crypto traders may use advanced charts and order types to analyse trends and set up automated trades to maximize earnings, and the 0.2 percent trading costs are quite competitive. One major shortcoming is that NDAX currently supports 19 cryptocurrencies, which is a small number compared to certain competitors. It may not have as many cryptocurrencies as other exchanges, but what it does have is more than sufficient for the average trader looking to develop a crypto position. If you're looking for an exchange with a larger crypto universe then check out our other reviews here.