KuCoin is a proprietary cryptocurrency exchange founded by Michael Gahn and Eric Don. Based in Seychelles. The founding members have a business background and have already started projects such as Ant Financial and iBox PAY. The main goal of KuCoin was to provide a safe and easy-to-use digital currency trading platform for the global audience.
Kucoin is often referred to as  "The People's Exchange". It offers a significant selection of trading pairs and cryptocurrency services. It was launched in 2017 and currently has over 200 cryptocurrencies and around 400 markets.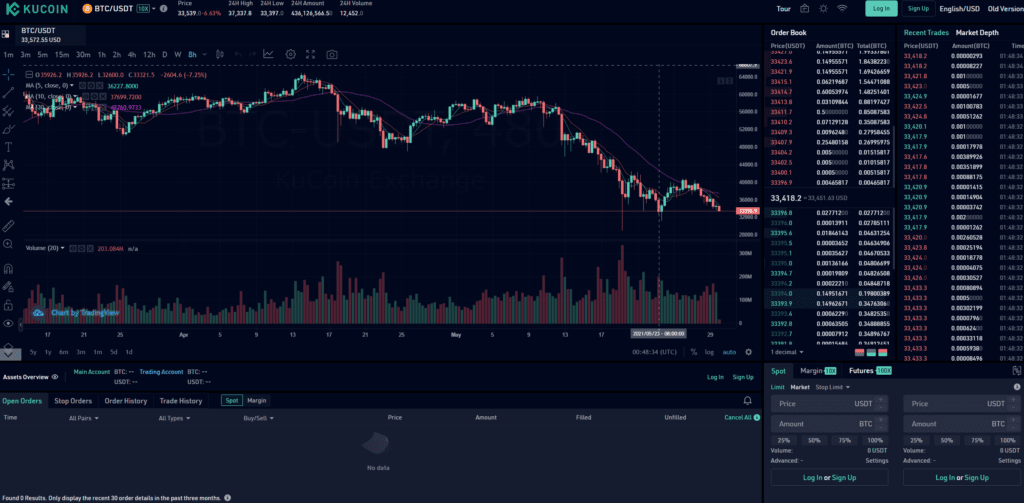 Kucoin has its own cryptocurrency Kucoin Shares (KSC). Having KSC coins gives you a significant discount on trading fees and allows you to earn more cryptocurrencies.
The cryptocurrency KuCoin peaked in January 2018. The market cap was over $ 1.8 billion!
KuCoin prides itself on its high liquidity, over 6 million users, a large collection of backed assets, fiat currency, and services. Even if you are new to the cryptocurrency trading market, you will not have any problems with this platform. KuCoin's simple, efficient and transparent user interface is the answer to the question.
The KuCoin Share Coin
KuCoin Shares (KCS) – official KuCoin tokens; In fact, they serve as a reward for new and existing KuCoin users. Rewards are granted in the form of an invitation bonus or a KuCoin bonus. The KuCoin bonus goes to KSC holders who trade on the KuCoin platform. Consequently, the obligation exists in the form of a dividend; 50% of the total trading fees paid are distributed among these KuCoin holders.
This means that users with more KCS will receive higher dividends. The most interesting thing about the KuCoin bonus is that only KuCoin stockholders get it. It can be any coin available on a currency exchange platform such as NEO or BTC. This is a very positive factor for KuCoin's growth. As the use of the trading platform increases, coins offer more value for dividends paid when the value of the cryptocurrency is skyrocketing.
Opening a KuCoin Account
Setting up a KuCoin account is easy, maybe too easy. After going to KuCoin.com (always check the address before entering any information) look for the "Register" button in the top right corner of the page. Click Next before you are prompted to enter your email address, which contains a pre-filtered verification code.
After clearing the email code obstacle, you can finish creating the account by entering a strong password.
Once inside, you'll be taken to your account summary panel, which has improved a lot over the years. When KuCoin first opened the site, the UI was lacking compared to the likes of Coinbase and Binance. Today, however, the usability of KuCoin has reached a new level. If you've used a cryptocurrency exchange before, the KuCoin Panel shouldn't be a challenge.

As always, it is recommended that you optimize your account security options by enabling 2FA security first. To configure it, click on your profile avatar in the upper right corner. You will then see various options related to security settings, KYC, and work password. Optimize your security settings and set a strong password. Once done, you'll want to go through KYC so that you can get your account back should you ever get banned.
Eventually, you will need to fund your account. KuCoin works a little differently than other exchanges you have used. While Binance, Coinbase, Bittrex, and others use a master account that accepts deposits, sends, withdrawals, and trades directly, KuCoin splits your account into a "main account" and a "trading account". " To trade, you will need:
Top up your main account by purchasing cryptocurrency with a credit card or sending cryptocurrency from another source to a KuCoin wallet.
Send funds from your main account to your trading account.
Trade: Then, when you're ready to withdraw, reverse the procedure.
While it doesn't seem necessary to segregate accounts, I think this is a completely safe project. The APIs can only access your trading account. So if you want to stay safe and use third-party APIs, you can keep the lion's share of your assets in your main account.
KuCoin Trading Platform
The KuCoin trading platform is relatively easy to navigate and has been designed specifically for all levels of traders. The trading platform will open in your browser, so no download is required.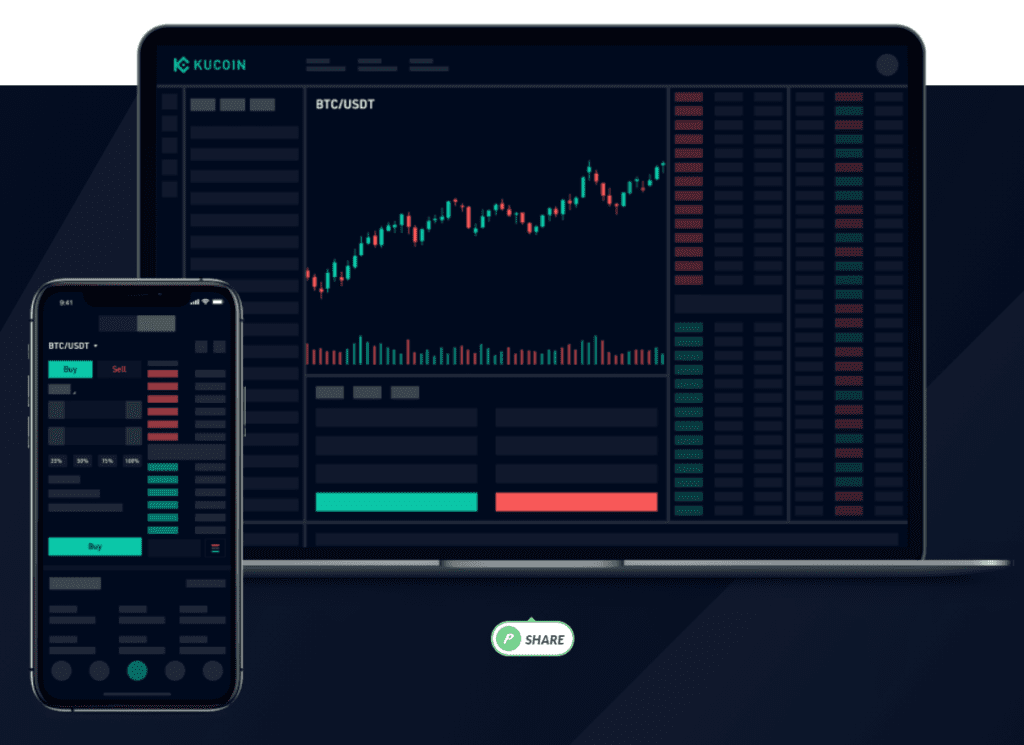 The platform is very attractive in design and very efficient in terms of order fulfillment. There is practically no delay between the completion of your action and the execution of the order. You can quickly access the order window where different order types are available and use the TradingVIew features provided to perform more detailed technical analyses and charts. This can be ideal if you are an experienced trader.
The trading platform also gives you access to a news area that keeps you updated on the latest market developments. If you trade by phone, KuCoin also offers an excellent mobile app for iOS and Android that allows you to trade easily and without losing functionality.
KuCoin Fee
One of the main reasons KuCoin has so many users is because it offers the lowest fees compared to other altcoin exchanges. Kucoin's trading fees are simple and straightforward for users.
KuCoin Spot Trading Fee
Here, with KuCoin spot trading, all trades carry a flat fee of 0.1%, which is below the global industry average. Onsite trading fees are lower due to the 30-day user trading volume and Kucoin token. You may also receive other discounts on trading fees depending on the factors above.
KuCoin withdrawal fees
KuCoin's withdrawal fees are the lowest in the crypto industry. It charges 0.0004 BTC when a user withdraws BTC. These fees are below the industry level and this is another reason why millions of people prefer them. The withdrawal fees depend on the different cryptocurrencies available on this platform.
KuCoin deposit fees
KuCoin deposit fees are zero. This means that it does not charge users a dime for making related transactions.
KuCoin Supported Cryptocurrencies
According to CoinMarketCap, KuCoin has more than 400 markets for ~ 200 cryptocurrencies, such as BTC, ETH, MXR, DAG, BCH EOS, LTC. In addition, you can get tokens like DADI, KCS, OMG, etc.
On February 23, 2021, you can buy 22 cryptocurrencies added to the fiat at KuCoin through the Simplex, Banxa, and OTC platforms. Supported cryptocurrencies include EUR, GBP, RUB, CNY, AUD, KRW, JPY, TRY, VND, IDR, CAD, ZAR, NZD, HUF, ILS, PLN, SEK, CHF, CZK, DKK, NOK.
Is KuCoin Available in the US?
KuCoin is a non-US-based exchange. So if you are a US citizen and you cross the FBAR(Foreign Bank Account Report) threshold, then you will need to include it in your FBAR deposit. In addition to the information about your account and the country of activity of KuCoin, you must indicate the highest balance of cryptocurrencies on the exchange during the year, calculated in US dollars.
Is KuCoin Safe and Regulated?
KuCoin provides bank-level asset security to ensure the safest environment for all transactions and account holders.
It uses various security measures, such as a micro-withdrawal wallet for both partitions. Protects your payments, multi-functional dynamic authentication, industry-level multi-level encryption, and a dedicated internal risk control department to keep your funds safe. The KuCoin team regularly checks whether the groups conduct their daily data operations according to strict security standards or not.
Kucoin currently has more than 6 million registered users. It keeps earning the trust of many others by testing the security of your business and spending a significant amount of resources adding new security features.
KuCoin is an innovative player in the cryptocurrency industry and the exchange has seen significant growth since it was launched in 2017. In terms of reliability and safety, it is considered one of the key players in the industry today. The platform itself is easy to use and intuitive. When users experience difficulty, customer support is available 24/7 through a variety of channels including websites and email.
When it comes to service offerings, as one of the early adopters of lesser-known, small-cap cryptocurrencies, the platform is suitable for both seasoned traders looking for the next big cryptocurrency project and new investors looking to get involved in a large cap selection of cryptocurrencies.
KuCoin Customer Support
The KuCoin support team is available 24/7 via the exchange and email website. Despite a large number of inquiries from all over the world, KuCoin's support team does a noble job of responding quickly to support requests. The exchange also supports its users by supporting a powerful trading engine capable of processing up to 2 million orders per second. Even under extreme stress and demand, the exchange continues to function without a significant slowdown.
Kucoin Offer
Kucoin Referral Link

Sign Up

Link
Sign-up Bonus
Save 20% on trading fees
Referral Terms
Save 20% on trading fees when you use this link.
Last Validated
December 2021
Conclusion
KuCoin has made trading fun, transparent, and interactive with its advanced API. It has around 456 trading pairs to choose from and is currently number 6 on "major cryptocurrency exchanges."
It is a relatively young trading platform in the industry that is experiencing significant growth. It currently serves around six million users, which shows us the reliability of this platform.
Kucoin was built with exceptional features and is undeniably unique. Therefore, it will soon be no surprise that KuCoin becomes a leader in the crypto industry.