Uphold digital money platform that has more than 1.7 million customers worldwide. It has almost $6 billion in transactions till now, and it serves and caters to retail investors and businesses, respectively.
How Uphold Works
Using the leverage of blockchain technology, Uphold helps to provide customers easy and fast access to cryptocurrencies, precious metals, yield/ credit and lots more. It grants the opportunity for customers to trade with zero commissions. It also allows sending funds to almost everybody globally. It helps users send freely, including payments to employees and businesses.
Uphold is peculiar for helping to translate all supported asset classes to a popular digital language. By inference, any asset is exchangeable directly into any other asset, making for an easy trading experience. With this ease of transactions, it helps to reduce unimportant complexities that exist in other forms of transactions that depend on currency pairs. Besides that, it also helps decrease expenses which always require an intermediate trade to exchange Mexican Pesos into XRP.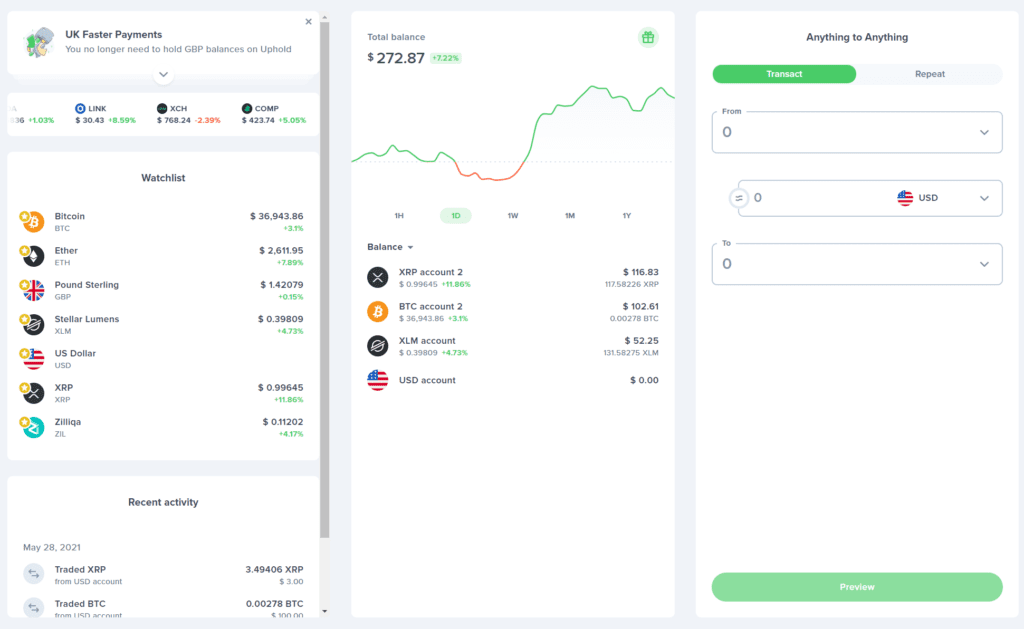 One of the things that Uphold is positive about is helping businesses to pay people around the world. It also helps to accept customer payments in cryptocurrencies and makes the conversion automatically into indigenous currencies. Uphold makes it easy for accounts to be funded through seven crypto networks, debit and credit cards, and bank connections in almost 40 parts of the world. As a part of Uphold positive impacts, it offers 27 national currencies and four precious metals. Furthermore, 55 cryptocurrencies – this includes three stable coins.

Advantages of Using Uphold
By using the Uphold platform, you enjoy some levels of benefits that are hard to believe. This is because many things have been provided to make the users' experience worthwhile. Among the benefits are:
The maximum protection of users from any kinds of fraud. By implication, this makes the community safe for all transactions. In a view to make this easier, the platform makes a compulsion to vet users' identities. This prevents anyone from linking users' cards or their bank accounts, thus curbing any form of theft.
Cryptocurrency investors that are in the major and upcoming coins are fully secured.
There is nothing like minimum investment in Uphold the platform; you can purchase all assets in bits. It is available on web, iOS, and Android.
The term "all-inclusive" means that there is nothing called hidden fees. There is nothing like surprise spreads.
"Anything-to-Anything" trading means that there is a seamless one-step conversion between asset classes. In addition to that, Uphold is beginner-friendly. Its mobile apps are easy to navigate for non-tech-savvy individuals.
Features of Uphold Exchange
Uphold remains one of the only cryptocurrency exchanges that allow users to buy and sell commodities, stocks, and currencies. As stated earlier, Uphold is easy to navigate by a non-tech-savvy person. With the best features Uphold offers, it makes it attractive to new users. Among the features are:
Easy And Quick Sign in
The signing up process involves entering your email address. This is followed by choosing a password and answering some questions about who you are and what you do. There is a short Know Your Customer form required by all who wish to use the site. You will be led to a verified account. All these take nothing less than 3 minutes!
Intuitive and User-friendly Desktop Platform
After you finish opening the account, you will be taken to a very user-friendly desktop page. This page is easy to navigate with guides and icon tags. Here you can begin trading. Simply follow the prompts to select your trading pairs and confirm your trade. It is easier to buy your choicest crypto daily, weekly, or monthly with the new repeat feature.
Intuitive Account Funding and Buying Options
From the customized desktop, it is easier to fund your account and start trading immediately. This has to do with clicking on the rule you want to trade and fund each currency or asset from a credit card. You can do the same from your bank account. It is also easy to fund your account with a currency that is not used as your base currency. For instance, if your major funding is through a U.S. bank account and you intend to purchase euros, it does not require converting USD to EUR after transferring it. You can make a transfer of euros directly from your U.S. bank account. This makes it cost-friendly and easy to buy cryptocurrencies, precious metals, and international currencies without any conversion fee for any of the steps.
One-step Ordering
It is a must to place 2-step orders with most cryptocurrency and precious metals markets. In crystal terms, it means that you must fund your account with a bank transfer, or it can be funded with a credit card purchase, e.g., in USD, before you purchase other assets, e.g., stocks and cryptocurrencies.  Uphold helps you to purchase a large number of cryptocurrencies and foreign currencies. It also allows you to use it to purchase precious metals, even without waiting for funds to clear in your account.
Quick Transfers
Are you willing to send money to your loved ones? Then Uphold is the best platform to use. The reason is that it allows you to send money within a short moment. This is achieved by linking to another account. You can also do it by using email. With this, it is possible to send money in the currency you prefer. It is also possible to send cryptocurrencies through it. Guess what? All your transfers are free.
Automatic Conversion of Currency
With the conversion of currency, you can send money to people with automatic currency conversion. You can send Bitcoin. You can give the Q.R. code associated with your U.S. Dollar sub-accounts in the same vein. Besides that, another person can send you a bitcoin. You will convert this automatically in USD.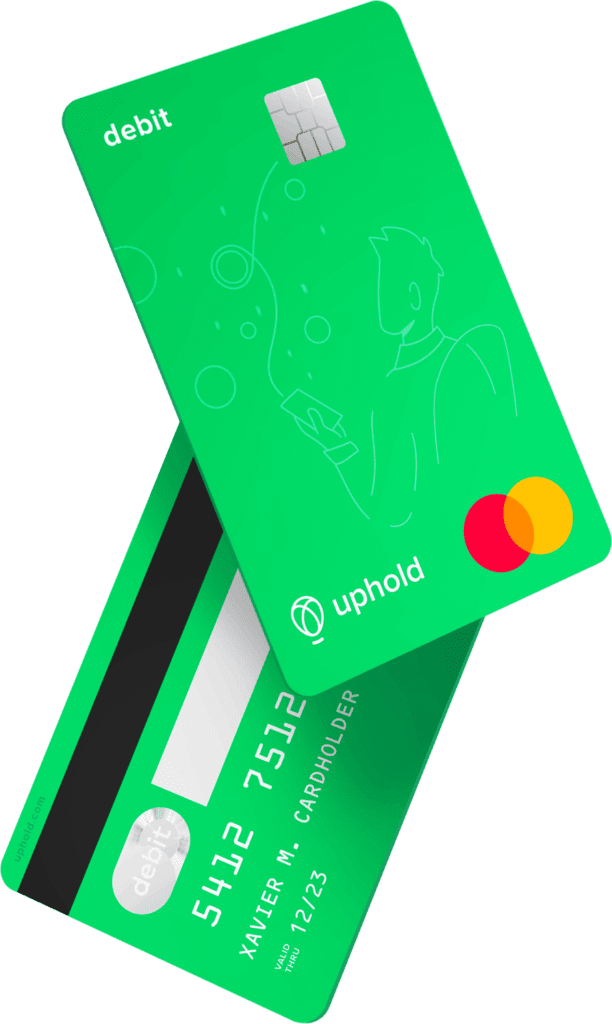 Uphold Card
Users can spend anything such as gold to bitcoin as cash by using this Mastercard debit card. It is accepted at 50MM merchants. It is also tenable at almost all ATMs globally. Innovative products fashioned to make investing easier
For instance, Universal Gold (UPXAU) surpasses all the traditional drawbacks of investing in gold. This includes high storage costs, large liquidation spreads and lack of dependability. UPXAU Tokens stands for 1 Troy ounce of pure physical gold held at the Perth Mint in Western Australia. You can use it for a debit card. Also, it can incur zero custody fees. In addition, it can be liquidated immediately into 27 national currencies added to the Tokens are portable with the underlying gold physically deliverable in the U.S. and Australia. Temporarily Unavailable
Trading On (Personal) Uphold
On cryptocurrencies in the U.S. and Europe, the typical spread is 0.8 to 1.2% on BTC and ETH. While in other places of the world, it is around 1.8%. However, spreads can be higher for low cryptos and tokens, including liquidity and XRP, ZIL, OXT, UPT, DOGE, and lots more. However, make sure you go through the rates at Preview before you trade.
Coordinated market activity with the likes of Wall St Bets can distort markets. By implications, all the above spreads are subjected to widen beyond those above in the seasons of terrible market stress.
Precious metals: The spread is 3% of bid-ask prices at the supplier.
Fiat currencies: The spread is typically 0.2%, and this is between major national currencies such as EUR, USD, and GBP, inclusive.
U.S. Equities: The spread is 1.0%. A small spread is added for trading outside the market stipulated time, based on the stock's volatility.
General notes: Uphold is not an inexpensive platform. This is because there is a spread charge every time users trade, including a pricing model. It is the same price you see before trading that you pay while trading. This is why Uphold is different from others. There is nothing like hidden fees.
Network Fees: It is charged when you withdraw to external crypto wallets. However, it might be at cost or have a slight difference based on network congestion.
Uphold (Business) Trading Fee
Service Fees: Business accounts
Web Wallet: It is free to open an account and holding value with Uphold. With Uphold, accounts are free to customers who are active on five accounts.
Fund your account: It is based on a fee of 3.99% when funded by a bank account, using bitcoin, or from your other Uphold account. If you are using a Debit/Credit Card or China Union Pay to fund your account.
Send and receive money: It is free for Uphold customers. This means that all customer-to-customer transfers pay nothing irrespective of their transfer.
Convert & Buy: Uphold charges for exchange fees if a customer buys or makes conversions between different currencies. If you notice a slight difference in the buy/ sell price quote for a similar currency pair at Uphold, this is due to the inclusion in the quote a Price Protection Fee, and it is always lower than 0.75% above or below the market rate.
Withdraw funds from Uphold: If you wish to move funds off-platform through crypto, your fee is $2.99. However, if you decide to move funds off-platform through bank transfer, your fee is $3.99. This is because they may include a 3rd party costs, and it could be bank wire costs in some geographies or blockchain network fees.
Currencies And Commodities:
0.65% USD, EUR, GBP, UPUSD, UPEUR, TUSD, USDT, DAI
0.95% USDC, AUD, CAD, DKK, HKD, JPY, MXN, NZD, NOK, SGD, SEK, CHF
1.05% BTC, UPBTC
1.15% ARS, BRL, ILS, KES, PHP, PLN, AED
1.25% DASH
1.35% CZK, HUF, RON, HRK
1.4% – 1.95% Cryptocurrencies, Environmental Assets & Equities
2.05% XAU, UPXAU
3.05% XPD
3.65% XAG
3.95% XPG
Conclusion
Uphold is more than just an easy way to make quick transactions. It is a safe option for new and non-tech-savvy users to keep up with the advancement and changes in the tech world. Uphold may not be the best option for advanced traders; however, it does not entirely fall short in accuracy and modernized operations. Make all your trading choices easy with a simple account on Uphold.
Uphold Disclaimer: Cryptocurrency investing within the EU/UK (by Uphold Europe Limited) and (USA by Uphold HQ Inc).  
You should be aware that the risk of loss in trading or holding cryptoassets can be very high. As with any asset, the value of cryptoassets can go up or down and there can be a substantial risk that you lose all your money buying, selling, holding or investing in cryptoassets. Your cryptoassets are not subject to protection. You should carefully consider whether trading or holding cryptoassets is suitable for you in light of your financial condition. Uphold makes no representation and assumes no liability as to the accuracy or completeness of the content of this publication, which has been prepared by our partner utilizing publicly available non-entity specific information about Uphold.