The internet revolutionized the globe, but cryptocurrencies such as Bitcoin have transformed the world into a global society. For quite some time, the rapid expansion of cryptocurrencies has been the talk of the town, with investors eager to cash in on the digital currency potential returns. However, some people have questioned the legitimacy of various crypto trading platforms, especially given how easy it is to hack some of them. No one wants their Bitcoin stolen by cybercriminals. So, there is the need to invest and trade cryptocurrencies with reputable exchanges. However, these exchanges all have their rules and regulations, which makes them differ from the others.
If you reside in the UK, and you are already a crypto investor, or you're new to it and want more info on crypto trading, you are at the right place. In this guide, we will review the 8 best crypto exchanges on the market right now. Thus, without much further ado, let's get started.
Coinbase
Coinbase, a famous cryptocurrency exchange that has been functioning since June 2012, allows UK residents to acquire cryptocurrencies. Coinbase has grown to become the most trusted digital currency wallet and platform for buying, selling, and trading Bitcoin and other cryptocurrencies since its inception.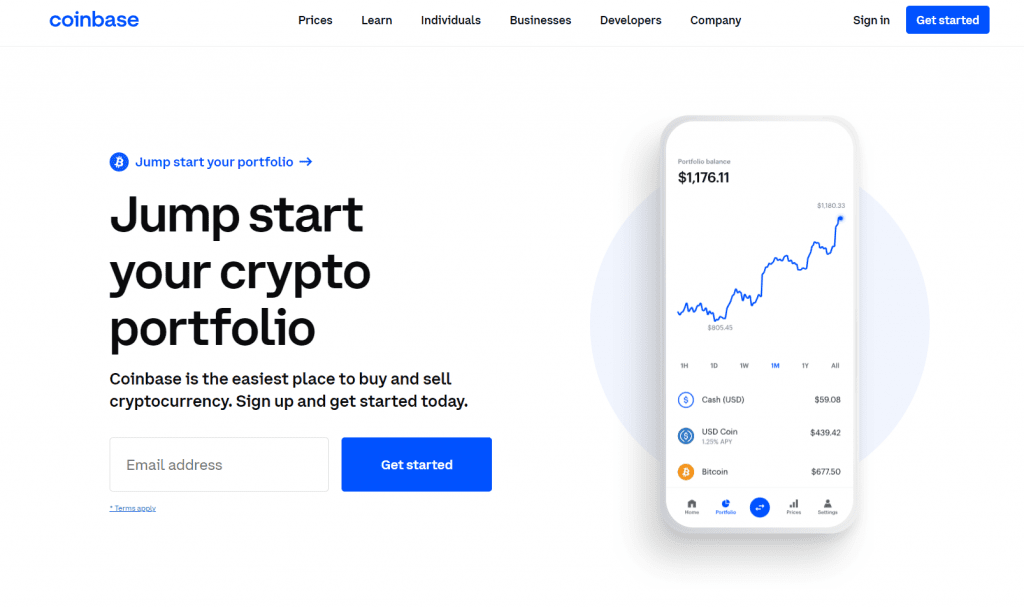 Cryptocurrencies can be purchased in the UK via a credit/debit card or a bank transfer. These payment options are simple to use and appropriate for first-time cryptocurrency investors. The user interface is simple to use and includes a Coinbase wallet where you can store your cryptocurrencies after they've been purchased. 
Coinbase Pro is an advanced and professional cryptocurrency trading exchange that is suited for intermediate and advanced traders. Coinbase Pro is a secure and insurance-backed platform that allows users to exchange a wide range of digital currencies. 
In general, Coinbase is a decent place to buy Bitcoin in the UK. Beginners can even use Coinbase Earn to learn about blockchain projects and earn cryptocurrency. It is, however, crucial to note that Bitcoins held in a Coinbase wallet are not under your control. So, once you've purchased Bitcoin, we urge that you remove your coins as soon as possible and store them in a reliable hardware wallet.
Binance
Binance is a secure and reliable fiat-to-crypto currency trading platform based on the same technology as its parent firm. A world-leading exchange and one of the blockchain industry fastest-growing success stories.

With Binance swift Know-Your-Customer (KYC) processing, new users can open an account in a matter of minutes. The site also accepts a wide range of fiat currencies, including Pounds Sterling (GBP) and Euros (EUR), which may be exchanged into Bitcoin (BTC) and Ethereum (ETH) fast and effortlessly (ETH).
Binance is for investors and traders who are familiar with charting and setting orders. Users will need to know how to use the trading window to place an order. For total beginners trying to buy Bitcoin with GBP right away, this could be a deal-breaker. 
SEPA and Faster Payment are two deposit methods that are commonly accepted but come with a minor deposit cost of 0.25 GBP and 0.48 EUR, respectively. A minor withdrawal fee is also charged. Overall, because of its reliability, reputation, and low exchange costs, Binance Jersey is one of the finest sites to buy Bitcoin in the UK.
Bitstamp
Bitstamp is a well-known cryptocurrency exchange platform that offers just over 30 different cryptocurrencies. While this is a lesser selection than some exchanges, it's more than enough to satisfy most newbies, and the cost structure is straightforward, making it a good place to start for beginners. Bitstamp has a program called Bitstamp Earn that allows users to earn Bitcoin. It's a program in the platform that allows you to receive cryptocurrency incentives for holding assets for a certain period. This is accomplished through a procedure known as staking.
Staking is a method of increasing your cryptocurrency earnings by securing your assets on the blockchain. It implies that you won't be able to withdraw or sell crypto for a specified length of time after you stake it, in exchange for prizes given out at regular intervals. Proof of stake (PoS) is a consensus mechanism used by various blockchains to obtain consensus on varying records of transactions. If you stake your money on a PoS blockchain, the algorithm may grant you the opportunity to create a new block and reward you with a predetermined amount of cryptocurrency, transaction fees, or both if you do so.
BitPanda
Bitpanda makes it simple to buy and sell cryptocurrencies using a credit card, a bank transfer, or several other payment methods. Bitpanda has swiftly become one of the most popular bitcoin dealers in Europe. The Austrian-based company accepts several payment methods, allowing traders to diversify their holdings in popular cryptocurrencies like bitcoin, Ethereum, Litecoin, Dash, Bitcoin Cash, and Ripple. 
Bitpanda offers quality services to European users as well as a diverse range of payment options. Bitpanda's fees for buying and selling bitcoin are comparable to Coinbase; however, a complete charge breakdown is not readily available on the website, and the fees are included in the purchase price.
Users' levels of anonymity vary depending on how they use bitcoin; with just a confirmed email, you can buy bitcoin but only sell a limited amount. You can buy cryptocurrencies with a credit card and significantly more with other payment options after validating your ID.
eToro
eToro is a global financial brokerage that offers a trading and investment platform for different markets, including cryptocurrency, exchange-traded funds (ETFs), stocks, indices, commodities, and forex. Millions of investors and traders utilize the broker in several jurisdictions throughout the world, including customers in the United Kingdom. 
Beginners who want to trade in various cryptocurrencies using a robust and user-friendly crypto trading platform should use eToro. The platform supports ninety-four cryptocurrency pairs that may be traded against other cryptocurrencies or fiat currencies, as well as practice crypto trading with a virtual portfolio.
eToro is well-known for its social trading community, where traders can join and interact with other traders to share ideas, tactics and trade like successful traders. This means that new investors and beginners can engage in the cryptocurrency market by copying the strategies of successful cryptocurrency traders.
67% of retail CFD accounts lose money
Gemini
Gemini is a regulated cryptocurrency exchange situated in New York that is available in the United Kingdom. The exchange, which was founded by the Winklevoss twins, has quickly gained in popularity as a place for individuals, traders, and institutions to buy, sell, store Bitcoin and cryptocurrencies. 
Gemini accepts different fiat currencies, including the GBP, which can be deposited using a debit card or transferred from a bank account using Faster Payments, CHAPS, or a SWIFT wire. An advanced trading platform, custody service, secure wallet, mobile trading app, and off-exchange crypto trades are among the other significant features.
Gemini is regarded as one of the most secure cryptocurrency exchanges for buying and selling digital assets. The team's bank-like security systems and safety-first ethos are credited with this. To protect user information and funds held on the site, several security techniques are used. The zero-deposit costs for transferring fiat currency or cryptocurrency assets to Gemini is an incredible windfall. Customers in the UK can deposit pounds without charge debit card purchases will incur a 3.49% fee.
Crypto.com
Crypto.com is a cryptocurrency exchange that serves over 1 million users in over 100 countries, including the United States, the United Kingdom, and Australia. Everyone, regardless of experience or financial situation, can purchase, trade, and sell cryptocurrencies in minutes with the crypto.com app.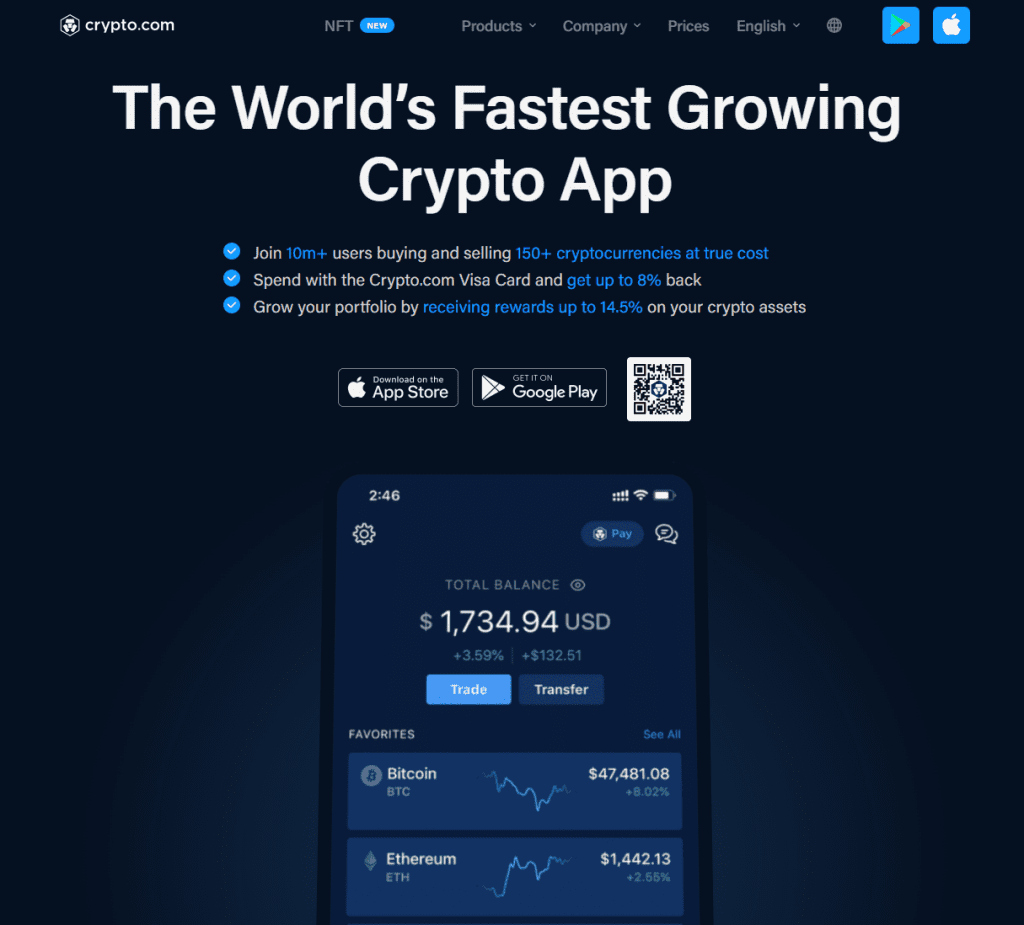 On the Crypto.com app, investors may diversify their cryptocurrency portfolio by investing in XRP, LTC, MCO, EOS, XLM, ATOM, LINK, XTZ, BCH, VET, and USDT, among other popular digital currencies. The platform employs a maker-taker fee model, resulting in incredibly low rates for converting GBP to Bitcoin. The crypto trading fee is divided into tiers based on a 30-day trading volume. It begins at 0.25 per cent and subsequently decreases as volume increases.  
CoinJar UK
Using a desktop trading platform or a mobile app, CoinJar makes it simple to purchase and sell digital currency. The company began as an Australian cryptocurrency exchange in 2013 but has since expanded its revolutionary crypto financial products and services to UK residents.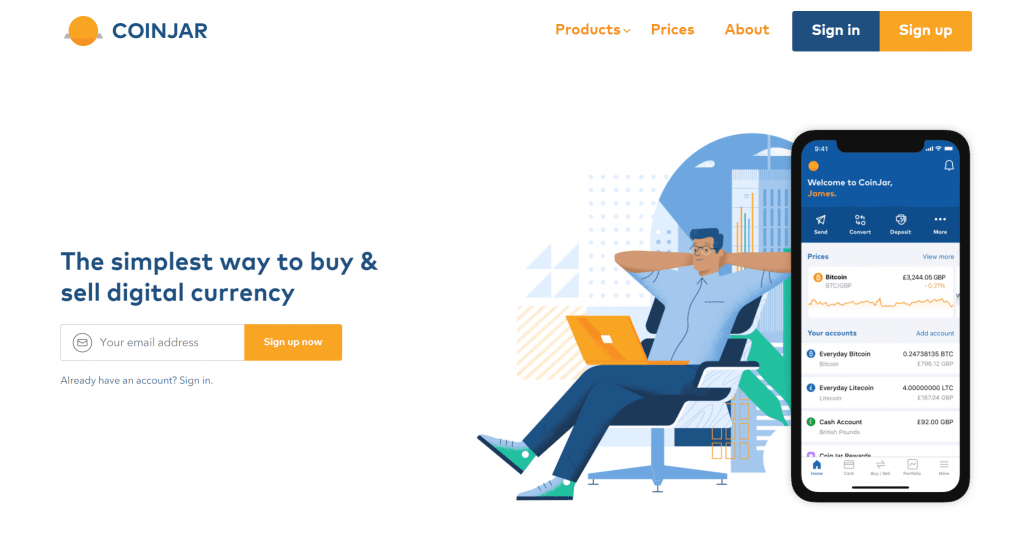 CoinJar provides a comprehensive suite of digital products to the UK market, including a secure wallet, cryptocurrency debit card, powerful digital trading platform for exchanging coins, mobile app, and over-the-counter (OTC) trading for institutional investors. Native iOS and Android devices are supported by the mobile phone app.
When looking for a cryptocurrency exchange in the UK, we recognize that trading costs are a major factor to consider. CoinJar has a market-competitive trading cost of 1%, which is comparable to other Bitcoin exchanges. There are no costs for depositing GBP through bank transfer, and withdrawing GBP from a CoinJar wallet to a bank account is also free.
Coinmama
Coinmama is a fiat-to-crypto exchange available to investors in the UK that offers a quick, secure, and simple way to purchase digital currency. The exchange accepts fiat currencies like GBP, AUD, EUR, USD, and CAD, which may be converted instantaneously to Bitcoin.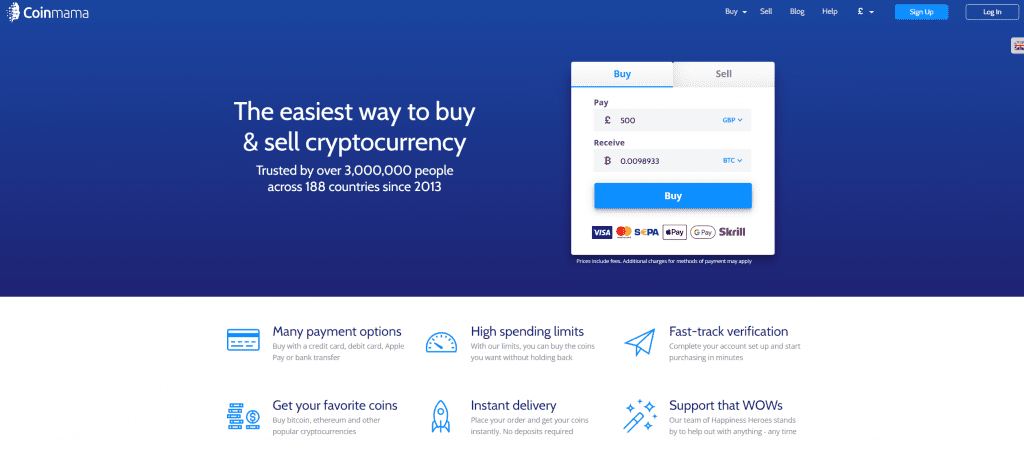 Coinmama accepts several payment options, including bank transfers, SWIFT, SEPA, and credit and debit cards from Visa and Mastercard. Because purchased Bitcoin is transmitted directly to the wallet, Coinmama users must have a hardware wallet. As a result, Coinmama does not keep Bitcoin, lowering the risk of cryptocurrency exchange hacks and scams. It's worth mentioning that Coinmama charges a flat 5.9% cost plus a 5% extra when purchasing Bitcoin with a credit card. The transaction costs, on the other hand, are quite hefty and will add up quickly if you buy Bitcoin often.
Final Words
Wrapping it up, these are the top 8 most prominent crypto exchanges in the UK. As stated earlier, if you are looking forward to investing and trading any cryptocurrencies, look no further than these exchanges outlined above. Before they were selected, there were some sets of criteria that they scale through. Their ratings and reviews from users make them the prominent exchanges in the UK.